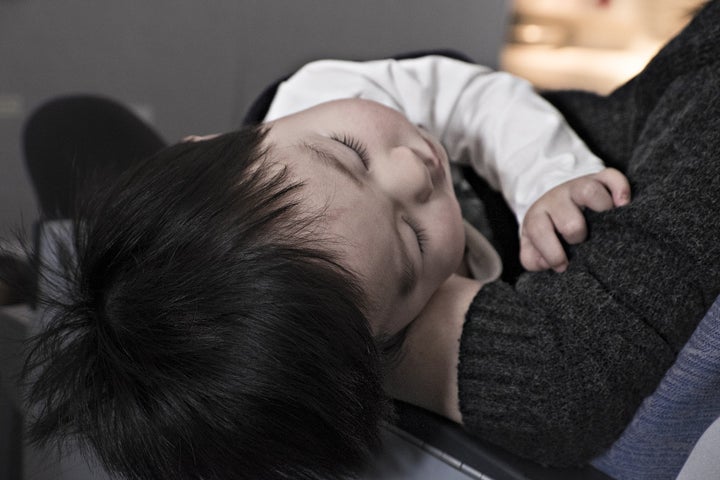 The benefits of the Healthy Working Families Act (HB1) were clear to policymakers – safeguarding paid sick and safe leave for more than 700,000 Maryland families – which is why it passed both the House and Senate in Maryland's last legislative session. But this new provision will not be in place this January as expected. Soon after the Maryland legislature was recessed, Governor Hogan – who has made economic growth one of his priorities – vetoed the bill and mobilized a taskforce to discuss the issue further. His criticism of the bill primarily focuses on the "job killing" nature that such leave would afford – although economic analysts and advocates disagree.
Take Washington, DC, for example. In 2015, they did an audit of their similar version of the sick and safe leave policy that passed in 2008. The audit revealed the following:
"We found that the Sick and Safe Leave Act is having minimal impact on employers. Our survey of District businesses showed that fewer than 10 percent of survey respondents reported a negative impact on their profitability. More than 50 percent reported that it had no impact or actually improved profitability."
The Economic Policy Institute testified before the legislature, expressing their support for the Healthy Working Families Act. In that testimony given by Elise Gould, PhD, Senior Economist and Director of Health Policy Research, Economic Policy Institute noted, "While any new labor standard generates concerns about the business climate and job creation, the evidence from jurisdictions that have legislated earned paid sick days has all been positive."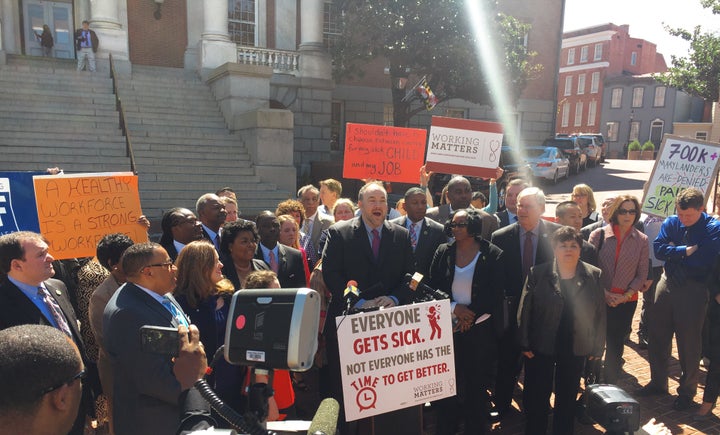 Mobilizing for Maryland Families
Working Matters, a coalition of business, labor, health, faith, and other community organizations advocating for the legislation, received pledges from 87 delegates to override the veto – enough to pass in the House. The advocacy effort has been in place for more than five years to explore meaningful solutions for families that need to care for their own health needs or that of their family, but are not afforded that coverage with pay. The resulting bill would permit most full-time employees at companies with 15 or more workers five days of leave. In addition to advocacy and state legislative support, a recent Mason Dixon poll found that 74 percent of Maryland residents support paid sick days.
The 700,000 families that would benefit from the Healthy Working Families Act are primarily living in poverty, with many working in the service and restaurant industries. With no leave afforded, and in situations where financial struggles already exist, the massive costs and expenses of medical care and treatment can be an overwhelming challenge and stress.
The benefit extends to employers as well. The Institute for Women's Policy Research estimates $132 million in savings to Maryland employers, primarily from the reduced spread of the flu and less turnover.
The Importance of Safety Leave
While most media attention and debate has focused on sick leave, the Healthy Working Families Act also includes a safety provision. For individuals who experience domestic violence or other family safety concerns, the safe leave provision would afford time off to find safety, secure help, or participate in related legal processes. "Not all jurisdictions that have a sick leave law have incorporated safe leave into that policy," said Jeannie Carlson of Working Matters. "It was important to our coalition that safe leave be included in the Healthy Working Families Act to ensure that survivors of domestic violence can take job-protected time off to get help."
Safe leave covers an employee or their family member experiencing domestic violence, sexual assault, or staking when they need it for medical or mental health care, or for relocation. Employees are not required to provide documentation regarding the reason for missing work unless the employee misses a second consecutive shift. Under the bill, job protection will be in place when safe leave is used.
In contrast, the Common Sense Paid Leave Act backed by Governor Hogan did not include a safe leave provision and it did not advance. Under this proposed legislation, five days of paid leave would have been granted for employees working at a business with greater than 50 employees in one location. For employees who work for smaller companies, no leave or job protection would be provided.
To give a little perspective as to how significant this need is in Maryland, the National Network to End Domestic Violence held their National Census of Domestic Violence Services on September 14, 2016. During a 24 hour period of time, "956 victims were served: 407 found refuge in emergency shelters or transitional housing provided by the local domestic violence programs, and 549 adults and children received non-residential assistance and services, including counseling, legal advocacy, and children's support groups." If the Healthy Working Families Act had been in place, these 956 victims of domestic violence would have had safety leave. There's no knowing how many other people may have needed domestic violence services, but could not reach out for help because they had no protected leave and had to prioritize job responsibilities, financial stressors, or other economic risks.
Legal Momentum, an organization focused on the economic and personal security of women, views this as a victim workplace rights issue. They note, "Women who are victims of violence can also be targets of employment discrimination, just when maintaining economic independence and security is most critical." Many victims of domestic abuse struggle to find space and support to secure safety, which is only compounded by financial constraints or possible employment repercussions from missing work. Under the pending Healthy Working Families Act legislation, Maryland families would benefit from this protection as well.
Taking Action for Maryland Families
Even with different approaches, both bills affirm that Maryland needs legal parameters that afford all Maryland families leave. Addressing health and safety should not have to come at a cost – this is a basic humanitarian and economic provision that should be in place. In just a few weeks, policymakers in Annapolis have the opportunity to override the veto and give Maryland families some much needed relief.
Working Matters asks that individuals who would like to support the veto override and enactment of the Healthy Working Families Act contact their state representative(s) to express support for the bill.
Helga Luest currently works for a government contractor and manages a number of federal projects related to behavioral health, trauma, and violence prevention. She is currently running for Maryland State Delegate in District 18. In 2016 she was appointed to the Maryland Governor's Family Violence Council and she serves on the U.S. Congressional Victims' Rights Caucus Advisory Group. Helga also serves on the board of the Campaign for Trauma-Informed Policy and Practice, a national nonprofit advancing the transformation of trauma informed practices throughout the United States. In 2010 she was awarded the Congressional Unsung Hero Award for her effective advocacy work on violence prevention and response. In her free time, Helga facilitates two social media groups called Trauma Informed where advocates, survivors, researchers, and other contribute content and commentary on issues related to trauma, prevention, and resilience - on Facebook & LinkedIn.
Related
Popular in the Community