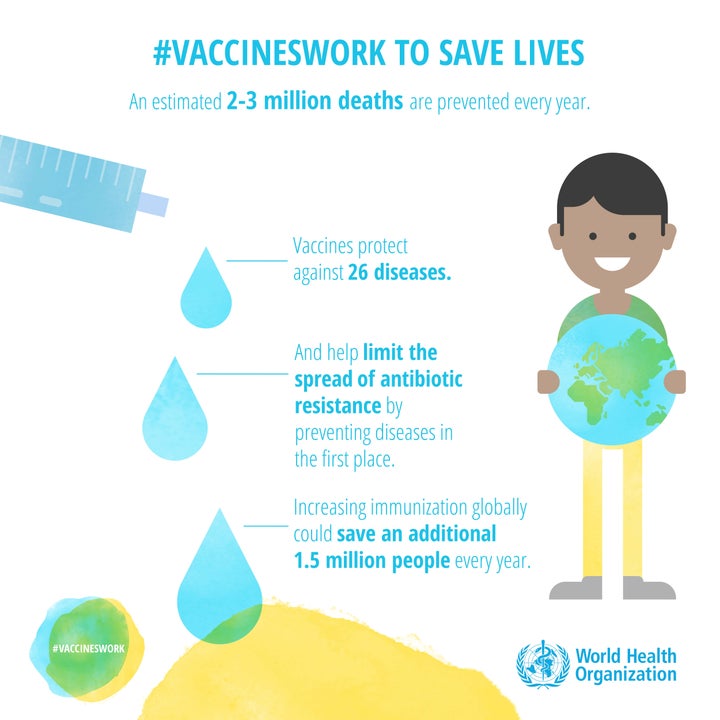 Today I want to tell you #WhyVaccinesWork. I have seen progress made and lives saved. Vaccines protect against 26 diseases. Where accessible, this means more children are living past their fifth birthday, an important milestone for child survival. It also means adults, communities, and nations are healthier. During World Immunization Week, we must celebrate our shared results and redouble our efforts to improve the health and lives of people everywhere.
Immunization currently prevents the death of 2 to 3 million children each year. If global vaccination coverage is strengthened, an additional 1.5 million deaths could be prevented. The impact of this goes beyond the health sector. In Africa, every $1 spent on childhood immunizations returns $41 in economic and social benefits.
Vaccination and other essential preventive services must be delivered close within communities. One such model is Ethiopia's door-to-door immunization services provided through the Heath Extension Program, which increased immunization rates nationwide by 25 percent.
Through a partnership with Gavi, the introduction of new vaccines in Africa has been quite effective. In fact, the Global Vaccine Action Plan (GVAP) target of at least 90 low- and middle-income countries introducing one or more new or underutilized vaccines is on track to be met globally because of the progress across Africa. The Addis Declaration on Immunization builds on these results. The Declaration is a historic pledge to ensure that all Africans – regardless of who they are or where they live – receive the full benefits of immunization. The endorsement was issued during the 28th African Union (AU) Summit in Addis Ababa, Ethiopia earlier this year.
Globally, it is clear that to achieve universal health coverage by 2030, we must advocate to increase the availability and accessibility of effective, safe and affordable vaccines where they are needed most. But that is not enough. I believe we must also accelerate research and development. This includes strengthening WHO's normative authority and intensifying ongoing efforts to address market failures. Effective public-private partnerships will help drive the development of new products to meet the particular health needs of the poor and other vulnerable populations. Our common goal is to ensure current and future vaccines are accessible to all.
A strong and modern WHO must work with countries and alongside partners like Gavi to deliver real results. And, as set out as a GVAP strategic objective, individuals and communities must understand the value of vaccines and demand immunization as both their right and responsibility. This our global call to action as citizens. Only then will we be able to expand vaccination coverage and safeguard families from the cycle of poverty.
Related