On any Sunday afternoon during football season, you can find Patrick's Irish Pub full of people wearing NFL shirts rooting for their favorite teams. At first sight, you might think you're in one of the many Irish bars scattered throughout the U.S. But you're actually in the thriving metropolis of Medellín, high in the Andes Mountains of Colombia.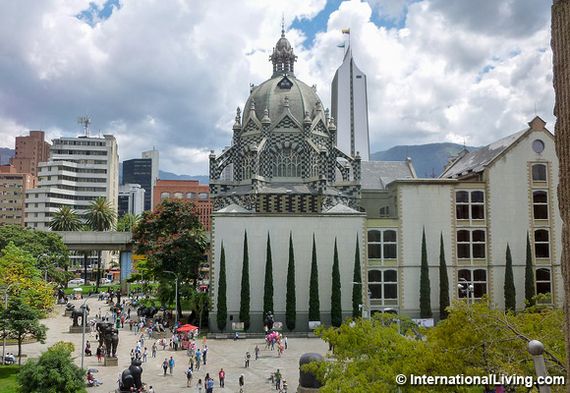 Downtown Medellin, Colombia
Medellín has long since shed its troublesome past to become one of South America's most prosperous cities. Expats now flock here to take advantage of the many business opportunities it offers. And Patrick Dwyer is one of them.
"How many people say, 'I have a dream to own a bar?'" asks Patrick, owner of the Irish bar that bears his name. "Well, I actually did it." Patrick, now 53, bought the bar in 2007 as a way to plan for his retirement. He has since transformed it into one of the most popular expat hangouts in the city.
Patrick began exploring Latin America in the late 1990s, making his way to Medellín when it was much less safe than it is now.
"After my divorce in 1997, I began traveling to places like Costa Rica with friends," says the California native. "In 2000, I convinced a friend to go on an adventure with me and head to Medellín."
As an architect, general contractor, and property investor back in California's San Fernando Valley, Patrick had the background to recognize the huge business potential in Medellín. "Back then, Medellín was not the safe, thriving city it is now," he says. "Also, the area where the bar is located was mostly upscale homes--not many businesses and practically no tourists. I was really looking toward the future. Colombia was considered the new frontier.
"Maybe it was luck, maybe it was foresight, but Patrick successfully managed to make an early entry into the now-growing business market in Medellín.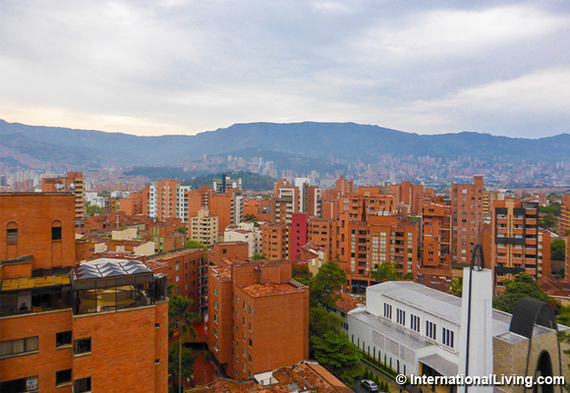 Medellin Skyline, Colombia
Patrick had no experience in the food and beverage industry except for a part-time stint as a bartender in college. But he saw the bar not only as a great business opportunity, but also as a way to reconnect with his heritage. "My father was from Dublin, Ireland," he says. "It just seemed like the thing to do."
Patrick planned to build his dream bar himself, but instead ended up buying.
"Originally, I was going to buy a lot and build from scratch," he says of his decision to invest in Medellín. "But I saw this place and I bought the building. It came with a liquor license, which was great."
Today, nine years later, Patrick's Irish Bar is thriving. The bar is renowned for its festive atmosphere, and Patrick has gone out of his way to give it an authentic Irish feel, right down to the staff's green uniforms.
Strategically situated in the heart of Parque Lleras, an area in the popular El Poblado neighborhood that is a nightlife hot-spot, Patrick's is popular both with expats from the U.S., Canada and Europe, as well as with local Colombians.
This diverse clientele means catering to a range of different tastes. Keeping a diverse and interesting menu is one of Patrick's challenges with his bar.
"Everyone wants what food they are used to in their own country," he says. "And I am still pursuing the challenge of making the perfect hamburger."
Customers can have their pick of finger foods, sandwiches, burgers and main courses such as shepherds' pie, fish and chips and Guinness beef stew.
The bar carries over 65 different types of beer, from local Colombian brews to German brands and, of course, Guinness. You won't want for liquors to choose from, either.
"I have over 40 distributors just for liquor," says Patrick. "I also offer drink and food specials and themed nights, like ladies' night." After six months of consistently offering these specials, he has developed a following of customers who come just because of these.
Learning the business rules and regulations in a foreign country can be a little challenging. Patrick is proud to say that "all my employees are legal. They receive paid healthcare, pensions, and all the required benefits."
Patrick owns an apartment a few blocks away from the bar, where he lives with his Colombian wife and their six-year-old daughter. He can walk to work from the apartment, but nowadays he lets the manager, Sandra, handle the day-to-day running of the bar. With the business doing so well, he has time to focus on what's most important to him: family.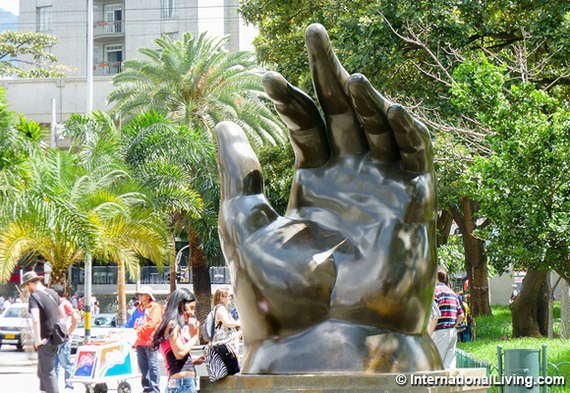 Botero's Sculpture in Downtown Medellin, Colombia
"I am taking it easier now," he says. "I am more focused on my wife and daughter. I adore my six-year-old and want her to have every possible opportunity in life. That means we go to piano lessons, gymnastics, music lessons, and of course language lessons."
Patrick still travels back and forth to a home he keeps in Bullhead City, Arizona, the only remnant of his U.S. life. "Getting from Medellín to Miami is easy, only a three-hour direct flight. It's within the U.S. that the travel is a little more complicated getting to my home.
"I really love my life in Medellín," he says. "The bar is doing well, in the top 25 in TripAdvisor (for Medellín)." With a successful business, a lovely family, and a cosmopolitan city to enjoy, it's easy to understand why.
This article comes to us courtesy of InternationalLiving.com, the world's leading authority on how to live, work, invest, travel, and retire better overseas.
PHOTO GALLERY
2016 Top 10 Best Places to Retire Overseas
Calling all HuffPost superfans!
Sign up for membership to become a founding member and help shape HuffPost's next chapter