This article comes to us courtesy of InternationalLiving.com, the world's leading authority on how to live, work, invest, travel, and retire better overseas.
On a balmy morning in Belize, John Lee is sitting on the pier, planning out his day over coffee. Breakfast service is over, and he's expecting around 40 people for dinner tonight. Once his wife, Ellen Larson Lee, has finished helping some guests with travel arrangements, she'll join him.
It's a far cry from their previous existence in Denver, Colorado. But John and Ellen consider themselves to be the luckiest people in the world running their small hotel and restaurant in the Belizean beach paradise of Placencia. Back in the U.S., John, who's from Australia, and Ellen, who's American, believed that because they had invested 20+ years in their careers, they had to stick to them. John is an electrical engineer by trade. He was an owner of a consulting firm that did business all over the world. Ellen was in advertising. She worked her way through the creative end of the business as a copywriter to become owner of her own advertising agency.
Then came the "light-bulb" moment when they realized that, actually, they didn't have to keep doing the same thing for the rest of their lives... and they didn't want to wait until a traditional retirement age to make a dramatic change.
"We had both reached a point where our previous careers were no longer as interesting to us, and we were looking forward to 'dropping out' and simplifying life," says Ellen. "All we wanted was to be able to support ourselves, contribute something, and enjoy life together.
"We both had skills that could apply to other businesses, and a lot of experience traveling, so we started looking around for a place to live. It wasn't until then that we decided what we wanted to do. We actually looked at a number of different options in different parts of the world, including other parts of Central America and the South Pacific."
In 2004, they decided that hospitality was the business they wanted to go into. They always loved to travel, and a huge part of that experience was trying out different cuisines and wines around the world. Going into the hospitality business seemed like the natural choice. They wanted to share what they loved with other travelers.
"John's interest in cooking had grown as we traveled to interesting parts of the world, both on business and for fun. In the years preceding our move, he started learning more about baking... and sauces in particular," says Ellen.
And so they went in search of a place for their new life. "We had already been to Belize and several other countries looking for a spot and hadn't found exactly what we wanted. Then one of the real estate agents we had met phoned and told us he had something new for us to see. It wasn't officially on the market yet, but he knew it was in our price range." At the time, vacant beachfront properties in the area were selling at $1,200 per linear foot.
The property had been a small hotel and a sports bar at one point but was not operating as such when John and Ellen purchased it. It covered about one acre of beachfront, halfway up the Placencia Peninsula and eight miles from Placencia Village. On the property was a core building with a few guest rooms, a large room that could be converted to a dining area, and a small kitchen with a few residential appliances. It was a good start, but there was work to be done.
"We have probably built about two-thirds of what's on the property now," says John, whose electrical engineering skills were of huge value when expanding the building. "We've built out the kitchen, added an outdoor dining area and a swimming pool, and renovated all the hotel rooms. Every year we close for a couple of months and do what we can to improve the property even more."
The couple decided John would run maintenance and the kitchen, and Ellen would take care of guest-related matters like reservations and service in the restaurant. Her experience in advertising and creative background would also be of use in marketing.
Then came the learning part! "We opened the hotel with five small rooms and a 'restaurant' that had a couple of tables," recalls John. "Over the course of a few months, we started serving the occasional neighbor who would wander in, and pretty soon we needed to add a few people in the kitchen as well as a bartender to help us out. Thankfully, starting slowly gave us the opportunity to learn on the job.
"Our menu is pretty well set with a little bit of seasonal variation. We also do nightly specials, usually with fresh, locally caught fish. Some of these specials are so popular we repeat them often. Others are created based on interesting ingredients we come across, or say for example, when a fisherman brings us an unusual catch.
"We have about 15 people working in the kitchen now on various shifts, so it's important to have a menu that can be executed perfectly.
We have served as many as 120 dinners a night during the high season. A comfortable night for us is 40 to 60, and a slow night can have as few as 15 people dining."
The high season in Belize is about six months long, over the winter and spring months. The low season can stretch John and Ellen's resources, but it's also the time of year that employees like to take extra time off... so it all works out.
"When we first opened, we had a huge learning curve since we hadn't been in the hotel or restaurant business before. It took a while to figure out what we were doing, and build a strong team," says Ellen. "Now it's a lot easier, as we have key people in every department who really know what they are doing."
"The transition to a new country and culture wasn't that hard for us," says John. "Both of us had lived and worked in other countries before, so moving here felt more like just adjusting to a new neighborhood. It's true that Belize presents a unique environment to live and do business, but that's part of the learning experience. Another part is learning not to park a new car under a coconut palm."
But it's not all about business. Lifestyle is what matters most.
"Even though we now have a busy restaurant and small hotel, it's honestly not a huge income generator the way we've been running it. We might be a little over-staffed and underpriced," admits Ellen. "Certainly more experienced hoteliers or restaurateurs could operate a business more profitably, but we figure as long as we are doing slightly better than break-even business and we're enjoying our lifestyle, there's not much more that we need.
"If the value of the hotel grows, well that's a bonus. But the biggest rewards come from the relationships we've made with the friends, employees, and customers who make Placencia what it is."
At the end of the day, the lifestyle in Belize is what it's all about for John and Ellen. "Placencia is awesome! All of it, from Placencia Village to Seine Bight to Maya Beach to Riversdale and everything in between is fantastic," John says.
"People care about the environment. They value family. They value free time. So many Placencia Belizeans are welcoming, smart, good-humored people who make it easy to love it here. We employ around 35 Belizeans, most are full time and most come from this area. It's great to be surrounded by quality people like this every day and we're proud to play our small part in the community."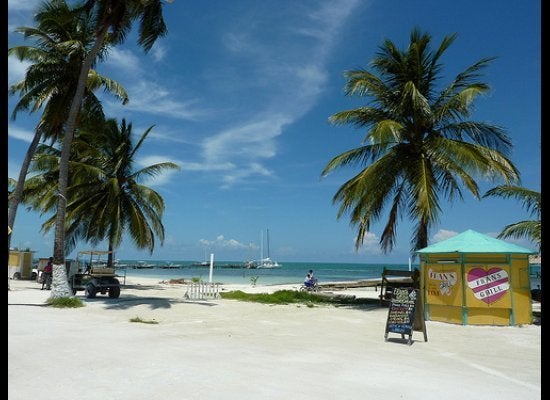 Why Retire to Belize
Related
Popular in the Community