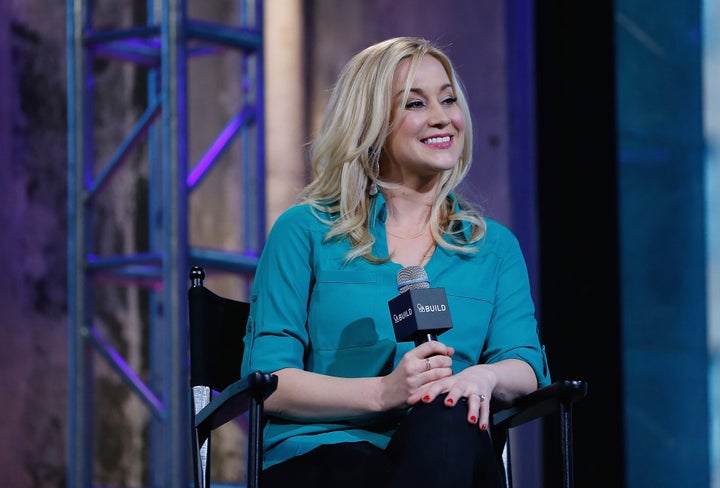 Kellie Pickler won't dish too much on what will happen during Season 2 of her CMT reality show, but will say that fans can definitely expect "a high adrenaline-rushed season."
The "American Idol" alum has already starting shooting the second season of "I Love Kellie Pickler," and one new addition will be … the in-laws. Yep. Her husband, Kyle Jacobs, now has his parents living nearby in Nashville, and as Pickler suggests, that's sure to spice things up.
"There's going to be a lot of fun, crazy little adventures that we go on," Pickler told AOL Build about her series, which takes about three months to film.
"I Love Kellie Pickler" takes fans behind-the-scenes of Pickler's life -- from her marriage and friendships to songwriting and performing. She doesn't hold back on letting viewers inside her Nashville home. Still, there are things she won't do in front of the camera.
"If ever it feels if anything is … dividing us, then we cut it out ... Luckily we haven't had to worry about that," she said. "But I think making sure your priorities are in check … if we feel that anything's creating a distance between us, then that has to go."
Pickler and Jacobs tied the knot in 2011 and have been going strong ever since. The 29-year-old singer says it's because they make their marriage priority No. 1 -- above all else. Sure, Pickler enjoys the limelight, but she said, "We can not do any of this stuff and just be fine." The country star stays grounded and gets support from her friends, too.
"I have amazing people around me who will pat me on the back when I do something right, but they're quick to tell me when I do something wrong," said Pickler, who also recently teamed with Flonase for its Be Greater campaign.
Those amazing people will surround Pickler throughout Season 2 of the show, which launches in August. After that, Pickler hopes to hit the studio to begin work on her next album, her first since 2013's "The Woman I Am."
It's hard to believe it's been already more than 10 years since a teenaged Pickler graced the "Idol" stage for the first time.
"I was 19 and green … It's crazy, time doesn't slow down for anybody," she said. "'Idol' was the road that led me to Nashville … I've been very blessed to know what I want in my life and to just chase after it," she said. 
For more from Pickler's interview with AOL Build, check out the video below.
Calling all HuffPost superfans!
Sign up for membership to become a founding member and help shape HuffPost's next chapter
BEFORE YOU GO