Like many people, I look forward to certain consistencies in life. Since moving to San Francisco in 1972, certain culinary treats became such personal favorites that I inevitably ordered them whenever I visited the restaurant where they were served.
The cheese calzone at Marcello's?
The enchiladas suizas at Los Cazos?
The chicken yakitori at Jun-Jun's?
The sweet and sour liver at the Neon Chicken?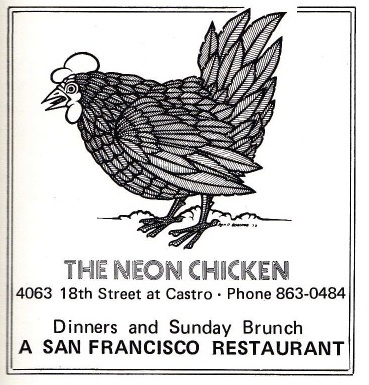 As Sarah Palin would say, "You bet'cha!"
Some of my favorite restaurants disappeared years ago, leaving me to relish the memory of their beloved specialties while searching out new delights. The same rule pretty much applies to my experience in the arts. One can always anticipate and enjoy returning to a beloved opera like Lohengrin or Madama Butterfly while relishing the opportunity to attend a provocative new production or find something radically different to delight one's palate.
Some people expect that arts reviewers will only want to see certain works performed the same way they've always been done -- or that certain types of stories will adhere to traditional, formulaic structures. Such an artistic diet can be as frustrating as the dilemma faced by the Duke in Gilbert & Sullivan's 1881 comic opera, Patience, or Bunthorne's Bride. The following clip includes a radically updated set of lyrics for "If You Want A Receipt For That Popular Mystery Known To The World as a Heavy Dragoon" followed (at the 4:10 mark) by the Duke's poignant observations about toffee.
Four shorts screened during the 2014 Frameline Film Festival deftly deviated from cinematic standards. Each offered a new twist on a cinematic cliché, occasionally delivering a punch in the gut to viewers.
In the Spring of 1968, when I was summoned to Fort Hamilton for my draft physical, I remember worrying what would happen during the process. This was at a time when the mere thought of showing up for one's draft physical filled many a young man with the fear that he could soon find himself being shipped off to Vietnam.
At one point that morning, about 50 of us were seated in a classroom as a very macho Sergeant briefed us on how to fill out a military questionnaire. He obviously relished the opportunity to strike terror into the hearts of impressionable young men. As he explained:
"I'm sure there are one or two of you who've given some thought to checking off the box that indicates homosexual tendencies. If you do, you'll be taken to a room where a psychiatrist will interview you to determine whether or not you're really a queer. It'll just be the two of you alone in that room, and that psychiatrist is a really nice man (if you know what I mean). But at the end of the interview, he's going to whip it out and put it on the edge of his desk. If you go down on it, you are. And if you don't, you ain't."
I was dying to ask the man if what he was describing qualified as soliciting on Army grounds but decided to keep my mouth shut. To my utter surprise, the psychiatrist turned out to be a little old lady with white hair who was not much taller than Dr. Ruth Westheimer. I left Fort Hamilton a free man, confident that I had tickets to a performance of Handel's Giulio Cesare at the New York City Opera that night.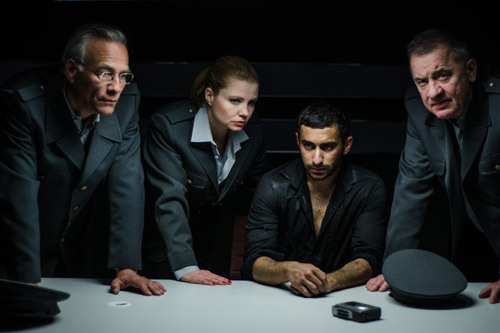 Firat Erol gets interrogated by Czech military
personnel in a scene from Das Phallometer
Interrogation scenes are a key plot point in many war films and episodes of police procedurals like Law & Order. Written and directed by Tor Iben, Das Phallometer was inspired by a true story. For many years, refugees who sought asylum in the Czech Republic and claimed they were persecuted in their homeland for being homosexual were subjected to a bizarre entrance exam.
In Das Phallometer, Firat Erol plays an Iranian refugee who has been on the run. When he is captured by military guards near the Czech border, he is taken to an interrogation room where he must prove his sexual orientation. The Czechs apply electrodes to his genitals and start to screen gay porn in front of him. His reliably turgid response is met with nods and sounds of approval from his interrogators.
Written and directed by Dennis Shinners, Barrio Boy is set in a barber shop in the Greenpoint section of Brooklyn. When a handsome hipster named Kevin (Dan Leonard) enters the shop looking for a haircut, he immediately gets the once-over from Cuz (Peter Olivera) and Rafa (Andrew Flores), two unemployed macho Latino men who hang out there.
Cuz and Rafa are completely unaware of the thoughts racing through the head of their friendly barber, Quique (Dennis Garcia), who is still in the closet. Quique's good looks and attentive scissor work are nothing compared to the erotic thoughts he's having about what he'd like to do to Kevin, thoughts that make his voice-over sound like it's being performed at a poetry slam.
While Cuz and Rafa don't hesitate to telegraph their scorn for the white boy, the fact that Kevin has accidentally left his hat in the barber shop leaves hope springing eternal -- and in Quique's pants -- that the two men might meet again. Here's the teaser.
It's easy to watch the following trailer for Mexican filmmaker Julián Hernández's short, Wandering Clouds, and think it was all about underwater ballet. But so much more happens in the full version.
Ignacio Pereda, Alan Ramirez, and Mauricio Rico portray three athletes practicing their dives and swimming routines in a campus pool.
One is a bully.
One is the target of his homophobic taunts.
The third shows up suddenly and takes sides (but not in a way the bully ever anticipated).
Hernández (who also directed I Am Happiness On Earth) finds just the right touch with which to take the bully down and surprise his audience with a delicious turn of events that adds power to the youthful eye candy in his short film.
Based on what happened to director Carl Byrd on his 41st birthday, one of the bitchiest shorts to come along in several years features a winning cast with vocals by Klea Blackhurst and a guest appearance by none other than Lady Bunny. Writer Peter Macklin (who also appears as The Waiter) serves up some choice one-liners.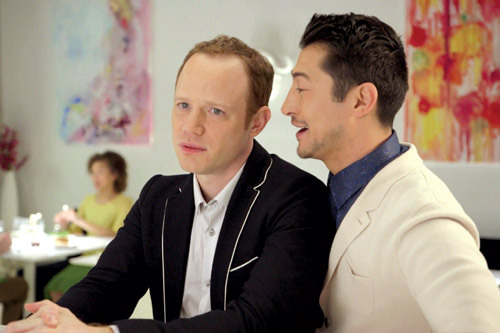 Chuck (Sean Dugan) and Cody (Rich Ceraulo) try
to celebrate Chuck's 40th birthday in Dinner at 40
Chuck (Sean Dugan) is the nervous birthday boy whose lover, Cody (Rich Ceraulo), has obviously grown accustomed to weathering Chuck's frequent meltdowns. Abby (Joanna P. Adler) is a close friend (and fag hag) while another friend, Nick (Craig Baldwin), has shown up with his newest flame - a young gym bunny named Duane (Marcus Callender).
To add insult to injury, Flynn (Wilson Cruz) appears at a neighboring table bearing lots of emotional baggage. How so? Flynn was formerly Cody's boyfriend and Chuck's best friend.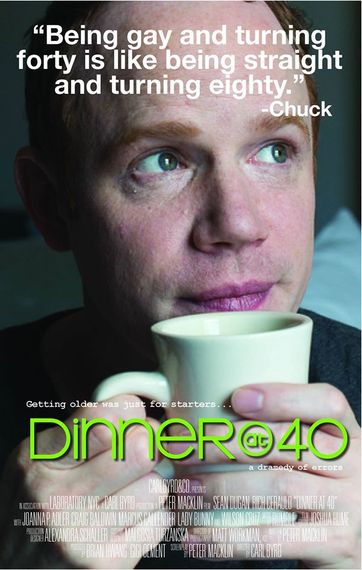 Poster art for Dinner at 40
What should have been an intimate birthday party where two gay men had hoped to propose to each other is quickly derailed by added guests, unexpected faces from the past, and the kind of gay panic attack that rapidly spins out of control. Carl Byrd and Peter Macklin are obviously on familiar ground as they showcase the crushing insecurity of a handsome gay man who has a good job, a devoted lover, and loving friends but is nevertheless terrified at the prospect of turning 40.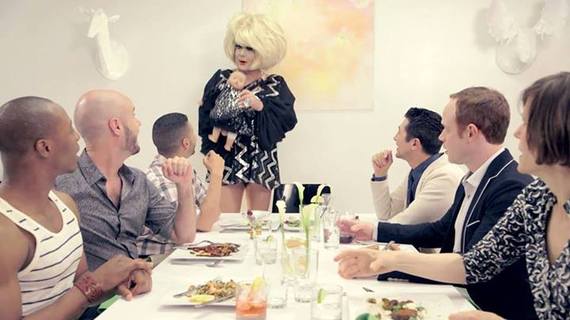 Lady Bunny provides some questionable entertainment
for Chuck's birthday party in Dinner at 40
Despite Chuck's severely wounded ego, a ruined birthday party, and a drag queen performing a mock abortion with a plastic doll, it's refreshing to note that this gay nightmare has a happy ending. Here's the teaser:
Because every attempt to update, reinterpret, or bastardize one of Shakespeare's plays does not necessarily score a hit, it's foolish to insist that All's Well That Ends Well. Some productions are monstrously misconceived, others are filled with numerous ideas that don't always succeed but deserve credit for their creative insights.
Bay area audiences who have followed Jon Tracy's rising star as a writer and stage director have grown to trust the man's ability to mine his abundant imagination in order to create an evening of engaging (if not always perfect) theatre. Working over a wide range of repertoire, Tracy has shown a remarkable ability to inspire and free up actors to take risks while contributing to the creative process.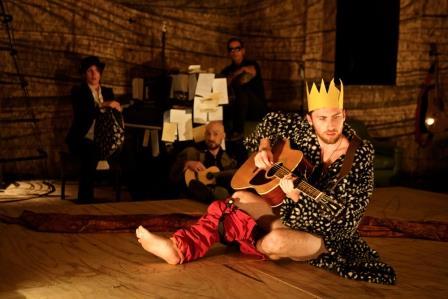 Ben Euphrat as Orsino n Twelfth Night (Photo by: Pak Han)
Last year, Tracy was scheduled to work on a new production of Twelfth Night when he and his actors were stopped dead in their tracks. They decided to attempt an Indiegogo crowdsourcing appeal which laid out the goals of Shakedown 12th Night in no uncertain terms:
"Our developmental production of a musical Twelfth Night has lost its home and needs your help to find a new one! We are an ensemble of eleven theatre artists who want to revive a cancelled dream project: a musical production of Shakespeare's Twelfth Night. Our collective skill set contains (but is certainly not limited to) juggling, acrobatics, hand springs, hand-balancing, guitar, mandolin, violin, banjo, bouzouki, didgeridoo, ukulele, drums, tambourine, percussion, piano, accordion, and vocals that'll make your mama cry. Also, we're pretty into the language of Shakespeare. Which is a musical instrument in and of itself. BAM.

As artists, we are always trying to envision the best way to tell a story, but how do you tell one of the best stories ever? Jon has looked towards ritual as inspiration. From that kernel came a landscape of musical narrative, powerful physical storytelling and a heightened realism; a dark, turbulent world which blurs the line between the figurative and the literal."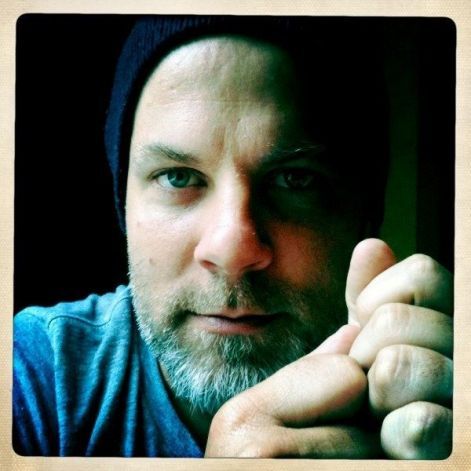 Jon Tracy (Photo by: Nina Ball)
"In Shakedown, the events of the classic story have already passed but every year the people that lived through it commemorate their shared experience with a ritualized retelling. Each character relives their story, but also serves as the audience, the chorus, and the band for the others; each a part of this community bound together by the events of the play. Our best shot is getting a proper workshop, culminating in a showcase to woo interested theatre companies.

Not everyone can throw cash monies at us and our Shakedown dream, but fear not! Your love is powerful stuff. Sharing this post on your Facebook page or Twitter feed (or just good old-fashioned telling someone about it) will help bring our campaign to more folks' attention. Even dropping us a line or giving us a call to convey your support would be downright awesome. If you're especially swamped, telepathy is totally cool, too..i'faith, we can feel it now...To put on said workshop we need $3,000. Give us a hand, won't you?"
Shakedown's fundraising appeal netted 17% more than their goal and succeeded in attracting the interest of Berkeley's Shotgun Players (which, over the years, has collaborated with Tracy and many of the artists in Shakedown's ensemble). Working on a unit set that was intelligently and most economically designed by Nina Ball, the Shotgun Players production offered a fascinating case study in how a community of artists can use crowdsourcing and social media to help their dreams come true. As Tracy notes:
"This production has been alive in workshops, showcases, and Hail Mary passes for some time. The way you tell the story can also be the story itself. At this juncture, looking ahead and behind, it has become a story of perseverance. Twelfth Night's other title (What You Will) has a different meaning to us here than intended. It has become a sort of mantra about what can be accomplished with collective strength. Play on."
Although Tracy's approach to Twelfth Night may not be the stuff of which a traditionalist's dreams are made, it scores strongly on many fronts (partly because there may be a greater sense of ownership for the actors who participated in the development of this production). With Ben Euphrat doubling as music director and Orsino, there were times when the number of actors playing guitars, ukuleles, and banjo onstage made me wonder why no one had insisted on including a balalaika (certain moments in the show also make one wonder if this could be the Shakespearean answer to the recent musical adaptation of Once).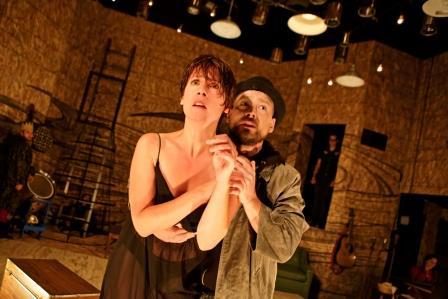 Viola (Rebecca Pingree) and Feste (Jeremy Vik) in
a scene from Twelfth Night (Photo by: Pak Han)
As with any of Tracy's theatrical adventures, the energy level is extremely high with especially hyper performances coming from Nick Medina as Aguecheek, Rebecca Pingree as Viola, Billy Raphael as Sir Toby Belch, and Jeremy Vik as Feste. One of the strongest performances came from Sarah Mitchell (a superb actor whose fine work is often underappreciated).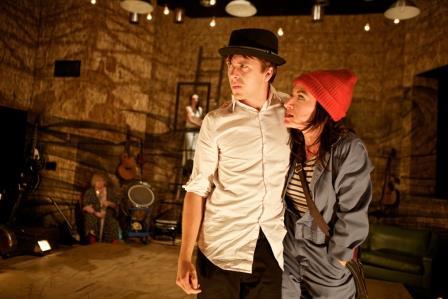 Sebastian (Will Hand) and Linda Antonio (Sarah Mitchell)
in a scene from Twelfth Night (Photo by: Pak Han)
Will Hand's appealing Sebastian indulged in some carefully disguised (and fully appropriate) moments of nudity onstage ("Off, off, damned sheet!") while the heavily tattooed Cory Sands brought a level of hipster chic to the production.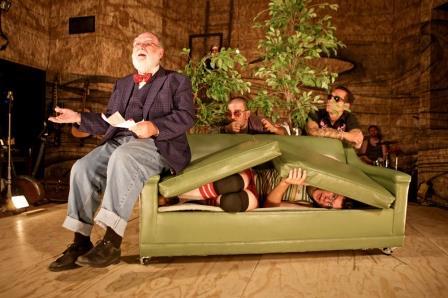 Malvolio (Terry Rucker) soliloquizes while Aguecheek (Nick Medina) hides
beneath a set of couch cushions in Twelfth Night (Photo by: Pak Han)
Twelfth Night's first act often tends to get dragged down in exposition, with the second act generating more physical comedy to entertain an audience. If there is one weak point in this production, it centers around Terry Rucker's characterization of Malvolio. Still, that's a small price to pay for such an enthusiastic evening of theatre which, for the most part, is literally bursting with creativity.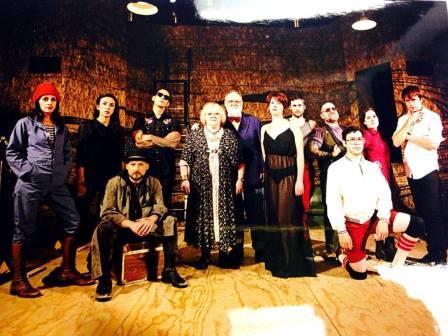 The cast of the Shotgun Players production of Twelfth Night
(Photo by: Pak Han)