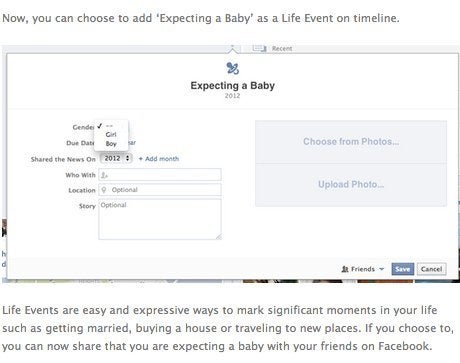 Facebook has added "Expecting a Baby" to its list of things you can add to Family & Relationships. If you opt to use this feature you can specify (or not) the baby's gender and due date along with "who with," "location" and whatever "story" you wish to report or conjure up.
I'm guessing that by location they mean where you live or where you expect the baby to be born, but I suppose you can be creative. I'm not sure how wise it is to be creative with the "who with" category, but I'm told by a Facebook spokesperson that if you select another Facebook member to share the honor with, that person will have to approve it before their name shows up. You can also add photos of, well, I guess either the parents or maybe the ultrasound if you care to share that.
The feature is entirely optional and, like most things you post on Facebook, you get to specify who can see it. You can make it public, share it with friends or restrict it even further to specific people or groups of people.
In a statement, Facebook said "Currently we are not using this life event for ad targeting. We'll explore the option in the future, as we observe how people use the feature." In other words, they're not going to start pitching baby products to you right away, but they could start at some point in the future.
As with anything, you should think carefully before you post the good news that you're expecting. Do you really want to share this with the world? Is there anyone -- perhaps an employer or a family member -- who you're not quite yet ready to tell? Are you far enough along in the pregnancy to want to share the news? I know this sounds awful, but the American Pregnancy Association says that "from 10-25 percent of all clinically recognized pregnancies will end in miscarriage," with most happening "shortly after implantation." While the chances very good that your pregnancy will result in a healthy baby, you should still put some thought into when you want to disclose it. While you can limit the audience to this or most other types of posts, there is always the chance that someone who sees this on Facebook might inadvertently share it with others -- perhaps many others -- via their own Facebook account.
Click here (and scroll to bottom) for instructions on how to add expecting to Life Events.
Disclosure: I'm co-director of ConnectSafely.org, a nonprofit Internet safety organization that receives financial support from Facebook.
Related
Popular in the Community