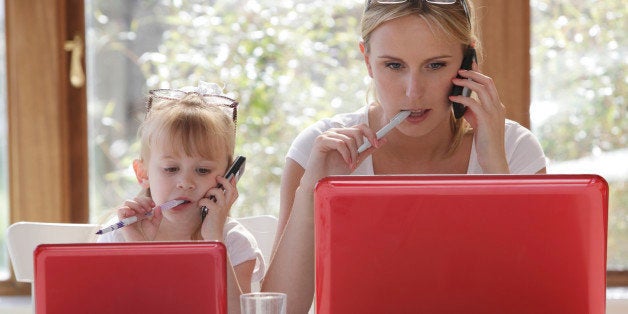 Every working parent expects to deal with a good bit of juggling between the personal and the professional, the kid-friendly and the kid-free. But many of us went into this thing thinking that, with proper planning and a can-do attitude, we can achieve the seemingly impossible: a work-life balance, each and every day. The good news is, we can! For most of us, the reality is much more chaotic than the fantasy, but it's important to remember: that's OK.

Even though life as a working parent can be hectic and stressful, it can also be awesome. Because, hidden in the messiest moments, there is a whole lot of humor and beauty -- it's where long-lasting memories are made. We've partnered with Chevrolet Malibu to bring you seven hilarious (and all too real) moments that all working parents can relate to.
1. Waking up after a late night of answering a backlog of emails and folding mountains of laundry.
Expectation:


Because you were productive the night before, slashing items from your to-do list left and right, you've earned a few extra Zs. You set your alarm just early enough to enjoy that first solo, stress-free cup of coffee before the kids come bouncing down the hall.
Reality:


You're forcefully jolted awake by all of your kids tugging off your covers and demanding breakfast well before your alarm goes off. (RIP to those extra Zs.)
2. Hitting those 10,000 steps before that 10 a.m. meeting.
Expectation:


You are super woman -- a morning exerciser out for a mind-clearing pre-breakfast run that sets your intention for the day ahead.
Reality:


You set out your gym clothes the night before with the best intentions, but does that morning exercise happen? Sprinting the kids into school and half a dozen walks to and from your office's coffee machine will just have to do.
3. Making sure everyone is (close to) appropriately dressed on the way out the door.
Expectation:


You've set out your kiddos' clean and coordinated outfits the night before, so they're looking adorably put together, while your freshly blown-out hair is the perfect pairing with your favorite silk blouse.
Reality:


You definitely didn't have time for that blowout. In fact, you'll need to put on your makeup in the office parking lot. As for your kids, they pick out their own outfits and dress themselves (even the 2-year-old), which means they're donning an overworn Elsa dress and a two-sizes-too-small firefighter suit. Again.
4. Settling in for your 9-to-5 (OK, sometimes 9-to-7).
Expectation:


You're a multitasking machine, with an empty inbox to boot (thanks to your late-night burst of productivity!). No crises here.
Reality:


Before you even get started on your first task of the day, you get a call from your kids' school. You forgot to drop off paperwork for an afternoon field trip. Later, it's emails about the upcoming teacher appreciation day. Sorry, co-worker, no leisurely lunch with me today. You're hustling from the moment you walk in the door until the time you leave (as close to 5 p.m. as possible, thank you). But everything that needs to be done somehow gets done.
5. Getting dinner on the table when you've got a late-night client call.
Expectation:


You pick up the kiddos just as their after-school lessons are wrapping up. On your way home, you even remember to swing by the grocery store for a couple of ingredients you'll need to make a healthy and delicious dinner ahead of your West Coast call.
Reality:


OK, so you achieve this elusive time-perfecting routine maybe two days a week, and when you do, it's amazing. But on the other nights? Pizza it is.
6. Attempting to relax after the kids are worn out and your to-do list is null.
Expectation:


You've wrapped up some of your late-night work -- saved drafts, sent emails -- and the little ones are washed up and tucked in. Lunches are made and clothes are ready for the next morning. This calls for a little adult time, complete with a bubble bath, candles and a glass (or two) of wine. Maybe you'll even catch an episode or two of "Housewives" before bed! (They have it so easy.)
Reality:


Hope you don't mind a toddler (or pet) peeking in on your evening soak.
7. Recharging for the next day of having it all.
Expectation:


You settle in for eight blissful hours of sack time. Because you also win at sleep.
Reality:


You drift off while sitting up in bed after attempting to catch up on some reading once your toddler is (finally) tucked away in bed. But hey, it's alright, because you know how valuable sleep is, and you'll take your five or six hours when -- and where -- you can.
Then it's time to do it all again. And you wouldn't trade reality for the fantasy come tomorrow, either.
Chevrolet Malibu is committed to helping you find the awesome in every day and strive for the success that matters. Happiness, humor and joy can come from the most unexpected places, and the all new 2016 Malibu is ready to change your perception of what a midsize car can be.
Related