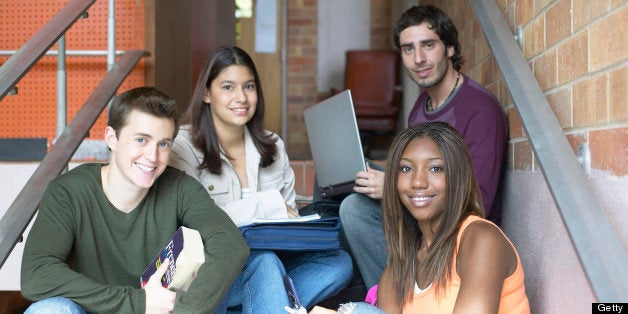 With the national unemployment rate lingering well above 7 percent for the last four and one-half years, many are wondering if high unemployment is now the "new norm" in the United States. And if this is the case, should we expect more from our institutions of higher education? Should we be asking them to do a better job of preparing graduates with specialized training and workforce-ready skills?
We tend to think about universities as being places where students go to simply attend classes and earn grades -- where academic transcripts are stored and degrees are awarded. But how often do we think about these institutions as being places where students go to apprentice and learn a profession -- where trade skills are demonstrated and passed down by experienced practitioners? Perhaps it is time for us to raise our expectations.
It would seem that the top priority for institutions of higher education should be to help graduates enter the workforce and become contributing members of society. Yet, most universities measure themselves by the size of their enrollments; the number of degrees they award; the prestige of their faculty; the size of their endowments; or the success of their athletic programs. Rarely, do you hear universities boasting about the percentage of their graduates who were able to obtain immediate employment in their field of study or pay back their student loans.
Many claim the higher education systems in the U.S. today are broken -- producing far too many graduates who cannot compete in the new job market. Consider the following statistics: about 1.5 million or 53.6 percent of bachelor's degree-holders under the age of 25 last year were either jobless or underemployed. And of those who were actually employed, about 48 percent were in jobs that required less than a four-year college education, according to the Bureau of Labor Statistics.
Let's face it, if you bought a brand new car and the very next day it failed to get you out of your driveway, you would be justifiably upset and you would probably have it towed back to the dealership. If you learned over half the consumers who bought the same vehicle had a similar experience, you would expect a national recall.
In many states there are "lemon laws" that protect consumers who have purchased products that repeatedly fail to meet basic expectations. Auto manufacturers have made significant improvements in the quality and performance of their vehicles since these types of laws have been enacted. Though costly, most manufacturers will voluntarily conduct a recall of defective products rather than face the liability of a class action lawsuit or risk damaging public confidence in their brand.
In a similar fashion, bachelor degree granting institutions have an obligation to address the employment concerns of new degree-holders. These institutions must take the lead in combating the growing epidemic of underemployment among recent college graduates. The responsibility for university officials does not end when they shake a student's hand at graduation and issue a diploma. Accountability measures for student success must include real world achievements, not just academic achievements. It is imperative that colleges and universities begin to place just as much emphasis on job placement rates as they do on graduation rates.
Rather than denying the existence of a problem, higher education officials must reconcile the fact that the skills gap is a very real phenomenon -- one that demands serious attention. We cannot afford to accept high unemployment rates as the "new norm" for the U.S. workforce. We have a generation of college graduates at risk and we need solutions now. No other entities or organizations in the country are better suited or better equipped to deal with this insidious problem than our revered institutions of higher education. Yes, we can and should expect more from them.
Popular in the Community