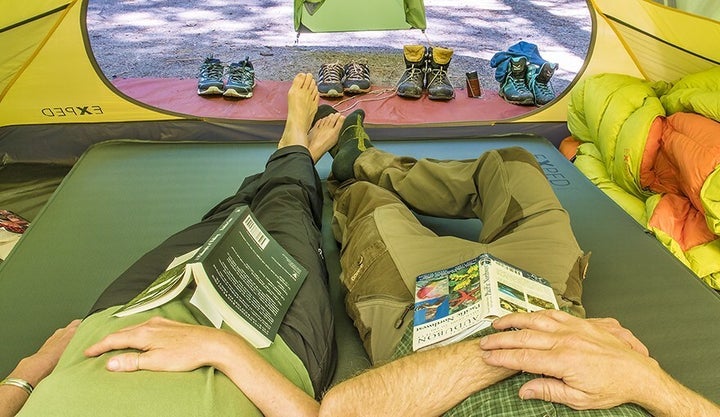 HuffPost may receive a share from purchases made via links on this page. Every item is independently selected by the HuffPost Shopping team. Prices and availability are subject to change.
This summer I set out to buy some new camping gear and give the great outdoors a fresh go. I'm no longer young and spry, and I need my comforts. And in my search for a way to actually get good sleep while lying on the ground, rather than tossing and turning on rocky terrain, I kept seeing recommendations for the Exped MegaMat 10 line of car camping sleeping mats, which self-inflate and contain high-grade polyurethane foam for cushion.
I didn't think a mat could be better than an air mattress, or that anything in the general "camping pad" category could be acceptable, much less actually good — especially in comparison to my fancy and supportive mattress at home. "The reviewers must be accustomed to using those thin, awful backpacking mats," I thought dismissively as I read pages of glowing reviews. "There's no way this mat is that good, or worth the money."
I finally gave in to the hype and ordered my own MegaMat, and after letting it fill up and topping it off for firmness, I laid down on it on top of my apartment's cold, hard ceramic tile. It was amazing. It felt like a real mattress. And when I turned to my side in the way I usually sleep, it was still amazing. I couldn't find a single fault. My hips were supported, and no part of my ample body sank to the floor. It was the most comfortable bit of gear I've ever slept on, and it was warm, too, thanks to its high R-value of 8.1, so it will be great for camping in winter as well as the rest of the year. It wasn't slipping around — neither was I — and it felt luxuriously made, soft and durable. My mind was blown.
I immediately ordered a second MegaMat for my camping buddy, though I saved a little money by buying it from REI's used section. And now, when I have guests visit, they get to sleep on the MegaMat instead of my previously trusty guest spring mattress or double-height air mattress. Everyone loves it, and no one can believe it's a camping mat.
The best part for anyone looking to upgrade their camping experience is that both the two-person Duo model and standard single Exped MegaMat 10 (each type comes in a medium size and an extra-long, extra-wide option) are on sale for Labor Day. Get 25% off at Moosejaw while it lasts (the company was not able to provide an end date for their sale) or 25% off at REI now through September 5. And because the MegaMats are definitely pricey, now's the time to take advantage of this sale — even if you don't plan to camp again until next spring or summer.
Each MegaMat 10 is about four inches thick and comes with a mini-pump you can use to adjust the firmness to your liking after the mat self-inflates, which initially takes about an hour but will take much less time in the future. The mats also come with a small repair kit and an easy-to-manage stuff sack with a large opening and a shoulder strap for easy carrying.
Promising reviews of the Exped Megamat 10:
"I own a Duo and also this single MegaMat 10. It is so comfortable even for a side sleeper who also has back and hip issues. I absolutely love it! I've owned other sleeping pads and blow up mattress's but they just do not compare. I love that it has insulated padding within and I think that makes a difference. They are also so much lighter than other blow up pads. I highly recommend this product which is why as a disabled veteran I own two sizes." — afriendcares4u on Moosejaw

"Going down for a hunt in Colorado. Have a lower back problem. Very picky on what I sleep. Inflated in the house, laid down on it for a test. 2 minutes down the road I was passed out and drooling. This thing is as close as my 3k mattress. Would highly recommend!" — Sergey at REI

"Honestly the best money I could spend. I don't mess with my sleep and this mat is really comfy! It's thick and gives great support for my back and hips. Worth every $" — Phyllish21 on Moosejaw

"I've had my first pad for approximately 3 years and have used it during a broad range of temperatures. It has never failed to impress me. Coupled with the right sleeping bag, some of the best sleep I get is when camping. I'm an older individual with a body that shows plenty of wear, so comfortable sleeping positions are not necessarily a given but with these pads, you can tailor the level of support to achieve, at least for me, the ideal balance of comfort, support and warmth. The insulation in these mats is excellent. Not small or compact, but perfect for car, airplane or horseback packing. If you are searching for a quality pad that will provide outstanding comfort, ease of use and years of service, treat yourself to an ExPed MegaMat. You won't regret it." — PopPop51 on Moosejaw

"The comfort is absurd! I have absolutely nothing negative to say. It was plenty of room for both of us, the mat didn't stick to our bodies, it didn't make us overheat. It feels sturdy to play on and quiet when your lover moves about. We are both in our mid 40s and it was super duper!" — Kristin on Moosejaw

"A must have addition if you're car camping. I'm a side sleeper with a fussy back and this is as comfy as my bed at home. It's super easy to setup/inflate as well as deflate to pack back up. The investment into this sleeping pad is well worth it. I have yet to wake up with a sore back while camping with this thing." — Jenna V at REI

"I bought this mat for car camping and went back and forth between this mat and a memory foam topper. I was hesitant about this mat due to the description of it being partially an air mattress. The open cell foam does not give it an air mattress feel at all. It's soft, quiet, and no one bounces when you shift positions. Inflation was simple (I followed the instructions) and re-inflation was easy peasy. This mat is great!" — KBAdvebturer on Moosejaw
Before You Go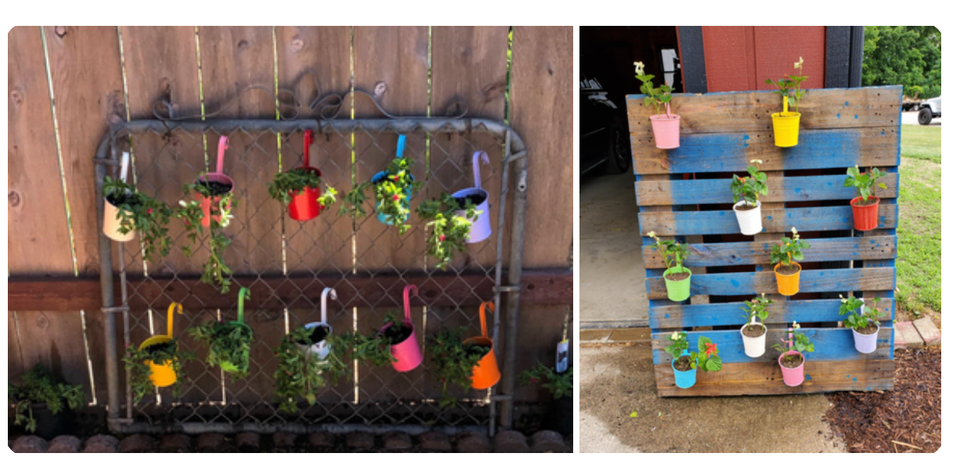 32 Things That'll Make You Wanna Redo Your Entire Backyard