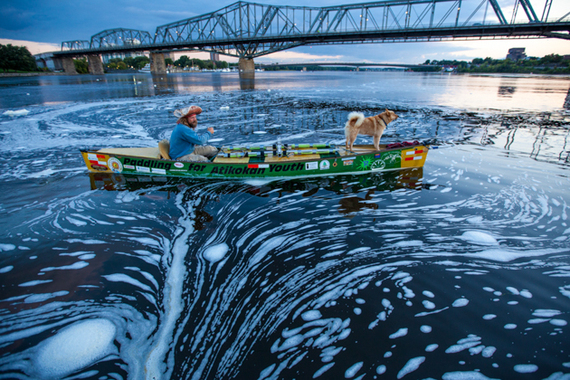 When first I was exploring rivers, a time ago, it was a daunting feat to plump over a 20' waterfall and survive.
Now, the bar has risen to what was once incomprehensible. The current record for paddling over a waterfall, and surviving, is 189' (that's taller than Niagara), performed by one still breathing Tyler Bradt, over Palouse Falls in Washington state.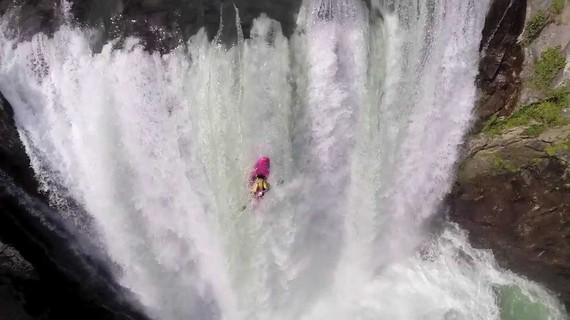 I mention this as I was immersed in the new derring-do this week at the annual Oscars of Expedition Paddling, The Canoe & Kayak Awards, held at the Outdoor Retailer Show in Salt Lake City.
There are several categories, such as Spirit of Adventure, Paddle with a Purpose, Lifetime Achievement, but the big prize is Expedition of the Year, for which I was recruited to present. My comments:
"It seems there are several reasons why we paddle unknown waters and risk life and limb to explore. And why undertaking such uncertainties are important.
I've tried to distill it down to four:
1) Knowledge: The tyranny of geography has always staunched the accumulation of new information. But, for those who dared to ignore boundaries, and set out to agua incognita, they filled the cups of collective knowledge. Every stretch of water in the world that has been explored and documented has contributed to better understanding, and the evolution of consciousness.
2) Passion: The archetype is Richard Burton, famous for his quest to find the source of the Nile. Though commissioned by The Royal Geographical Society, he really set about exploring to satisfy his own insatiable curiosity about foreign life, languages and exotic sex. He sought out perfectly unnecessary hazards in the name of inquisitiveness, and pursued the unknown not for empire or some larger good, but for his own love of discovery. He pursued his passion.
3) Wonder: When Teddy Roosevelt decided to explore the River of Doubt in Brazil, he said, "I had to go. It was my last chance to be a boy."
4) Romance: When Sobek set out to make the first descent of The Great Bend of Yangtze, we expected huge, steep canyons and rapids the size of Tibet. But three weeks into the expedition, and after a few capsizes, we found we were short on food. So, at a village Jim Slade bought a dozen live chickens, and attached them by their skinny legs on the tie-down in the back of his boat. But, when we turned a corner, and barreled down a class IV rapid, we all experience something different: "Poultry in Motion."
All 6 of the nominees for the 2015 Expedition of the Year embody to their bones these elements of the great quest, and more."
Ranta, 42, and his dog, Spitzii, spent seven months paddling and lining a canoe 4,750 miles, starting from the Fraser River in Vancouver, British Columbia, and finishing near Tatamagouche, Nova Scotia. It is the longest solo canoe expedition in a single season to-date.
But, as they say in this business, you're only as good as your last expedition...
Good luck with the next adventure, Ranta and Spitzii !