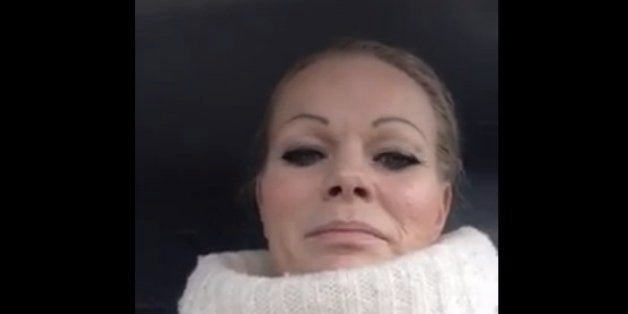 The speech is touching, in a way. Sometimes, it's even astonishing. But in the end, it's not as revealing as we might have hoped.
Kathrin Oertel, the woman who co-founded Germany's notoriously xenophobic Pegida movement, posted an eleven-minute speech to her Facebook page last week in which she retracted some of her past anti-Islam statements. In January, she left Pegida to found a new association, "Direkte Demokratie für Europa" (Direct Democracy for Europe), after arguments about the movement's future direction. DDFR, Oertel's new faction, bills itself as slightly less radical than the polarizing PEGIDA -- and it's hard not to see Oertel's statement as a calculated move to drum up support for her new initiative.
Moreover, it's hard to believe that this woman, who is partially responsible for making thousands of people take to the streets against the so-called "Islamization" of the West and for bringing xenophobia back to mainstream discourse in Germany, is the same woman who now publicly apologizes to "every migrant and especially to the Muslims." "Most" migrants, she said in her April 29 statement, "live peacefully in our country, [and] are integrated and honor our laws and culture." Strong words from a woman that once served as the public face of PEGIDA.
(Participants in a rally called 'Patriotic Europeans against the Islamization of the West' (PEGIDA) hold German flags during a demonstration in Dresden, eastern Germany, Monday, Dec. 15, 2014. AP Photo/Jans Meyer)
She added, "I find myself partially responsible for the hate campaign that got kicked off here. For this I want to truly apologize. The only thing left for me to do is to make all of this right."
The astonishing thing about this is the seeming suddenness and totality of Oertel's realizations, which echo widespread criticism of PEGIDA in the national and international press.
In the video, Oertel also recites a quote from a friend that seems to echo her newfound sentiments -- and, perhaps, the attitude she hopes her former critics will adopt: "Peace = knowledge = forgiveness = tolerance = love."
Oertel filmed the statement in her car, and accentuated her new image with an angelic look that incorporated silver-tinted makeup and a cozy white sweater.
In the speech, Oertel invited her audience to an event held in Dresden on the May 1st -- emphasizing that the invitation extended to all "human beings… yes, human beings." Given PEGIDA's frequent dehumanization and othering of minorities, Oertel's newfound emphasis on humanity is jarring, to say the least.
But Oertel hasn't fully forgotten her well-known vocabulary. She says that personal attacks and polarization within Germany have to stop. "We are taken for a ride by everyone," she said, from the left wing, the right wing and the center. But nobody will talk "about the reasons" behind politicians' charades.
Unfortunately, Oertel doesn't reveal anything new about those reasons either. But maybe she will someday, if her newfound reversal holds. Like progress itself, some things just take time.
REAL LIFE. REAL NEWS. REAL VOICES.
Help us tell more of the stories that matter from voices that too often remain unheard.