 In these tough economic times, one of the most talked-about burger subjects revolves around the most expensive burger offerings from around the world. Some chefs might be motivated by creating the world's largest burger or the best tasting burger, but for these chefs, engineering something worth taking out a loan for is their raison d'être.
Here are just seven of the world's most expensive burgers:
In May 2012, New York's Serendipity 3 established a new Guiness world record for the most expensive burger, coming in at a whopping $295. Boasting rare elements such as black truffles and a fried quail egg, some folks would give up their first born child for a taste of such extravagance. The inclusion of James Montgomery cheese leads me to wonder, who is this Mr. Montgomery and how important is this guy to get a cheese name after him?
$666 Burger - 666 Food Truck, New York, New York
All records are meant to fall. Just two months after the Serendipity record was set, a food truck in New York City put out their unholy $666 burger. This burger has a cornucopia of items that you'd find in any luxurious restaurant such as lobster, truffles, and foie gras. But let's be honest, you're probably paying for the plane fare for the person who got the Himalayan rock salt.
An uberly expensive $5,000 burger done Las Vegas-style is putting the New York contenders to shame. Created by Chef Hubert Keller, this burger is loaded with such items such as foie gras, black truffles, and a black truffle brioche bun. If you're willing to rethink your $5000 investment in this burger, maybe you can start an app company which helps you locate nothing but expensive burgers.
$777 Burger - Paris Las Vegas, Las Vegas, Nevada
Sometimes a name can be a little misleading. This $777 Kobe beef burger contains a Maine lobster, caramelized onions, imported Brie cheese, crispy prosciutto, 100-year aged Balsamic vinegar, but there's something else that you have to add in order to make your piggy bank crumble: a bottle of Dom Perignon. Why is the bottle of bubbly necessary? Perhaps the restaurant's soda machine is out of order and that's all they had left.
The Burger - Burger King, London, England
When anyone does research about the most expensive burgers in the world, one wouldn't necessary think that a well-known fast food chain would make the list. Proving that making cheap burgers isn't quite enough for greedy, money-grubbing executives, someone had to come up with a £95 offering. And, in 2008, someone did. Featuring flame-grilled Wagyu Beef topped with white truffles in an Iranian saffron and truffle bun, it truly is fit for a burger king.
Double Truffle Burger - Daniel Boulud Brasserie, Las Vegas
World famous French chef Daniel Boulud created a double truffle burger costing $120. What was unique was that the seasonal white truffle didn't top the creation, but was mixed inside the burger patty alongside a generous helping of foie gras. Even in a city known for overindulgence, should it surprise anyone that the Brasserie closed its doors in 2010?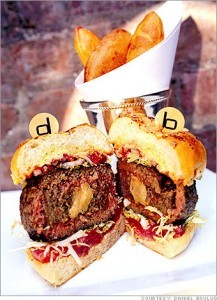 When it comes to making rash and expensive creative decisions regarding burgers, even the humble Canadian entrepreneur isn't immune to wishful thinking. Case in point, an opulent burger known as the $100 BRGR in Montreal. With loads of that elusive cured meat known as bacon, the divine luxurious nature of black truffles, and the sweet taste of honey, one can only voluntarily give up a c-note to try an epic burger. While stuffing anything you can on a burger and calling it grand may be the trend these days, one can only wonder if the price tag is truly worth the experience?
Mr. Lew is a high school teacher from Montreal, Quebec. In 2009, after trying Montreal's supposed best burger, he decided to see what else was out there. So, every week, a new burger was added to the Great Burger Search. Since then, Mr. Lew has tried more than 100 burgers in cities across Canada, and hopes to one day expand to the rest of North America. Since Mr. Lew is part Chinese, the search isn't limited only to great burgers, but to other types of cuisine that makes Montreal one of the greatest culinary cities in the world.