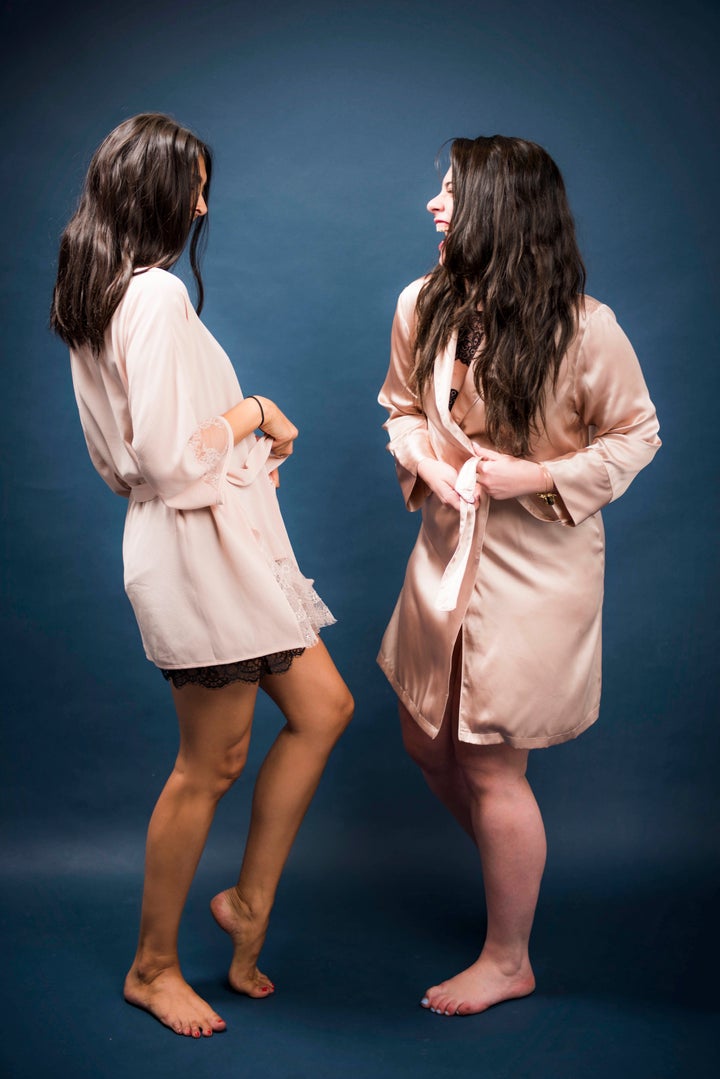 When it comes to buying lingerie, some of us are perfectly happy with the $1 clearance bin at TJ Maxx, while others don't hesitate to spend $308 on a La Perla thong that's basically made of nothing but your hopes and dreams.
So in a perfect world, where money falls from the sky and $308 thongs are wedged up our behinds without a second thought, would we really live better lives if we treated ourselves to luxurious lingerie?
Allison Beale, the marketing and brand director at Journelle in New York City, explains the thinking behind this theory.
"I absolutely believe lingerie makes you taller," Beale told HuffPost. "It's the first thing you put on in the morning ― why not make it lovely?
"When it comes to lingerie empowering, I can only speak for myself, but will tell you that boarding the [subway] in the dreary winter or early spring in my version of a three-piece suit (bra, bikini and matching suspender) is incredibly empowering. Only I know what lies beneath, and that makes the ritual of getting dressed much more interesting."
She has a point. But we were still skeptical, so we had two editors test the theory. Fashion editor Michelle Persad and trends editor Jenna Amatulli visited Journelle to get fitted with the finest wares they could imagine, and then wore their new undies and documented how they felt.
Would the upgrade magically give them unshakeable confidence? Or would they just feel nervous about wearing lace bras in cold offices? Enlightenment and hilarity ensue: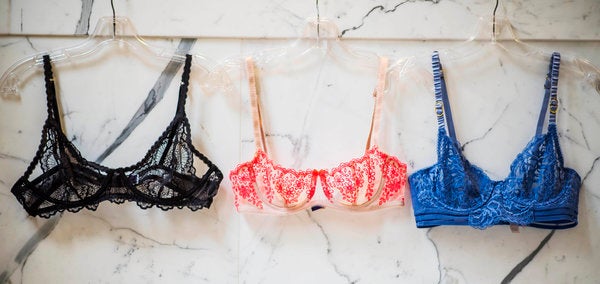 JENNA
"I have a massive obsession with underwear. I have probably a hundred pairs. The frillier and silkier, the better. I have a flat chest so I think that's probably perpetuated my obsession with bottoms. That said, I do love bras. I mostly wear padded bralettes, usually from Victoria's Secret. I was mostly hoping that this experiment would let me see what wearing those barely-there bras and undies IRL was actually like, if I'd feel uncomfortable or a better version of myself."
SHOPPING DAY

3:30 p.m. "I realize that there are ZERO pictures of women way hotter than me on the walls of this store. As a thicker human, I am super grateful for the lack of imagery. It's definitely easier to feel sexy when you're not being reminded that you don't look like Candice Swanepoel."

3:50 p.m. "I've tried on like 12 bras. They've also given me a pair of underwear with no butt to try on. Like, there is no fabric in the back. It's bougie and called an 'ouvert.' I asked them if you wear it with other underwear underneath and they smiled politely and insisted you do not."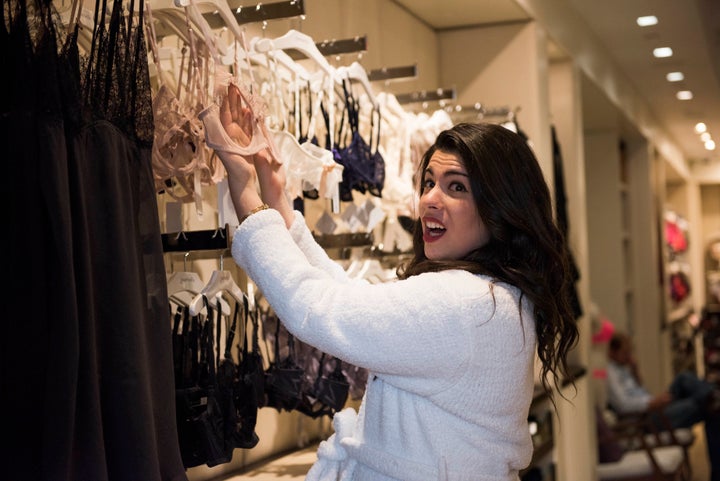 DAY 1

6:00 a.m. "I'm wearing the lace bra with the bare-ass panties. It just feels like I should get those out of the way ― jump in fully and completely, you know? I've never left the house in a bra that wasn't padded so I immediately feel the difference. I feel sexy and sort of like I'm ready for a night out on the town instead of like it's just Tuesday. I wear jeans because they're thick and also flexible and I don't want anyone to know my butt is completely exposed."

6:43 a.m. "The train is cold. I'm completely certain everyone can see my nipples. I've never been more glad for my long hair."

2:00 p.m. "The office is a cold AF and THIS IS TERRIBLE."
2:13 p.m. "My female coworker tells me she can't see my nipples when I ask if they're totally out. I feel like she's lying to make me feel better."

9 p.m. "I don't totally hate my life in this set, nor do I want to rip them off. I nearly forgot my underwear didn't have a back all day ― in a way, it's better than wearing a g-string. Are ouverts the undies we all need? MAYBE."

DAY 2

6:00 a.m. "I'm going in today with this Lonely Lingerie bra and brief set. There are so many straps. I feel like a dominatrix, but a low key one."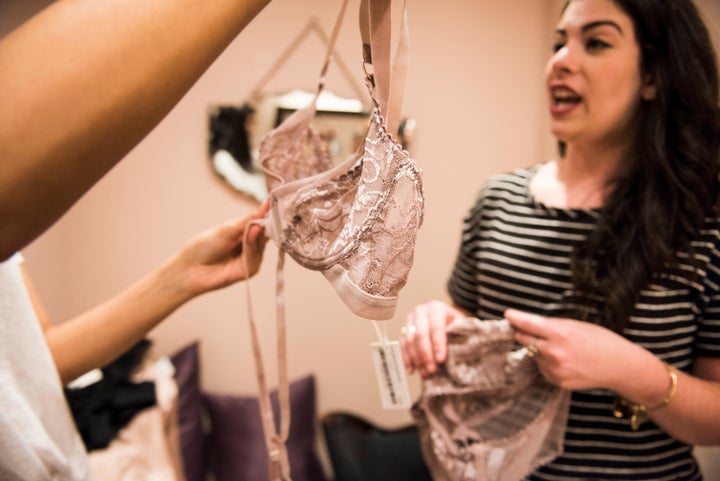 9:15 a.m. "Went to pee and realized I have to undo a strap in order to do so. I drink a lot of water. Today's going to be a HOOT."

12:45 p.m. "This underwear is not meant to be worn under things. It's ribbed and velvety and I'm pretty sure everyone can see it through my shorts."

DAY 3

6:05 a.m. "I'm wearing my second Lonely Lingerie bra and brief set ― this brand is dope. I stalked their Instagram hardcore and it's making me want to force a friend into taking pictures of me. #BODYCONFIDENCE."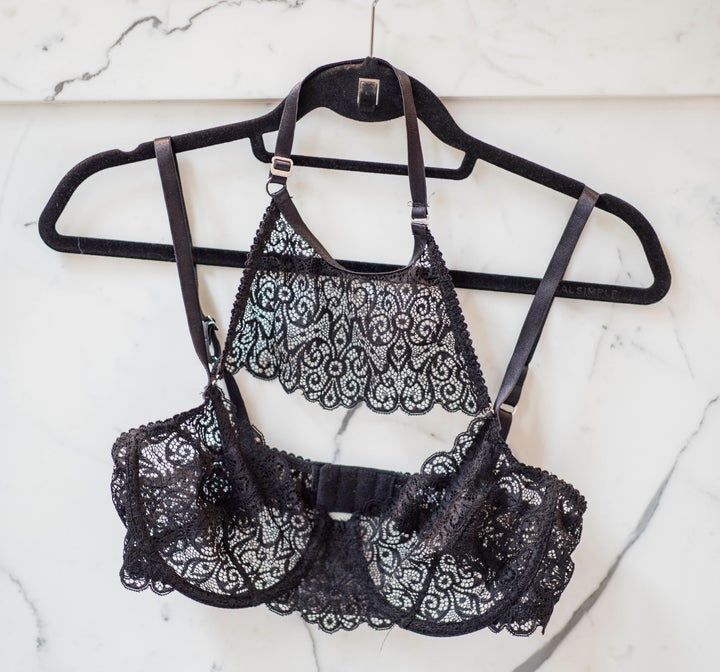 "I wrestle into the bra. The high neck is throwing me off. When I picked it out, I thought I'd pair it with a V-neck tee but I'm not courageous enough to rock that look. I go for a high-necked top with low underarms so the bra at least peeks out on the sides. I feel very Carrie Bradshaw."
12 p.m. "I've gotten a fair amount of compliments on this bra ― all from women. Proud of my outfit choices today."

11 p.m. "I'm a fierce bitch."

JENNA'S VERDICT

"There's DEFINITELY something to be said about wearing sexy underwear during your daily routine. It's a self-esteem booster because you feel like you have this dirty secret all day long.

"I was much more aware of my nipples on the first day, but that subsided. I honestly felt more myself than usual. The lack of padding for consecutive days was actually pretty eye-opening. I used to see myself sans padding and be like, 'nope, definitely not.' After this week, I realized that hatred for how I look without the padding was all in my head. It didn't look THAT different.

"The expensive lingerie was worth it for the infusion of spice in my day. It's pricey to have such a luxurious undergarment wardrobe, and knowing you can rock the stuff for yourself, without having any bedroom activities planned, is actually really awesome."
MICHELLE
"When it comes to lingerie, I've always thought practically. I buy bras that will work under slightly sheer tops, underwear that won't give me lines in tight pants and above all else, I favor comfort. That means my lingerie drawer is boring and mostly consists of nude and black bras and underwear. In terms of getting fitted, I've also always been told a different size by various sales associates. So needless to say, I've just stuck to the size I've been wearing since high school."
3:10 p.m. "I just got fitted for a bra and found out that I'm wearing the COMPLETE wrong size. (As in two cup sizes too small and two band sizes too big). I laughed when I heard my new size."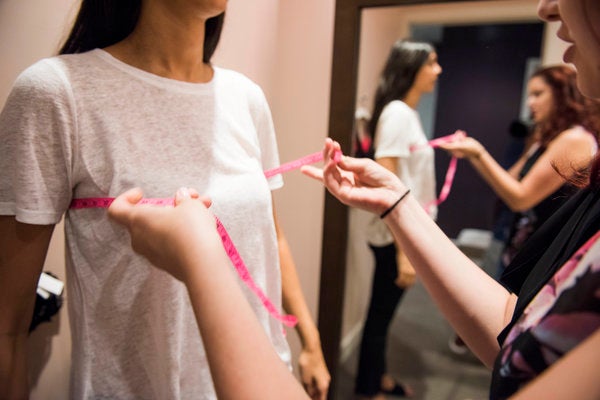 3:46 p.m. "I found out I'm not alone. In fact, many women wear the wrong bra size, according to my bra fitter. She said she has never met someone who is a true size 34B, yet so many women think that's what size they are. Take-away: LADIES, get a bra fitting."
7:35 a.m. "My lingerie drawer looks like the first scene out of the Devil Wears Prada. Picking out my bra and underwear took so much longer than normal. I decide to go with my blue lace Stella McCartney bra and the matching silk and lace undies. A major upgrade from my normal nude bra and underwear. I instantly feel fancier.
8:24 a.m. "I feel like everyone can tell that I'm wearing nice underwear."
8:39 a.m. "My dress flies up while standing on the subway platform, now people can actually tell I'm wearing nice underwear."
1:54 p.m. "I'm surprised how comfortable I am in these lacy undergarments. I always thought fancy lingerie was supposed to be really uncomfortable."
7:00 p.m. "I got home 20 minutes ago and haven't even taken my bra off yet. This is a new record."
9:12 a.m. "It's Saturday morning and normally I would be lounging around in a pair of sweatpants, but instead I decide to put on my new lace robe and black chemise. Maybe it's a little aggressive for Saturday before noon, but I don't care, I feel great."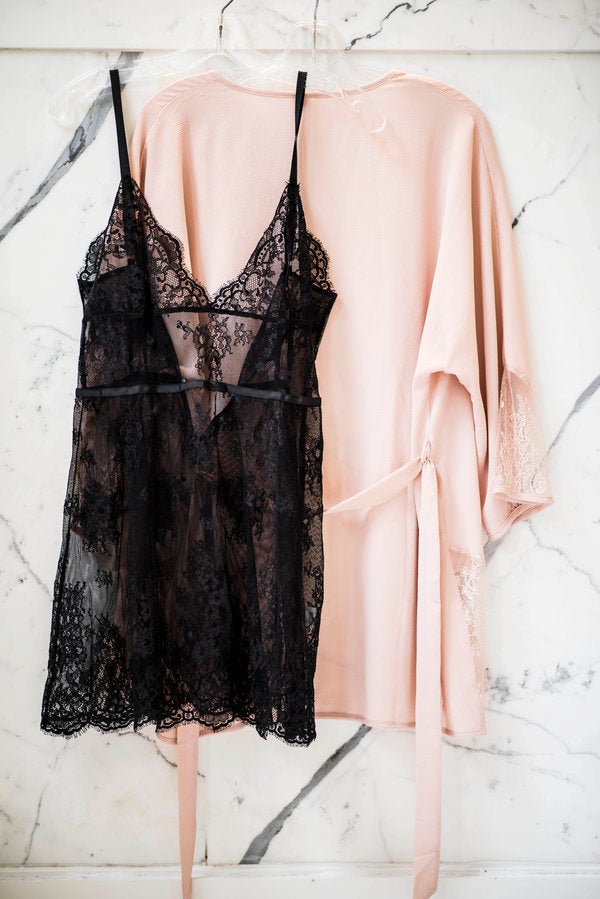 11:50 a.m. "I finally will myself into wearing actual clothes so I can leave the house and immediately wish I had stayed home in my robe."

11:49 p.m. "I just came home early from a bar night with friends so I could put on this lace robe. I think we've created a monster."

DAY 3

8:00 a.m. "It's the last day of my lingerie test and I wear my new black bra and a slightly sheer white T-shirt. Not something I would normally do, but this bra is so sexy, I don't care. And hey, it's Sunday."

10:34 a.m. "I stop at my local bagel spot, the lighting is bright, and I instantly regret my decision to wear a white T-shirt and a dark-colored bra."

10:45 a.m. "The cashier throws in a free muffin with my order. I stop regretting my decision."

9:03 p.m. "I have spent almost 12 hours in this bra and it's complete heaven. Usually my bras ride up on my back (I guess because I had been wearing the wrong size), but this one stayed in place all day. I think I'll wear it again tomorrow."

MICHELLE'S VERDICT
"I always avoided asking for assistance when lingerie shopping, but this experiment definitely showed me that there is value in asking for help. I was pushed out of my comfort zone and it was for the best. Being fitted and wearing my new size changed not only how I felt, but also how my clothes fit. I was so much more comfortable all day. Also for the first time in the history of my life, I didn't rip my bra off the second I got home."
For more photos, check out the slideshow below.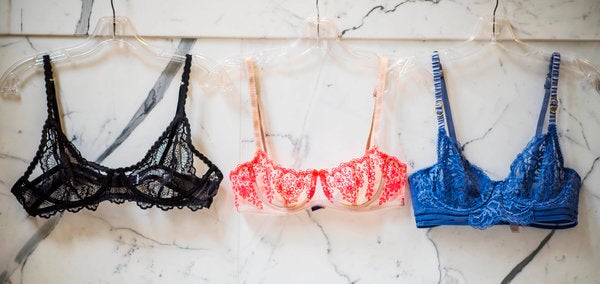 The Great Lingerie Experiment
Related
Before You Go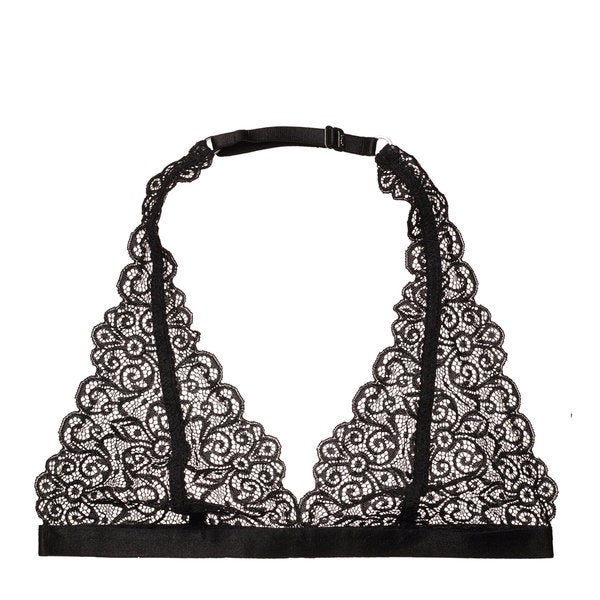 9 Bralettes For Every Bra Size