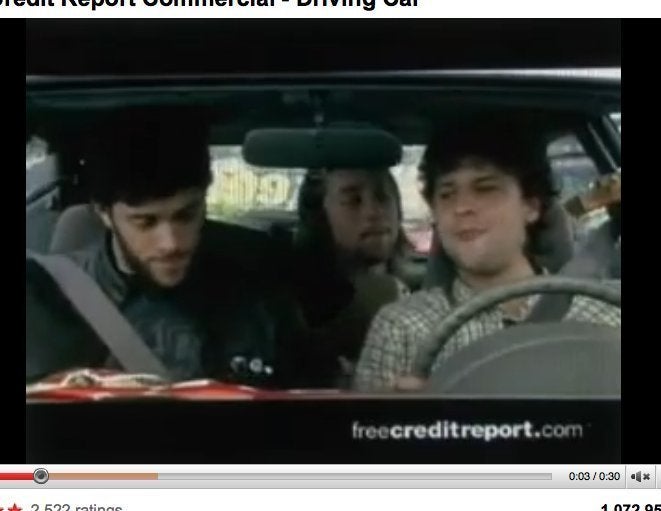 A Wisconsin woman is suing the credit-reporting agency Experian because its ubiquitous advertisements for FreeCreditReport.com made her think she could go to that site to get a free credit report.
Erica Possin, a college student in Wisconsin, wanted to check her credit before buying a new car. She'd seen the ads for FreeCreditReport.com, so she went there. Of course, she got her "free" credit report only after inadvertently signing up for a $14.95 monthly credit monitoring service.
Now, Possin is the lead plaintiff in a class action lawsuit against Experian that seeks to "stop the fraud and seek compensation for the tens of thousands of consumers deceived by Experian's FreeCreditReport.com to the tune of millions of fraudulently obtained profits."
"FreeCreditReport.com tells people they will get something for free, and you do, but you have to pay for something else, and there's not sufficient notice," said John Balestriere, lead attorney on the case. He said his firm had spoken with a few dozen people in Possin's situation. "I think we're going to see more cases like this because people use their credit cards for everything these days."
The complaint, filed on Monday in federal court in California, thoroughly documents six of the catchy ads, lyrics and all, in case there's anybody in the United States who hasn't seen them 10,000 times. (Click here to see a copy of the suit, first reported by Courthouse News Service.)
Possin had been suckered by the ad in which Experian's haplessly charming frontman goes shopping for a new car, can't get a decent one because of his poor credit and is subsequently laughed at when he rolls up next to some good-looking girls in a convertible.
"Ironically, Possin's experience is similar to that of the main character singing in Experian's 'New Car' commercial," says the complaint. "In March of 2008, Possin knew that she was in the market to purchase a new vehicle. Before doing so, she believed it necessary to check her credit, knowing that her credit score would determine how expensive and difficult it would be to obtain a loan for her to purchase a vehicle."
The following September, Possin noticed two $14.95 charges on her credit card statement. After a little searching online, Possin figured out her mistake and called Experian to cancel the service and demand a refund, which Experian refused to give her.
In the lawsuit, Possin seeks a refund for herself and others in a similar situation, among other demands.
"This is not just one of those frivolous slipshod lawsuits," said Evan Hendricks, author of Credit Scores and Credit Reports and a frequent expert witness in lawsuits against the credit reporting bureaus. He said he had not seen a lawsuit over the dishonesty of the FreeCreditReport.com ads before. "It's a serious effort which I'm sure Experian is taking very seriously."
Experian did not immediately respond to a request for comment from HuffPost.
The complaint notes that the Federal Trade Commission has repeatedly won settlements from Experian for its advertising, to no avail. "The fact that the government got involved a few years ago shows that this is consumer fraud," said Balestriere. (The FTC ultimately started trying to fight back with parodies of the ads.)
The complaint says that nobody goes to FreeCreditReport.com for anything but a free credit report. In other words, nobody goes there looking for the "Triple Advantage" credit monitoring service, which is mentioned in a hushed, rushed tone at the end of the ads as a condition of a previous FTC settlement. And if you Google "credit monitoring service," the lawsuit notes, FreeCreditReport.com doesn't even appear in the first few pages of listings.
In November, the Huffington Post reached out to the ads' charismatic star, Eric Violette, to ask him how he could be the face of a deceptive ad campaign of such epic proportions. He declined to repudiate his cash cow. Violette did not immediately respond to a request for comment on the lawsuit.
In 2003, Congress passed the Fair and Accurate Credit Transactions Act, which forced the Big Three credit reporting bureaus -- Experian, Equifax, and TransUnion -- to each provide one free copy per year of a person's credit report upon request. The site for an actual free credit report is www.annualcreditreport.com. According to Evan Hendricks, by June 2007, 52 million people had obtained an actual free credit report -- but the credit reporting agencies managed to get people to pay for 160 million.
The credit card reforms signed into law last May will force ads for "free" credit reports to include the phrase, "This is not the free credit report provided for by Federal law." Hendricks said he didn't expect the requirement, which goes into effect Feb. 22, to stymie the ads. After all, we've seen other types of ads persist despite disclosure requirements. "The pharmaceutical ads have someone talking really fast and really low about all the ways these drugs can mess you up," he said. "They keep running those drug ads."
UPDATE 2/5/10: An Experian spokeswoman defended the ads in a statement:
"FreeCreditReport.com is a trusted partner for millions of Americans who want more than a free credit report," wrote the spokeswoman. "We make it very clear to consumers visiting the site that the free credit report and score is part of enrollment in the Triple Advantage Credit Monitoring and that if they don't cancel their membership within the seven-day trial period, they will be billed monthly. While it wouldn't be appropriate to speculate what the FTC's final rules will be, we can tell you we remain committed to clearly and conspicuously disclosing to consumers that the free report we offer is not the free annual credit file disclosure provided by federal law."

Related
Popular in the Community