Mysterious whispers. Phantom smells. Ghostly apparitions. No, this isn't a Halloween haunted house -- these spooky happenings occur year-round at many historic bed and breakfasts. Feeling brave? Visit these haunted inns, and you might be lucky enough to encounter friendly spirits from the past.
Carriage House Inn, Searsport, ME:
The East Coast Ghost Trackers confirm that this 1874 Victorian mansion is spiritually inhabited, and another paranormal expert verified that it is haunted by two ghostly entities who suffered untimely deaths. The innkeeper's beagle avoids certain rooms and a haunted staircase where someone died. Over the breakfast table, many guests recount ghostly sounds of music and whispers, the smell of phantom cigar smoke, and a feeling that someone walked into their room.
Forsyth Park Inn, Savannah, GA:
A tragic story left behind the ghost of a little girl. According to legend, the home's former owners, Aaron and Lois Churchill, adopted a child named Lottie. Eventually, Lois's younger sister Anna came to live with them. Lottie discovered a romantic tryst between Anna and her father, so she poisoned Anna to try to save the family. As Anna died, it was revealed that she was actually Lottie's mother. Learning that she killed her own mother caused Lottie to go insane, and she spent the rest of her life in an insane asylum. While her story is sad, her happy ghost appears to guests in the form of laughter and footsteps. Some guests have seen Lottie appear on the staircase, while others have felt her presence near the courtyard fountain.
Inn at Herr Ridge, Gettysburg, PA:
During the Battle of Gettysburg, this former tavern served as an impromptu field hospital for the Confederate Army of Northern Virginia. Odd occurrences regularly happen here, including cold spots and mysterious whispers calling the names of the staff. Sometimes glasses and silverware fly off tables--even knives and forks have fallen blade- or prongs-first into the floor. Computers sometimes type gibberish on their own, extinguished lamps relight, and unexplained crashes happen in the kitchen. The innkeeper says attributes much of the activity to the "house ghost" of Frederick Herr, who purchased the tavern in 1828.
Magnolia Mansion, New Orleans, LA:
According to the innkeepers, you must make your intention of seeing ghosts known upon entering if you want them to visit you. Guests have heard mysterious sounds, such as footsteps pacing out in the hall on stormy nights, an old-fashioned music box, and child's laughter. Some have seen small child's handprints left in the bathroom rugs or tubs, even though no children are allowed here. Guests have said that in the middle of the night they hear something moving in their room only to wake up to find pillows stacked at the foot of their bed, and their personal items moved around in the middle of the night. One woman had the sheet pulled up over her, and her cheek was stroked by a "spirited" visitor lovingly referred to as "The Caretaker" as her husband slept. The inn's guest books are full of reports of encounters with friendly and mischievous ghosts. Many guests have also captured photos of orbs and apparitions.
Thornewood Castle, Lakewood, WA:
Guests have reported feeling invisible presences, hearing footsteps, and witnessing apparitions. The ghost of former owner Chester Thorne sometimes appears. According to lore, stay in Thorne's old room and ask for his help with financial matters, and he might give you a hand. His daughter, Anna, can be seen sitting at her bedroom window. The inn is also supposedly sitting on a fairy mound, and fairies are reported in the gardens. Orbs have also appeared in guests' photographs here. The hauntingly beautiful B&B was even used as a set for Stephen King's miniseries Rose Red.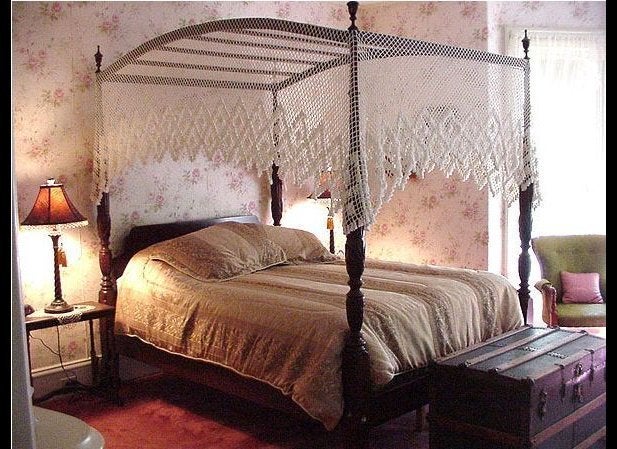 Haunted Bed and Breakfasts
Support HuffPost
A No-B.S. Guide To Life
Related
Popular in the Community