A visit to Bemelmans Bar at the Carlyle Hotel New York is like taking a trip back in time to old New York, when class was abundant, luxury meant white-glove service and cocktailing was a way of life. Bemelmans Bar is one of New York's most iconic bars and worthy of a visit for locals and visitors alike.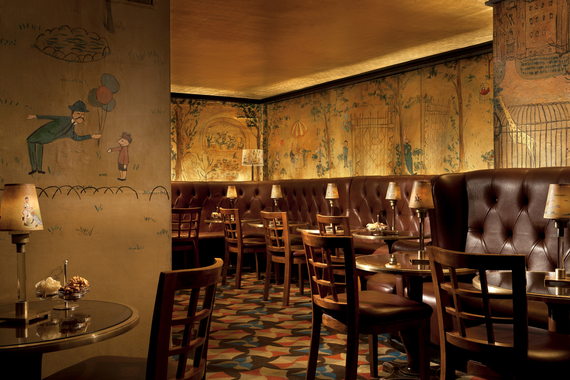 Bemelmans Bar bears the name of the artist who painted its famous colorful murals-Ludwig Bemelmans. He was a famous artist for outlets like the New Yorker but you may know him as author and illustrator for the classic children books about Madeline. You remember the ones... "Lived twelve little girls in two straight lines ... The smallest one was Madeline."
In exchange for the murals, in lieu of payment, Bemelmans instead asked that he and his family be given residence at the hotel for the duration of the time it would take to complete his work. His drawings, which feature whimsical animals and other cheerful characters provide a welcome contrast to an otherwise overwhelming amount of elegance. The murals are actually the only surviving Bemelmans' commission open to the public.
Aside from the murals, the bar maintains its Art Deco legacy with rich chocolate-brown leather banquettes, nickel-trimmed black glass tabletops, a dramatic black granite bar and a 24-karat gold leaf-covered ceiling.
And Ludwig Bemelmans wasn't the only celebrity to fall in love with this swanky spot.
In addition to VIP hotel guests, Bemelmans has played host to a range of socialites, celebrities and actual royalty. Almost any day of the week you can expect to find A-listers flying under the radar, tucked away in a booth here.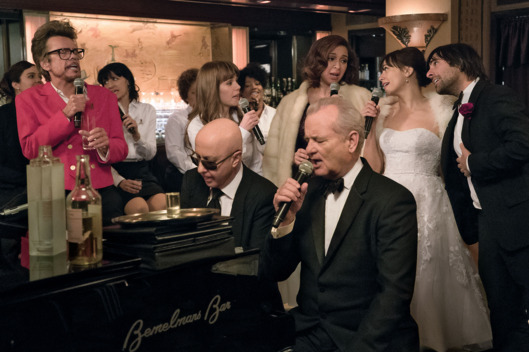 You may recognize Bemelmans Bar from Bill Murray's recent Netflix special, A Very Murray Christmas (sure to be a holiday classic). The special was filmed at the hotel and many scenes were filmed in Bemelman's. The Sex and the City Movie also featured Bemelmans when Carrie Bradshaw (Sarah Jessica Parker) took Louise (Jennifer Hudson) here for drinks. "Enjoy yourself - that's what your 20s are for. Your 30s are to learn the lessons. And your 40s are to pay for the drinks!" And pay for them you will...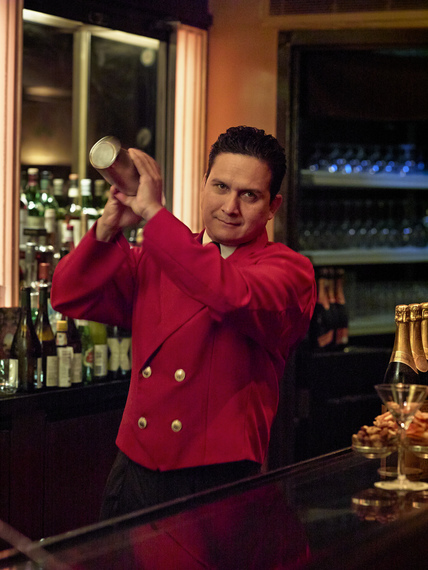 Cocktails are taken very seriously at Bemelmans Bar. Classic cocktails are expertly poured by professional, uniformed bartenders--but you get what you pay for. When you settle into a leather banquette and listen to live music in the cozy atmosphere, you'll feel like New York City is magical once again. Another magic trick? When you order a martini (prices start at $21), they come with a sidecar, an extra portion of your cocktail in a carafe on ice so you can pour yourself a refill at your leisure. So, if you do the math, cocktails are truly money well spent--one might say they're almost a 2-for-1 special.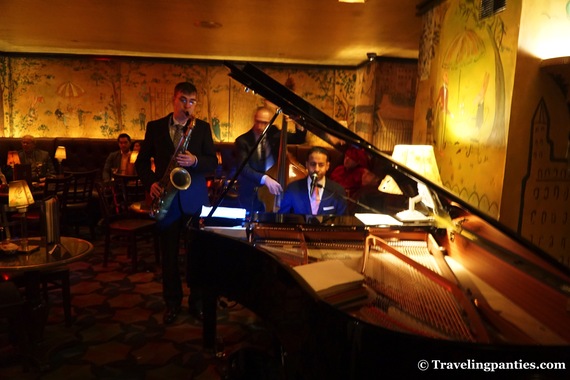 A nightly cover charge applies (Sun & Mon at 9:00 PM; Tues-Saturday at 9:30 PM). It is $25 per person if you snag a table and $15 per person to sit at the bar. Even at $25, for an entire night of live music by a jazz trio, it's a bargain. To avoid the cover charge and still soak in the same charm, pop by for an after-work cocktail when the vibe is more casual and tunes by Sinatra top the playlist.
Jazzier times await you at Bemelmans...
Click here to view Travelingpanties' blog for more luxury travel tips and New York City secrets.
For more information, visit Bemelman's Bar at the Carlyle Hotel online.
Images courtesy Bemelmans Bar except where noted.
Popular in the Community