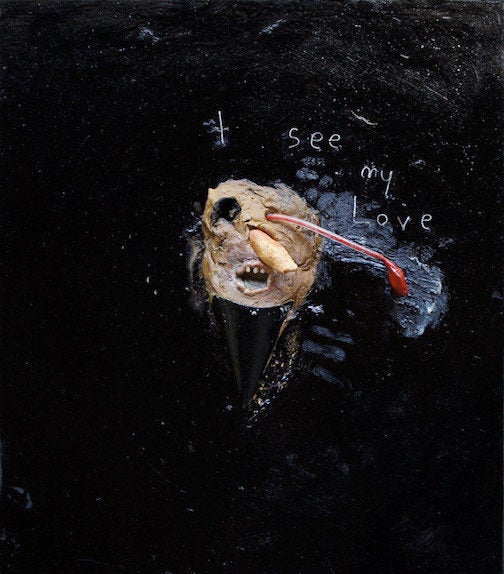 David Lynch is the master of creating those uncomfortable moments in which the banal gives way to the absurd; through film, music and visual arts Lynch orchestrates our suburban nightmares. The Montana-born artist actually pursued becoming a painter prior to becoming a filmmaker, so we're happy to report that in his first New York exhibition since 1989, Lynch explores his signature balance of childish whimsy, dark humor and surrealism in his multimedia collection. The New Yorker even referred to Lynch as the "first popular surrealist."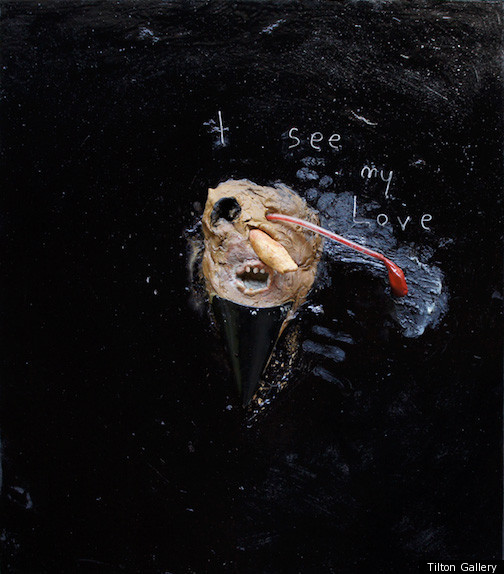 Lynch was widely recognized and acclaimed for "Eraserhead," a film about a quiet young man immersed in a chaotic dystopia. He continued to gain acclaim for films like "Blue Velvet" and "Mulholland Drive" as well as the television series "Twin Peaks." Last year Lynch released an album entitled "Crazy Clown Time," which we still haven't been able to listen to for fear of terrible nightmares.
The images in his artwork are ambiguous, presenting narratives that erode before your eyes. Small-town scenarios like going fishing or playing baseball have taken a turn for the worst. The works combine Francis Bacon's distorted forms with Man Ray's mystical sensuality and Joan Miro's youthful folly. Nursery rhymes like "All I want for Christmas is my two front teeth" are juxtaposed with horrific doodles that look like they came from a demonic coloring book.
The thick texture of the works brings the feeling of violence to even the material aspects of the works. Yet, the image of the light bulb is repeated throughout the collection, providing a point of safety amongst the shadows. The series of "Distorted Nudes" presents kaleidoscopic images of human bodies, reverted to morphing forms of light against a black backdrop.
Lynch's exhibition will show at Tilton Gallery from March 6 until April 14.
Check out a slideshow of the works below and let us know what you think in the comments section.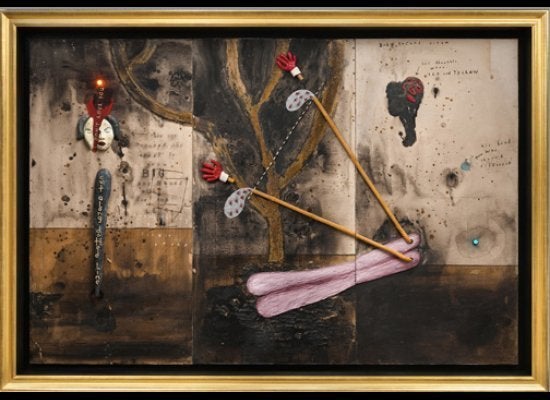 David Lynch's First Exhibit In NYC Since 1989
Also, check out this song from "Crazy Clown Time" to get oriented in Lynch's disorienting world.
Related
Popular in the Community