Every once in a way, you have a "once in a lifetime" experience that no amount of pictures or words can do justice. For us, it was experiencing the "Feria de Abril" (The April Fair) in Seville, Spain.
The Feria is held for a week in April each year, starting two weeks after the Semana Santa, or Easter Holy Week. During this time, all of Seville clears out and people head to the fairgrounds, packing into rows and rows of "casetas" (Tents). The women are decked out in traditional flamenco dresses, the men are dapper in suits, and the children look absolutely adorable, fitting right on the cover of a fashion magazine.
History: The Feria was originally created as a cattle trading fair back in 1847, but over the years has become a more and more festive celebration that took over the business aspect, and is now a permanent fixture in Seville's social calendar.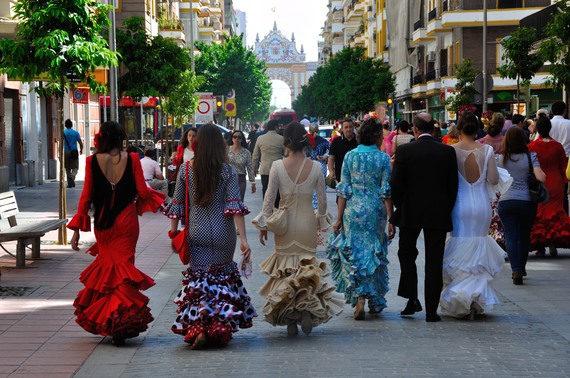 People flock to the feria day and night and it literally looks like a movie set - horse carriages bringing in people, giant ferris wheels and rides, cotton candy, copious amounts of food and drink. An amazingly colorful party that goes on for a week!
To get there: You can rent a horse and cart if you so choose, or take a shuttle bus in, but we just walked to the Feria -- just follow the throngs of people leaving from anywhere in the historic area of Seville.
The scene: The daily celebrations are divided into two parts -- During the day, the feria picks up from about 1pm when people stream in on horseback, along with the family and friends, decked out in their best traditional attrire. They gather in the casetas and start the day of eating, drinking, socializing, and dancing. In the evening the horses exit at 8pm, and the drinking and dancing continues till 6 a.m. People end the night (morning!) with churros and chocolate, head home for a nap, and then start all over again in a few hours! Although only a couple of days of the week are holidays, I am assuming no work gets done during the week anyway.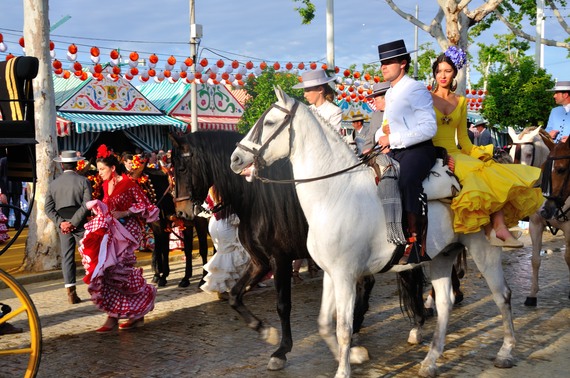 The casetas: There are over 1000 casetas or tents, of various sizes. Almost all of them are private -- you need to have an invite to enter, but there are a few public casetas free of charge. Inside the casetas, it's all about conversation, drinks, and dancing sevillana -- the local form of flamenco dancing. Our amazing Airbnb hosts took us along with them to their friends and families' casetas, so we had a firsthand experience of the true culture of the Feria -- many many thanks to them, for the incredible time. Food and drink: The drink of choice is "rebujito" -- which is a cocktail made from manzanilla or fino sherry, with a good dose of lemonade or soda. It's a refreshing easy drink, but more potent that it seems! Groups purchase jugs of the drink to share -- and it flows real easy.
The casetas usually also have food for purchase -- lots of fried fish and seafood, olives, revueltos (Scrambled eggs with additions) and small sandwiches. "Pescaito frito" -- fried seafood is the most popular, and after drinking a few rebujitos, understandably so. I will say, the focus is definitely not on the food at the feria, and you will have much better options outside!
ProTip: If you are a guest invited to a caseta, your host will typically buy the first round of drinks and food. It's tradition, and offering to pay will be considered rude. You can always order the next round and share!
The Seville Feria is an absolutely incredible cultural experience, and should definitely be on your bucket list if you are curious about other cultures. Be warned though, it is not for the faint hearted! We loved it!
More than anything, to be guests of warm and generous people who opened up their culture to us, to have shared conversation, laughter, drink and food -- it's what makes travel so inspiring and memorable, and is a wonderful thing that I can't describe in words.
What has been your most memorable travel experience? Share in the comments!