"Fausto Roma is a modern day Leonardo Da Vinci or Michelangelo," explained the well known Italian art critic and curator Alfio Borghese. "He is inspired by nature and by the miracles of humankind. Roma is a polyhedral artist who uses every kind of medium like a multi-instrumentalist musician or a polyglot poet. His work is material and concrete, faraway from the ethereal or intellectual fine Italian artist."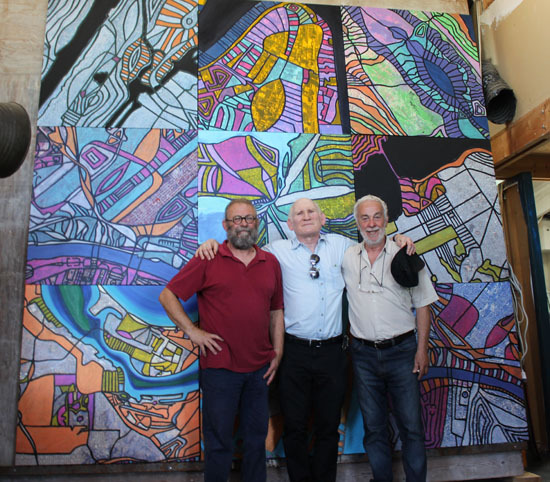 See image: from left to right, Fausto Roma, Peter Frank (art critic, curator) Alfio Borghese (art critic, curator); Photo courtesy of the artist
For the past forty years, Italian artist Fausto Roma has consistently made art an integral part of his life. Living in his studio he creates every single day. His latest series was inspired by music. He explained, "The music, the rhythm, the sounds and the lyrics of some of the most important tracks of jazz history inspired this series."
On August 15, Roma's work will be featured in a solo exhibition titled "On the Traces of Jazz" at Gallery 825 in Los Angeles. The exhibit is curated by Alfio Borghese and will debut twenty paintings, twenty drawings, twenty sketch-studies and seven pieces of pottery. Many of the artworks will be on display with a set of headphones offering the viewer the chance to listen to the very music that inspired the particular piece, offering a multi-sensory experience.
Roma said he was looking forward to showing in Los Angeles. "I think that LA is one of the most important place for arts in this century. The art scene is evolving every day and many artists are coming from other countries." He has had the chance to visit Gallery 825. "It is an incredible place for an exhibition," said Roma. Director of 825 Gallery, Peter Mays remarked, "Fausto Roma's work is dense in the best sense -- visually potent while remaining challenging."
Roma said he believes that the U.S. art market is quite different from the European market, with each country (in Europe) dealing differently with the art scene. "In Italy, arts are almost always related to public interests. Institutions normally are involved directly in art exhibitions. This way can be useful, but it tends to keep the contemporary art business from being widespread."
Borghese went on to say that Roma offers an incredible amount of work that spans over forty years. "He is loyal to his work. I have never seen an artist that lives his work with Fausto's self-sacrifice. He is somewhere between an ancient wizard and a skilled artisan who makes incredible things with his hands."
Roma is inspired to delve into many facets of the art experience, choosing different media to satiate his appetite. "Every medium is just a tool for expression," said the artist. "Learning how to use many different media and tools increases the number of ways I can travel down for my artistic path."
He is known to divide his time between many projects since each series uses a different aspect of his talent. Living amongst his work perhaps feeds his need to create in various formats. "Normally I work on different kinds of artworks simultaneously. I work for months on a series that includes different kinds of media and then change projects for a period and return to the previous project. Working everyday allows me to create artworks at my leisure."
As art critic (Huff Post/Fabrik) and curator Peter Frank wrote in the catalog to Roma's show, "If jazz can be mapped, Roma can map it. And he maps it in a fluid, spontaneous manner appropriate to the music, working off cartographic plans and aerial views of cities he associates with jazz. One might not think of maps, rigid documentations of topographical formations, as ready armatures for visual improvisation; but -- like the jazz players who take a given standard and embellish it with their unique flourishes -- Roma finds that city maps provide superb skeletons on which to hang the imagery he conjures even as he contemplates both what he's seeing and what he's hearing."
Finally Borghese added, "Fausto represents a modern Renaissance of the Italian culture; at the same time, he is the son of a unique humankind culture. In his work you may recognize cultures and symbols from all over the world."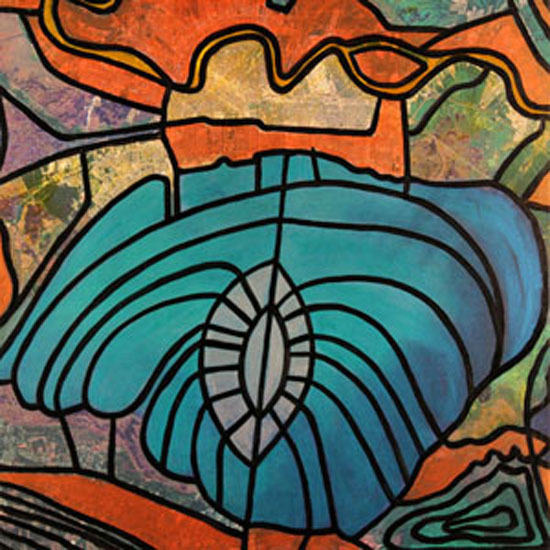 See image: Fausto Roma, Swing in the Blues; Acrylic on Printed Canvas; (2014) 39" x 39" - Photo courtesy of the artist
Experience the music of Fausto Roma's art via his solo exhibition "On the Traces of Jazz" opening on Saturday, August 15 and running through August 28. The artist reception will take place from 6-9pm at Gallery 825 (825 N. La Cienega Boulevard, Los Angeles, CA, 90069); (310)652-8272; http://laaa.org/ http://www.faustoroma.it/
Popular in the Community