A narrow strip of land lying along the sea, Vietnam is known as a S-shape country and no wonder the railway system in Vietnam played an important role since late 19th century. Most of the railways in Vietnam were built by the French and there haven't been much change for almost a century, and traveling Vietnam by train is an unforgettable experience. In a developing country like Vietnam where most people use public transport and train is considered as a safer and cheaper choice than airplane, it is also better than public buses on long journeys since on a train you can move around, eat, go to toilet when you need and especially sightseeing through the windows...As a regular user of Vietnam railways I would like to share some experience about how to plan a train journey in Vietnam.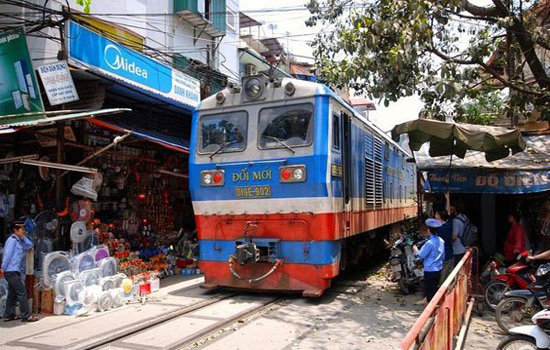 Preparation:
Preparing for your trip you need to book tickets at least a few days or even some months in advance, especially if you travel during public holidays such as Labor day 1st May or National Day 2nd September when a lot of people go on holiday. For the high quality fast trains food is served on board however you are recommended to bring your own food to save money as food and drinks on train are usually more expensive than average.
On the air-conditioned carriages each passenger is provided a light blanket however for long journey you should bring your own blanket and pillow, but don't bring too much luggage as it would be difficult to carry on and off the train, there is no trolley at the stations and you have to walk a long distance from the entrance to your cabin. Travel as light as possible.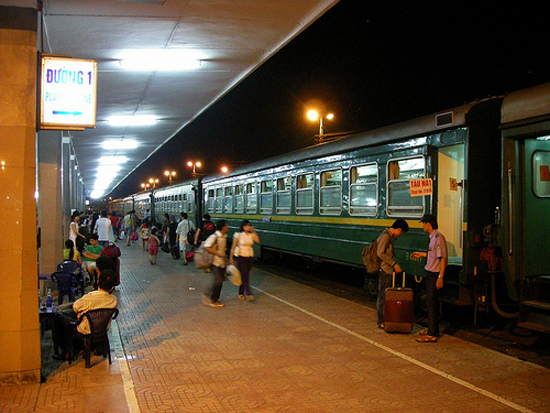 To buy tickets you can just come to the train station and buy at the offices, when buying tickets you need to pay attention to the train classes such as soft seat with or without air-con, hard seat with air-con, cabins with beds...With the summer weather in north Vietnam I recommend you choose air-conditioned carriages, better quality and not too expensive. For the overnight train to Sapa I recommend that you book sleeper cabins, it makes you more comfortable in a 10 hour journey, the sleeper cabins have locks and you can sleep without worrying about the luggage. Check the train time if you don't want to wait a long time at the station or to avoid being late for the train. Remember to have some medicine if you are travel-sick as the train rolls most of the time.
Boarding the train
Hanoi and Sai Gon are usually start/finish points of a train trip, from Hanoi you can take the train to Sapa or Lang Son and then continue to China if you like. You should come to train station about 30 minutes before departure, have the tickets in hand as you need to show them to the collectors, keep the tickets with you all the journey as you may have trouble if you lose the tickets when exit the station. As train stations in Hanoi and Sai Gon are located right in the city centre you can just catch a taxi for a few dollars, have a small bag with necessary stuff with you such as toilet paper, towel, toothpaste and toothbrush, other things can be kept in your backpack, keep an eye on your luggage all the time as the train stations are usually crowded and you may become target of pick-pockets, check your luggage every time you get on and off the train, best clothes to wear on train is short and t-shirt so that you can move easily, a light jacket will be helpful if the weather turns cold at night, a scarf is also handy when you sleep.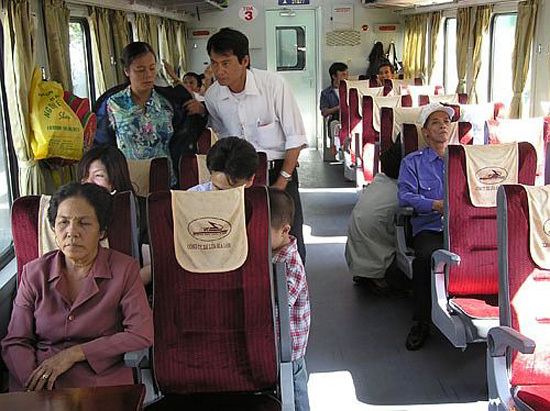 There is a toilet located at each end of the carriage - when you buy tickets remember to choose the cabins in the middle of the carriage and far from toilets to ensure the comfort and cleanliness. I recommend that you go to toilet before boarding the train as the toilets on train are smelly and not clean, and remember to bring your own paper each time you go. When you need to go to toilet in the morning you should get up early before other passengers so that you won't have to wait a long time. Except the overnight trains to Sapa where the toilets are pretty clean the toilet on Vietnam trains is the worst thing you can expect. I usually don't drink water before and during the trip ;)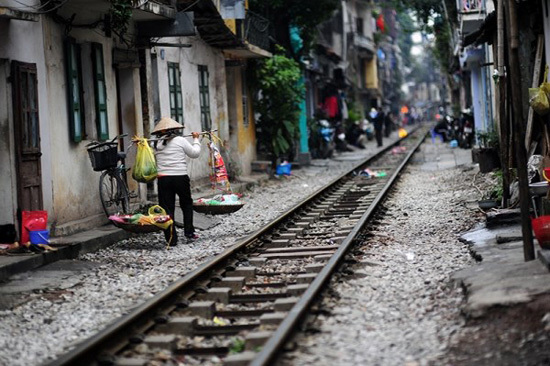 When the train departs you can go along the carriage and check the cabins, the cabins are not always full and if you find an empty cabin you can move in even if you book a shared ticket. If you travel on a seating carriage you can choose a seat by the window so that you have a view along the way, the most beautiful stretches of road in Vietnam is the central part from Hue to Danang, Mui Ne and Nha Trang, if you go by train to these cities I recommend that you choose day trains as the picturesque scenery and characteristics of each region will make you never forget and surely your view and feeling will change after the trip. Food and drinks are available for sales on train however there are few choices and prices are pretty expensive, you can also get off the train at sub-stations to buy food.
If you buy tickets for hard seat you should bring a small mat or a thin raincoat to spread on the floor as you can't sit all the time, most other passengers will sleep on the floor too, if you travel in sleeper cabin with air conditioner a light blanket will be good for you as it is pretty cold. Keep your place clean as the cleaner on train is not always around, keep the rubbish in a plastic bag and don't throw out of the window.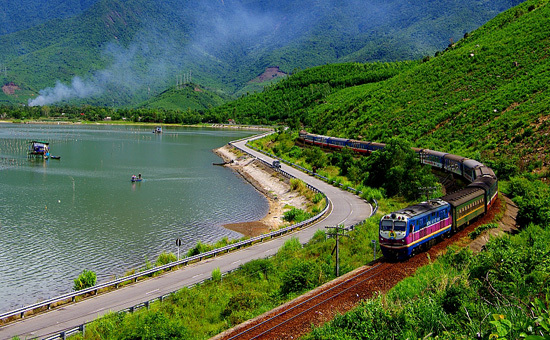 When you are enjoying the view outside you should not stick your head or arms out of the window as it is very dangerous, and when the train stops at stations you should close the window and watch your luggage to avoid thieves. At some regions local children sometimes throw stones at the train and you should close the window to protect yourself.
Above are some experience I would like to share, wish you have a pleasant trip by train in Vietnam. Let me know in the comments and visit our site Sapa train tickets for more information