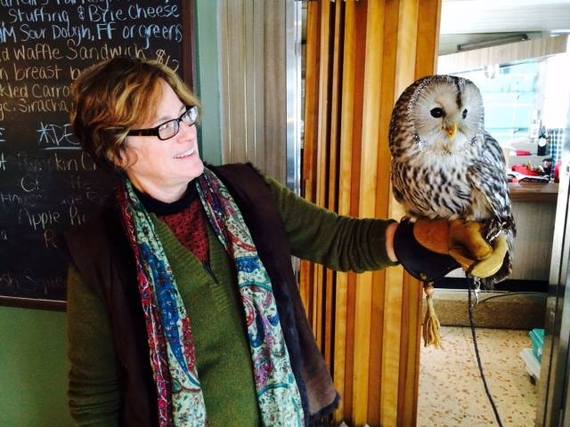 (Producer Jane Applegate on the set of Icarus Stops for Breakfast, via Facebook)
Walk past any film or TV shoot on the street and you'll notice a bunch of young people -- mostly men -- smoking cigarettes and munching on snacks from the craft services table. If you spot the director hovering over a monitor in the "video village," that person is probably a man -- white and under 40.
It's no surprise that it's still a man's world when it comes to making movies -- especially Hollywood pictures. Only four percent of the 500 top grossing films released between 2007 and 2012 were helmed by female directors, according to research conducted by the University of Southern California. And now the American Civil Liberties Union has sent letters to government agencies, demanding an inquiry into major studios' alleged unfair hiring practices.
Despite the odds, there is a strong contingent of older women directors on the far side of 40 who I work with as a producer, and they are raising money and booking crews to make compelling shorts, docs and narratives.
"The recent media attention on the systemic bias against women in film and television will encourage change, but women themselves need to take action," said Terry Lawler, Executive Director of New York Women in Film & Television (NYWIFT). "One of the best ways to combat this longstanding problem is for women to hire other women and to cultivate a vibrant and supportive community."
Anne Hubbell, in her 40s, is a Vice President of the NYWIFT Board of Directors and the co-founder of Tangerine Entertainment. She and Amy Hobby started the company in 2013 to produce films only directed by women. Hubbell said she and Hobby "were motivated by the lack of opportunities for women directors and the desire to have a distinct brand for our company."
"We have, of course, both experienced sexism and we want to work to make positive change," Hubbell said. "And we want to see more diverse points of view in movies and episodic work, rather than the white male status quo."
The company is in post-production on Paint it Black, Amber Tamblyn's directorial debut based on the novel by Janet Fitch, starring Janet McTeer, Alia Shawkat and Alfred Molina. The film is due to premiere in 2016.
Tangerine is also in post-production on its only documentary, The Last Laugh, directed by Ferne Perlstein and is in pre-production on Keep the Change,
written and to be directed by Rachel Israel. It is a love story set on the Upper West Side starring and about autistic adults.
"We see the gender inequity as an opportunity to work with a substantial, but underutilized pool of fantastic talent," said Hubbell.
Abigail Zealey Bess, an award-winning director in her 40s, teaches acting craft and directing the actor at NYU's Tisch School of the Arts. She makes a point of seeking older, experienced filmmakers to collaborate with.
"On a film set, life experience comes in very handy when so much can go wrong and keeping calm is essential -- I can't remember the last time anything was solved by screaming," said Bess, who directs both theater and film projects.
I met Abigail when I was working for Plum Alley, a crowd-funding platform for women. We raised the money to shoot her latest short film, Icarus Stops for Breakfast, which I helped produce and which is now in post-production.
Bess, who began her career as a trained actor in London, arrived in New York City to study the "Method" at the Lee Strasberg Institute and never left.
"I was very much 'the actor' until I was asked to direct a show at Ensemble Studio Theatre for the first time about 20 years ago," she recalled.
It changed my life and direction totally. A very good writer colleague of mine told me that the plays I directed always looked very cinematic and why didn't I direct films? This led to the creation of Weird Sisters in 1997, which promoted women's voices and [I have] been directing and producing films ever since.
Lately, she's been directing short films because she finds that "short films can be a very inspiring and powerful form of story-telling, if kept short and sweet."
"I enjoy the challenge of keeping a short film short which is harder than it sounds," said Bess, whose film Mary & Louise, about silent film actors Mary Pickford and Louise Brooks, screened at the Cayman International and Maine International Film Festivals this summer. "A short film keeps you on your toes -- plus it's a great calling card for the next project."
Bess has this advice for younger women struggling to land directing work: "Never, never, never give up!" she said. "The world needs your voice."
Not all veteran female filmmakers live in New York. Vermont-based Nora Jacobson has been making films since high school, when she shot a silent melodrama on a Super 8 film camera.
Now in her early 60s, she taught herself to shoot and edit experimental films before earning a M.A. in Fine Art from the School of the Art Institute of Chicago. Jacobson, who grew up in Paris and Norwich, Vermont, produces films through her own company, Off the Grid Productions.
Her first doc, Delivered Vacant, premiered the New York Film Festival, screened at Sundance and was distributed by the Cinema Guild in the early 1990s. For the past eight years, she's coordinated production, edited and shot segments of Freedom & Unity -- The Vermont Movie, a six-part documentary shot by dozens of filmmakers.
This year, Jacobson shot The Hanji Box, inspired by a memoir written by a childhood friend about her experiences as an adoptive mother of a troubled Korean-born daughter.
Jacobson rewrote the feature script into a short film, which we recently shot in New York, New Jersey and Vermont. And she relied on veteran crew members, many in their 60s, to shoot the film in under 12 days.
"The advantage to working with seasoned crew members is that they have a sense of humor that comes from many filmmaking experiences, bad and good, having lived through them, worked through them and come out at the other end," said Jacobson. "Having fun on the set and laughing is a crucial part of making the shoot a happy and positive experience."
-- Jane Applegate is a member of NYWIFT and the PGA. Her latest feature, To Keep the Light, written and directed by Erica Fae, is in post-production. Learn more about NYWIFT at www.nywift.org.
Calling all HuffPost superfans!
Sign up for membership to become a founding member and help shape HuffPost's next chapter