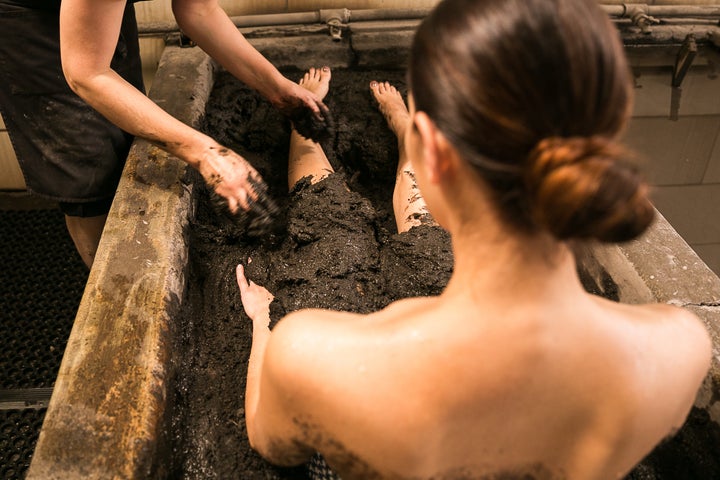 Looking back, I find it a bit amusing that the fancy marketing people at Indian Springs in Calistoga use words like bliss and relaxation to describe their mud bath treatment. Those would not be the words I'd use to explain my hour in the company of Mother Earth's womb in their spa. The adjectives that come to my mind include powerful, thought provoking, and somewhat frightful. But, I have to admit it was one of the most profound experiences I've ever had at a spa.
The spa is literally sitting on an active geyser and when you're at the property, you can hear Mother Earth breathing as the hole in the ground releases steamy water that started its journey from around 6,000 feet below the surface and comes busting out at 220 degrees Fahrenheit.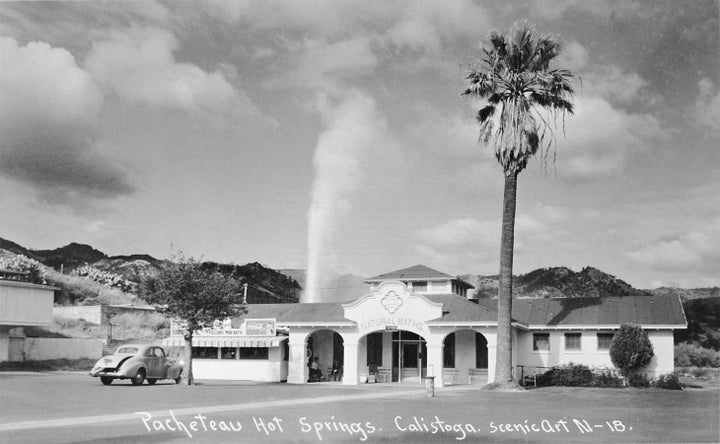 The mud bath is located in a lovely little whitewashed building with nostalgic decorations from the turn-of-the-century. Nothing much has changed since Leland Stanford built the spa in 1861. It is a cute edifice with small passageways and low ceilings. I booked a mud bath and I waited in a peaceful little garden area until I was called. That was where all my bliss and relaxation ended because Mother Earth was about to take me on a ride of a lifetime.
After walking down a narrow walkway, the attendant opened the door to the mud room and I was speechless. The concrete room boomed with the sound of Mother Earth breathing, and there before me was a grey trough, eerily steaming and reeking of unearthly scents that I couldn't name. Not really sulfur, not really dirt, what was that smell? With a frightful glance I thought, "I'm going to have to get in that?" Sure enough, naked, I was lead to the edge, like a lamb, and was buried in pounds of hot Mother Earth. So shocked, I didn't ask any questions.
The sensation of having pounds of earth on top of my body was an odd one, I could kinda move, but was very difficult—so I had to surrender to the weight. There, under the comforting heaviness of black volcanic mud, I could feel myself drifting away—falling back into the unknown. I envisioned myself in Mother Earth's womb, just dirt being carefully transformed. At that moment, I witness the creation of earth—as well as the creation of myself as a physical being. There, in the hot mud I saw all of life's incredible possibilities. Shortly after my epiphany, I was unburied, dripping with mud from the womb of Pachamama*.
Next, I was escorted into a mineral bath where I was given cold cucumber water and an icy compress. There, I felt weightless and carefree like a newborn baby resting the warm arms of her mother. I could breath easy. It felt like I was reborn in the mud and cleansed with pure mineral water. I was lost in stillness of the healing waters. After my bath, I was guided into the sauna.
The tiny, somewhat claustrophobic room was hot and a bit overwhelming at first. Because it's fed directly from the geyser, I could feel the primal roars from deep beneath the center of the earth. I was uncomfortable, but it forced me to be very present in my body and with my surroundings. All my senses were alive. I could smell Mother Earth's musky aroma, I could taste her wetness, I could feel her steam, I could see her hot breath rising from the planks in the sauna, and I could hear her breathing. There, I was alive and very present with Mother Earth. I said a prayer of thanksgiving to Her. And She exhaled.
That epic moment of being fully present in my body was followed by a gentle rest wrapped in soft sheets and served cold cumberer water. I fell quickly asleep and dreamt of Mother Earth and how I was her child and I had a responsibility to protect Her and all my sisters an brothers. It was an intense moment of mystic understanding.
After I woke, I put on my robe, and I took a gentle walk through the Buddha pond, which is a pond that is fed with the nurturing mineral waters from the geyser. The waterfall that runs into the pond is steaming with life force. In this quiet space I observed the peace, took a deep breath, and felt such overwhelming gratitude and appreciation for Mother Earth.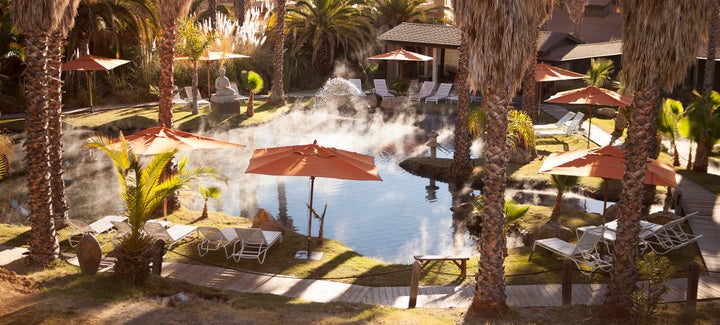 I was definitely not the same person who went into the spa earlier. Bathing, breathing, and experiencing Mother Earth's elements in such a raw, dramatic way showed me how human I am and how in our humanness we are all one living on this amazing planet.
I can't promise that if you spend $95.00 on the mud bath you'll have the same experience I did. But I can assure you that you'll leave with a new appreciation for the power that our Mother Earth has and how Her elements can heal us.
FYI: Your spa treatment gives you access to their Olympic size mineral pool, and if you stay the night you can swim until midnight. Now, that is where I found my bliss; swimming at midnight in the pool with only two others and listening to the rolling booms of Mother breathing.
Happy Mother's Day Mama Earth!
* Pachamama is a goddess revered by the indigenous people of the Andes. She is also known as the earth/time mother.[1] In Inca mythology, Pachamama is a fertility goddess who presides over planting and harvesting, embodies the mountains, and causes earthquakes. She is also an ever-present and independent deity who has her own self-sufficient and creative power to sustain life on this earth.
Related
Popular in the Community