On September 7, Nicholas Hummingbird, an Indigenous Southern Californian, embarked on a journey to Standing Rock with thirteen fellow warriors. Here's his story.
I felt, well, we all felt it was imperative that we respond to the Standing Rock Sioux's call for support, as their call really came at a crucial time for our mother earth. We have suffered from five hundred years of oppression, and persevered against some of the greatest greed this world has seen. We answered the call to support our Indigenous family and join their fight to protect and preserve our mother earth, our land, our plants, our water. In perspective, this movement is about our rights as Indigenous people, and Indigenous people have had to fight for survival since the day this country was invaded. And now together we are saying, "Enough is enough with the destruction of our land." The truth of many Indigenous people is that we are living in extreme poverty on our own land, but it's compelling that we are able find the beauty, the dignity, the honor and pride in standing up for what is right against a huge corporation that wants to risk our water. We want to send a very clear message to all of America, and to the world, that we are not going to put up with the exploitation of our land and people any longer.
The Standing Rock Sioux have rallied all Indigenous Americans; many are fighting these battles on our own, within different territories and in many different ways. We will never defeat these corporate giants on our own, we need everybody in this world to stand with us. We still have our warrior spirit, we have seen that warrior spirit alive and well within the Standing Rock Sioux. Thousands have answered their calls because we are in this together. We have all answered because it's our duty. When one of our people is hurt because of the destruction of our mother earth, we're all hurt. And truly for the first time, so many tribes have come together in in a show of solidarity, presenting a united front as Indigenous people - from Alaska, to California, to Florida, from all over the country, even the world, in order to stand up for our mother earth. That's what the Standing Rock Sioux initiated. They felt they were alone, but they said with full conviction, "No" to the destruction of what little they have left. This is something that unites us.
I was given the opportunity to travel with the youth and elders from the Chumash people, along with other tribes, to show support from Southern California for the Standing Rock Sioux, and to represent the Wishtoyo Chumash Foundation, which has empowered so many of us young people to fight for our birthrights of healthy land, water and air. The Wishtoyo Foundation provides a special space in southern California were we can be proud of who we are as Indigenous people and offer much needed support to our people here. With their planning and support we began our journey in four cargo vans and trucks full of supplies, and with energy and support for the warriors at Standing Rock. I would like to say a very special thank you to the Metabolic Studio for helping fund the trip, as well as to the many people who donated funds and supplies to make our impact that much greater. We were able to get all the supplies that were donated to the Sacred Stone camp and to the people who needed it most.
On the second day of our journey, Thursday, we traveled though New Mexico and headed north, closing in on Friday to arrive in North Dakota. Our route was to come from the south through the Standing Rock Reservation because in our journey we were hearing about harassment by local law enforcement, as well as deployment of the National Guard and the Bureau of Indian Affairs. We became worried at reports of prejudice and possible confiscation of our supplies, so we proceeded with caution, and without any problems we at last came to the Cannonball River, where we were met with the incredible sight of the Sacred Stone camp for the first time. Everywhere the eye could see, we were met with the sight of countless cars, tents, tipis, campers, horses, and people. The main entrance of the camp is a long dirt road lined with hundreds of flags from the different tribes who have come to support the water protectors. As we drove down the road people called out while raising their fists, saying, "Water is life." People were excited, and because we were from California we got a special welcome. Although Friday was cold and raining most of the day, which created a lot of mud, weather did not deter the feeling that people were alive and well; one could feel the overwhelming emotion and energy in the camp. When the court decision that day didn't go in favor of Indigenous people, we still had hope. When federal agencies made a last minute effort to step in, we knew the victory we had won was very small in respect to shutting the pipeline down. It is important to note now that construction has begun once again, and mass arrests and shut down of the media are in full swing.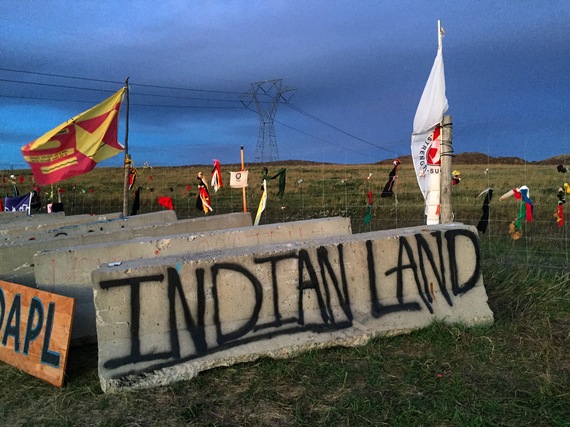 From arriving with the mood of Friday into Saturday, it was joyful. The experience was overwhelming to walk around the camp and greet many different people. I have never experienced being around so many Indigenous people before. It is easy to feel so isolated and alone here in Southern California. But the thing about Standing Rock is the feeling we were home, welcomed, and safe. We knew we were there to represent our people back home, who we wish were with us every step of the journey, and it was up to us to do whatever we could to help the people at Standing Rock. What I fondly remember about the camp was the scent of the air, the wet grass, the Dakota sage, wood burning fires, and food cooking. Many people wore shirts with messages that were everything from Native Lives Matter to #No DAPL. What was so cool was people walked around camp wearing traditional regalia, which was beautiful, as one could truly be who they are and not worry about being mocked or harassed, as you would experience here in regular society. The important thing was that people were respected; no one tried to touch them or take their pictures as a way to treat them as an attraction. Seeing them respected for who and what they were was powerful, as was seeing the diversity in the many cultures that each of our tribes represent. I know the experience has given us more encouragement altogether.
What you experience in the camp right away is the possibility for another world, a better way of life. There is plenty of food and water as long as people continue to contribute. Everyone takes care of each other. You bring offerings, gifts, supplies for others. You take only what you need and never any more. There is not one ounce of selfishness in that camp that I witnessed. We know that we're in this place together, and that togetherness keeps us strong. Going to Standing Rock allows us to participate in something so much bigger than we are as individuals. That giving time, energy, and beauty to a powerful movement is the smallest of sacrifice when you consider what is at stake. The camp is alive not just during the day, but throughout the night, even at midnight when your senses are met with millions of stars and drums with their singers. The beating of the drums and the songs that are the cries of the people, sung together at a high pitch reminiscent of a baby crying for its mother, crying for help. Crying for the nurturing love of our mother earth. Prayers of hope and strength.
The entire time we witnessed the beauty of many Nations presenting their songs, dances, and protocols. We participated as well. We sang two songs, danced, and said thank you to people of Standing Rock and the camp for welcoming us. A huge thank you to the land, to the ancestors who died for us. We are still fighting for our very rights to live as human beings, and I feel incredibly sad that we have to sacrifice our well-being, our bodies, our lives, to stop projects
like this pipeline that affects both native and non-native people who call our land home. We're still struggling with the same oppression we've suffered throughout the history of this country - racism, hate, dogs, guns. The one thing that keeps us all determined is that we're standing together. We support each other. Our Mother Earth, she deserves her warriors, and her warriors have returned to her in the time of her upmost need. The world is watching, we can feel it and it is time to show the world what we stand for.
On Sunday evening before we departed all of us visited the front lines. Together we saw the places that were on the many Facebook videos, but what stood out was the incredible support of the banners and flags along with messages tied to fences along the road. At the end of all of those messages we came to an area that was destroyed by the tractors on Saturday, September 3. I later learned the work commenced in the very early morning hours that sad day. As we approached signs said no photographs or video allowed, as a sign of respect for the sacredness of that place. What there would have been to document was the pure destruction of a beautiful place full of grass, sage and thousands of years of memory in the people that rested there. We stood in the aftermath of a crew of bulldozers driven through a cemetery of Indigenous people's sacred places, places not valued by this society. As we stood there for a while, we each gave our offerings while feeling the pain of the many people who were once at peace there. We saw the destruction of the Earth ripped open. We felt that. It was real, it was emotional; we started crying because it's all too common for us here in California. It happens here and all over. Here our sacred places are always being destroyed, covered under parking lots, buildings, and houses. I only wish people would learn to value what we consider sacred. That they could witness the beauty and power of who we are and what we stand for - the protection of our land and our mother earth, of our burial sites and our natural areas. Our identities as Indigenous people are rooted in the beauty of our lands, and when that is destroyed so is that very part of our being. As we continued to give our offerings we prayed, and before we left together we thanked the young warriors who, in the cold and windy conditions, have been watching over that area day and night from the front lines, willing to do whatever it takes to stop this project in a peaceful and protective manner. These are America's silent heroes. No fame, no fortune, just the duty of what it is to actually do the right thing.
What has to be recognized in all this, is how truly amazing it is that everyone is working in the most peaceful way possible. We are not protesters. We are non-violent. We are protectors of the land, the animals, the water, the air, and most importantly, all life. We protect so many beings who cannot protect themselves. Standing Rock is a testament to the strength and tenacity of us as a people. We know violence hasn't solved anything. It will not stop this pipeline. The Morton County sheriffs, the North Dakota highway patrol, and all the private security are looking for us to get angry, to fight back and to become violent, so they can kill as many of us as they can. We
cannot give them that opportunity. All they know is violence and how to deal in it, and we will not give in, for every single one of us is needed by our people and our future. We have to provide an example to our children, our elders, to the world, that our strength and power don't come through intimidation and violence, but from the relentless strength of what it is to be an Indigenous person to this land. We hold onto the notion that this world is in no way, shape, or form owned by us. We simply borrow our existence. We protect what we can so that everything our ancestors suffered and died for can live on for the next generation, and for countless generations to come.
It's late Monday night, and we're back home, filled with spirit of what we witnessed and the fatigue after a long journey. I am once again watching Standing Rock from afar. But this land here in California, which is my home, needs me more than ever. The questions I'm left asking after all this are: Where do we go from here? Where does this movement go? How will the world react? How will this country react? Will this country finally accept change? Will others finally come to their senses and stand up, as we are standing up? People should say, "Indigenous people have been suffering for five hundred years, which is far too long." People should demand corporations be held accountable for what they have done to us and to all humanity. I pray that this spark starts the fire of people coming together. To stand up for our mother earth, to stand up for our very livelihoods, because if we don't, we could be the generation that will go down forever as the people who could have done something but couldn't get it together. So we're leading the way.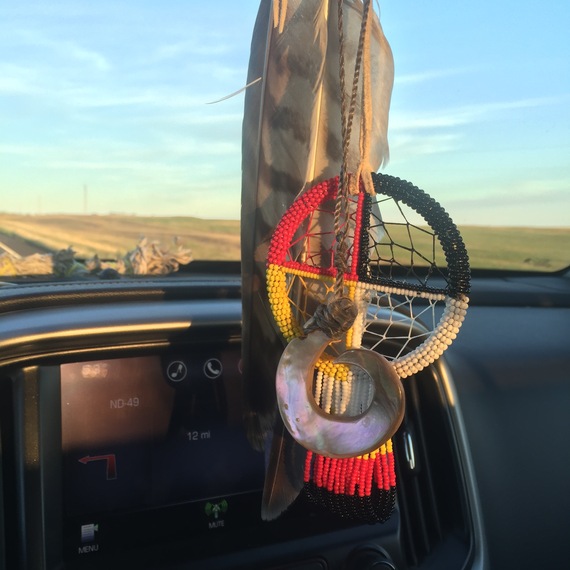 The Chumash abalone fishhook hangs from the mirror of my truck along with the Lakota medicine wheel representing the different races in the world, and red-tailed hawk feathers.
Support HuffPost
The Stakes Have Never Been Higher
Popular in the Community