Grizzled theme park veterans like us never go to Tomorrowland at Disney's Magic Kingdom.
Instead, we turn left after beelining it down Main Street USA, straight to Frontierland, avoiding the throngs of guests who instinctively turn right toward the spires of the Astro Orbiter and the iconic Space Mountain.
Yes, we are those Magic Kingdom veterans. For years, we had the annual pass that lets you get into Disney World every day. We learned to zig when everyone zags in order to shave a few seconds off the line at our favorite attraction.
So when Disney rolled out a Tomorrowland movie (it opens Friday) we had to go back to Tomorrowland, for the sake of journalism.
And there we were, riding the same rides that we loved years ago as children. Now we have kids of our own. And that was the problem: They were the same rides. Was there anything new about Space Mountain or the Tomorrowland Speedway or the Carousel of Progress?
Anything, you know, futuristic?
On first glance, no. But look closer -- much closer -- and you'll find that Tomorrowland is actually happening today, and in some pretty clever, innovative ways.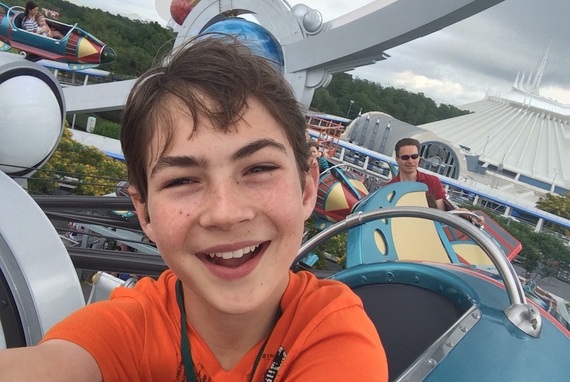 MagicBands -- Buzz Lightyear would approve of these
Imagine a wearable device that's a theme park ticket, hotel room key and can be used to pay for meals and merchandise. Science fiction? Nuh-uh.
Disney's MagicBand is real. It's a tiny wristband that uses radio frequency identification (RFID) technology to verify your identity wherever you go in the park. It's widely available at the Magic Kingdom, it costs nothing extra -- and yes, it's really cool. It's Dick Tracy meets Mickey.
We've used MagicBands to do all of the following: Pay for a shirt in a gift shop at Splash Mountain, buy an espresso at Epcot, unlock our room at Disney's Polynesian Village Resort, and cut the line at Soarin'. Worked flawlessly every time.
But the best use for our MagicBand is getting into the park. Remember that long line in front of the entrance? Thanks to the bands, they've been largely disbanded.
App-solute control over your Disney experience
If you like to channel your inner Mary Poppins, the My Disney Experience app is a must-download. This new technology gives all the information needed to make your next visit practically perfect in every way. (Do I feel a song coming on?) And you can access it from any mobile device or computer.
Start using the app before you've even purchased your tickets or made reservations to do research about park hours, attractions, dining and character meet-ups. Set up a wishlist to make sure you don't forget a thing. Once your tickets are purchased and your hotel is booked you'll get access to select FastPass+ passes for up to three attractions per park.
But this technology stands out when you use it in real time at the park. For example, we had a shirt emergency in Frontierland and needed something that looked more casual smart than a T-shirt. The app showed that the Briar Patch was nearby and we were able to get cleaned up quickly.
The app can also be used to make dining reservations, find nearby entertainment, look up wait times for rides and more. When you're done, you can review your PhotoPass pictures from this app, too.
More "magic" interactivity across the street
Of all the attractions at Tomorrowland, one stands out as the most technologically advanced and that is the Monster's Inc. Laugh Floor. It's a safe-for-little-ears stand-up comedy show featuring characters from the movies and puts the audience on the spotlight. Not everyone has a full appreciation for this comedy experience hosted by the members of Monster's Inc. and Monster's University because humor varies across ages and cultures.
Nevertheless, the technology is golden. It is the most fully-immersive and interactive offering in the park where you actually interact with animated characters. If you've even been to Epcot, this is very similar to the more intimate Turtle Talk with Crush. For example, during the show, Masters of Ceremony Mike Wazowski and Roz talk about different people in the audience. Fans can also text joke suggestions at the start of the show.
Kids are easily convinced that the characters on the screen can really see and hear them, so I'm not about to reveal how this bit of technology really works. Let's just call it some Disney magic.
What was our favorite joke? "What did the fast lion say to the slow lion?" The answer, "Mufasta!"
If Uncle Walt were still with us, he'd probably say Tomorrowland is here today. It's all around us. Nowhere is that more true than at the Magic Kingdom, his signature theme park. And if you can't make it to Orlando or Anaheim, Calif., this summer, then you can always stand in a line at the movie theater for the Tomorrowland movie.
Grizzled theme park veterans and Orlando natives that we are, we will be there. Oh, don't judge. The movie theater is air conditioned.
Related