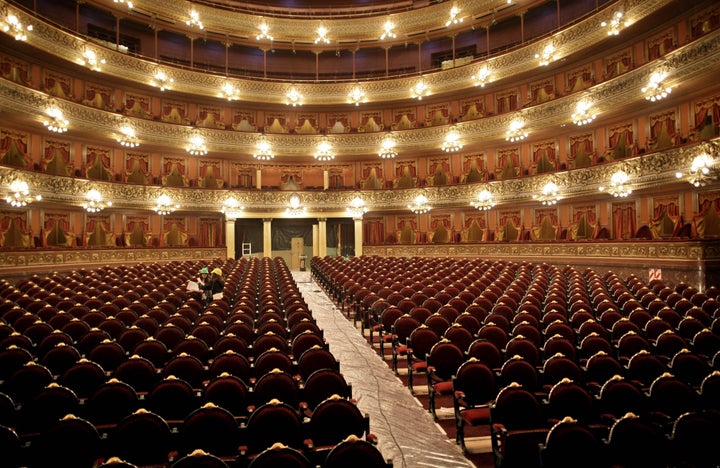 It seems to me that one's relationship to the monolithic Opera -- with a capital "O" -- is rarely love at first sight. It's often much more akin to a slow courtship. Such was certainly the case for the three composers that comprise the core of the Experiments in Opera collective, which presents its Spring 2012 Series at 8 p.m. on both May 10 and 11 at Roulette in Brooklyn, N.Y.
Aaron Siegel's interest in opera evolved from his enjoyment of theater. "In a way, the vocal sound of the opera singer, was the last thing I became interested in," says Siegel. Matthew Welch found opera by way of film soundtracks, as he puts it, "getting used to seeing a clearly marked space where movement and characterization is supposed to be happening along with a music source." For Jason Cady, working with Wesleyan University professor and avant-garde opera composer Anthony Braxton, with whom all three composers have studied, was a seminal experience.
Video for Experiments in Opera's January 2012 concert
Progressing from its inaugural concert this past January at Le Poisson Rouge in Greenwich Village, Experiments in Opera continues to showcase its co-founders' current opera projects --Siegel's Brother Brother, Welch's Borges and the Other, and Cady's Happiness is the Problem. And while Cady emphasizes his desire to present works that someone would readily identify as genuine "opera," all three artists are united in an active effort to resist bottling up one notion of opera as one Authoritative and Unequivocal Thing. According to Siegel, choosing not to explicitly define opera enables the trio to "raise more questions."
I think that our idea is that anything can be under review... --Matthew Welch
This seemingly evasive conceit reflects a decidedly nuanced approach to the storied, well-trodden path that is Opera -- openly acknowledging more recent "experimental" precedents even while turning further back in operatic history for creative inspiration. Inevitably, it seemed, my recent discussion with all three composers frequently made reference to the spoken word of Robert Ashley's Perfect Lives, the overt use of percussion in the works of Steve Reich, and biopic operas such as Philip Glass's Satyagraha and John Adams's Nixon in China. And yet the members of Experiments in Opera cite pre-20th century techniques as significant to their current projects. "We internalize some of the forms and we choose to isolate certain ones over others," Welch asserts.
His opera Borges and the Other -- in which the author Jorge Luis Borges, while in a dream state, encounters himself at a different age in life -- employs the kind of melismatic phrasing one could readily find in vocal music from the Renaissance and the Baroque. "There is something inside the word at least that is worth exploring...how you can take a word and sit on it for a long time and give it various shades of meaning, or throw in old ideas of word painting," explains Welch.
Similarly, in Jason Cady's Happiness is the Problem, which is simultaneously rendered in comic book form by Nadia Berenstein, the composer finds a seemingly antiquated method -- Baroque-style recitative -- to communicate vernacular English. "I wanted to use the recitative, but of course I don't want to write something that sounds like Baroque opera," Cady says of his reboot of the form.
One third of Aaron Siegel's Brother Brother -- detailing the relationship of the historical Wright brothers and the fictional siblings red and blue -- is comprised of choruses, which are often noticeably absent in many contemporary chamber operas. "Choruses are interesting parts of what's going on," says Siegel. "It gives you a little bit of chance to get out of the intensity of the individual soliloquy and allows you to have little bit more of a distanced experience."
It would appear at first odd that Cady, Siegel, and Welch have each chosen to draw from Opera's comparatively distant past to help form their versions of its future. That said, it seems apparent that opera's relevance has less to do with genre distinctions and stylistic choices, and more to do with how the Gesamtkunstwerk (as Wagner famously put it) engages us. Siegel makes the connection to our present day in this way:
We live in a time where we are starting to all think in multiple medias all the time, and it's not just about multimedia, but it's just part of the way that we live. That's the story, that we live in an operatic time, in a way.
Popular in the Community