CIOs should hire a direct report digital business transformation senior expert in IT - a chief digital officer - advice from Dion Hinchcliffe who is an internationally recognized business strategist, enterprise architect, transformation consultant, analyst, author, keynote speaker and chief strategy officer at Adjuvi. He is widely regarded as one of the most influential figures in social business, digital strategy and enterprise IT. After just coming off a keynote speaking engagement at the recent CIO Magazine CIO Perspectives event, Hinchcliffe joins us on CXOTalk to discuss digital business transformation and the role of the Chief Digital Officer (CDO).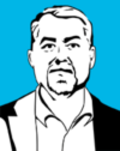 Dion Hinchcliffe (Twitter: @dhinchcliffe)
As one of the top experts in the world on the topic of digital business transformation, Hinchcliffe works with organizations to get them ready to move into the future. He explains that in the last 40 years, IT has revolutionized the business by digitizing what they have already done, yet very few traditional businesses have moved into the new digital space where digital is how they get their business done. Put simply, businesses have digitized, but they have not transformed. According to Hinchcliffe, this type of transformation is going to require a business model change.
Because of the disconnect between the business and IT and the more operational nature of traditional IT departments, the role of the CDO will be instrumental for connecting all of the silos to use existing digital assets and IT infrastructure for creating new lines of business. Ultimately, to combat the sobering statistic that by 2020 the average S&P 500 company will last only 9 years (down from 15 years in 2013), Hinchcliffe believes that every company must become a technology company or they won't survive. This will require a culture shift in the near future that requires everyone to be in charge of applying technology to their part of the business and IT will be responsible for data security and governance and putting guardrails in place.
IT is more challenged than ever before and the business is more seriously in need of help and leadership in this space. Some organizations will make it through, but technology is destroying companies - something that John Hagel refers to as a "delicious paradox". But fear not, even though this is a time of crisis for business and IT, according to Hinchcliffe, it's also the real time of opportunity.
Here is a summary of Hinchcliffe's IT leadership advice to CIOs aimed at driving successful digital business transformation:
1. CIOs, hire a CDO - According to the latest deep research conducted by the CDO Club, the number of Chief Digital Officers in 2013 doubled again in one year--just as it has been doing since 2005--to a total of 500. And the CDO Club is conservatively projecting that number to double again, to some 1,000 Chief Digital Officers by the end of 2014. So what is responsible for the exponential growth of this role? Although CIOs want to lead digital transformation in the enterprise, the fact remains that there is too much to do today. The infrastructure alone is a full time job, not to mention having to deal with social media, cloud, big data, etc. With the CIO so focused on running the business, they are challenged to also drive change. This is where the CDO comes in. With no distractions, they can move very quickly and transform the business. Because CDOs are of more of an entrepreneurial mindset, versus the more operationally-focused CIO, they are brought in to ensure that digital leads the business because that is the only way that the business will move into the future. A study by the CDO club reveals that most CDOs are getting their own P&L for digital, while the CIO does not have P&L because IT is not a profit center. Hinchcliffe says that the CDO will go away once transformation is achieved and IT will actually be the business.
As far as the question of who the CDO should report to, it depends on how effective the CEO is in the technology world. Those that are close to technology can have the CDO report to the CEO, but for many organizations the CDO will need to report in to the CIO.
2. Innovate or perish - IT is challenged with the continuation of traditional infrastructure IT while at the same time needing to adapt and transform itself to respond to the rising expectations of users. As value continues to move up the stack, a CIO who wants to move up the stack will need to stay relevant. If CIOs remain stuck in the infrastructure issues, the role splits into two aspects - the tactical and the strategic. The latter of the two is moving toward the CDOs purview. Dell's innovative CIO, Andi Karaboutis, says that, "Only if CIOs aren't on top of their game does IT split into operations and innovation; IT must innovate or perish." Hinchcliffe agrees that the CIO can still lead digital change and hire a CDO and keep innovation inside of IT, but he does not think this is a likely scenario for many organizations. He says that combining innovation and operations into one operating unit is a challenge because they don't go together. He is hearing from CIOs that there is a natural separation of the two even within IT departments where 20% want to do all new things and 80% are focused on that continuity. He predicts that it will be a challenge to keep these two groups together.
3. Become a technology company - The percentage of IT that is under the control of the CIO will be just 10% in 2020 (it was 66% in 2013) according to Hinchcliffe's presentation at CIO Perspectives. The reason for this dramatic decline is that business units can't wait for IT to solve problems, so with a need to move the business forward they go to external providers. With technology infusing every part of the business, one central and small support group can't possibly support the entire technology needs of the organization. Hinchcliffe says that edge IT for non-mission critical IT is becoming the norm moving forward. The issue has to do with changing the culture to become a technology company. According to Hinchcliffe, "Every company has to become a technology company or they won't survive." This is evident by the statistic stated previously about the average lifespan of S&P 500 companies declining.
To deal with the perfect storm of all of this technology happening at the same time, Hinchcliffe recommends taking a cue from the consumer space, where they are absorbing all this change and technology by empowering individuals. In the near future, everyone will be in the IT department, which is why 90% of enterprise IT is moving to be outside of IT control. IT must enable the broad adoption and metabolism of all this new technology, which is done by putting people in charge of applying technology to their part of the business. In this new business model, IT will be responsible for data security and governance and for putting guardrails in place. The CIO will still run core IT and all the edge stuff and productivity apps will be run by the rest of organization.
4. Disrupt before change is imposed - A key insight that Hinchcliffe has garnered in working with many technology companies is that change imposed from outside can break an organization. If change is imposed organizations will reject it and the organization will break. He urges organizations to disrupt themselves before it is imposed, saying that if you always seek out change and innovation before it happens then you will change yourself ahead of time. He refers to the book, The Connected Company by Dave Gray, where research discovered that companies that have lasted centuries tend to be active seekers of change. They don't wait for it to be imposed by outside forces; they do it to themselves, because that is what they seek for themselves.
5. Adopt a beginner's mindset - In his book, Social Business by Design, Hinchcliffe advices organizations to design a culture where they are holding onto their ideas lightly so they can be free to adapt. "If you get overinvested then you can't change and that is the challenge. IT has to get away from being known as 'Dr. No' because already everyone is routing around them," warns Hinchcliffe. At CIO Perspectives, Hinchcliffe asked all of the CIOs that attended his presentation if business customers eagerly come to them to help solve business problems and not one said yes. "That is the death nail for IT right there. If we hold on too closely to these ideas we will fail," says Hinchcliffe. Or, put into the words of Salesforce.com's Marc Benioff, adopt a "beginner's mind".
6. Collaborate, stay nimble, differentiate and focus on quality and accessible data - Hinchcliffe says that the real problem with digital business transformation is that there is a conflicting battle between the traditional and digital lines of business. The traditional business does not want to be threatened by the new digital business and they will do anything they can to prevent the digital business from affecting that line of business. "Digital is fighting a serious headwind to grow inside the business," says Hinchcliffe, who offers this advice for CIOs to ready themselves for this avalanche of digital disruption:
Partner with LOBs to enable edge IT: One of the most powerful tools you have is all of the innovation on the edge of your business. Look at how you can partner with more of your LOBs and enable them to do what is best for the business.
Prepare for continuous change: Today everything is a series of projects. Organizations have to adapt to a stream of continuous change. It will be essential for CIOs to build a capability for adapting to a much greater rate of change.
Focus on what is strategic to your business: Everything that can be commoditized can be pushed out to the cloud, but you need to retain the pieces that are unique to your business. What makes you so powerful is having a world-class data set for your business. "In digital, whoever has the best data wins. That is the entire strategy right there," says Hinchcliffe. "Don't outsource those pieces, IT should be focusing on those aspects of differentiation that are strategic and they can commoditize everything else - using cloud, app stores, etc. - to provide as much IT to the organization as possible.
Ultimately, great IT organizations are leading from the edge, reducing the distance from corporate IT and external customers. Hinchcliffe leaves us with this closing thought: Digital business transformation means data; data is the golden rule and he who has the data makes the rules.
You can watch the full interview with Dion Hinchcliffe here. Please join me and Michael Krigsman of Asuret every Friday at 3PM EST as we host CXOTalk - connecting with thought leaders and innovative executives who are pushing the boundaries within their companies and their fields.
Popular in the Community