As a mother of four I have children in all types of car seats from an infant seat, to a standard car seat, to a booster. Knowing what to look for and how to choose the right car seat for each stage can be confusing.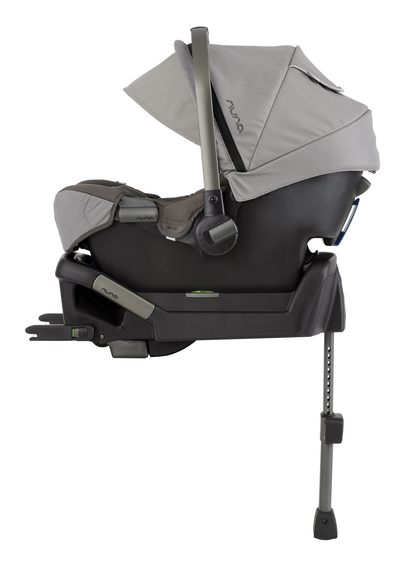 The NUNA PIPA with a stability leg for extra safety
Bob Wall, Global Advocate for Nuna Baby Essentials and car seat safety expert has some tips:

•You need a car seat that meets three criteria: one that fits your child, one that fits your vehicle and one that you will use correctly every time.
•Car seat stages can change quicker than you think as they are directly related to your child's age, weight, height and behavioral maturity.
•Identify the Proper Stage: Children progress through several car seat stages from birth until adolescence. To ensure you're using the safest option, double check the minimum age, weight and height requirement for a seat and that your child is within the usage for their current car seat.
•For all types of seats, weight and height limits will vary by model and manufacturer -- always follow the requirements provided on the car seat labels and in the instructions for the seat your child will use.
•Car seats fit differently in each vehicle, so it's a good idea to ask store personnel if you can test for fit with your vehicle and child before you make a purchase.
•There are several different kinds of car seats: rear-facing only, convertible; combination, all-in-one, and belt positioning. No matter what you feel is the best seat for your child, make sure it meets all current federal safety standards and read the manufacturer's labels and owner's manual.
•Old and/or used seats may not be your best choice because of the lack of instructions or history. Car seats must meet the current safety standards, and not be recalled or have been damaged in a crash.

Parents in the market for a car seat for the first time or looking again after a few years for a new baby or older child should be aware that there have been many recent advances in car seats that make them safer. Wall states that:
Many people have used the phrase, "they don't make them like they used to," when referring to current vehicles...the same goes for car seats. Older vehicles were "built to last" and were very rigid with little give or ride down for the vehicle's occupants during a crash. When a crash occurred, the vehicle sustained minimal damage due to the solid structure; however, the vehicle's occupants had minimal crash protection. Vehicles today have many advanced technologies designed into their structure and interior to protect the occupants during a crash.

Walls explains that the differences in new car seats are similar to the changes in vehicles:
There are new technologies, new standards and most importantly, better crash protection for children. As standards in crash testing have advanced over the years designs in child protection technologies have changed as well. Car seats have become easier to use by design, making them in many ways safer as the caregiver better understands how they work since there is less room for "user error." Newer Car seats are engineered with standardized vehicle anchor system which makes them compatible with advancements in automobile anchor systems. These systems make it easier for parents to install car seats correctly which is essential because a car seat will not offer complete protection to a child if it is not installed correctly.

Many car seat manufacturers have incorporated other automotive advancements into their designs and in many cases have pushed the advancement beyond minimum standards and testing.

Some recent advances in car seats are seen in:
The NUNA PIPA Infant Seat: The PIPA has a stability leg that secures the seat solidly to the vehicle's interior to take advantage of current crash force reduction technology and offers extra protection during a crash by spreading the crash forces though the back of the car seat structure and into the vehicle structure -- reducing injuries to the child. The PIPA's rigid lower anchors also make this seat simple for parents to install ensuring a safe and secure fit in most vehicles. The rigid anchor system combined with the stability leg offers additional protection. Plus, it's very light which is a plus when taking it in and out of the car frequently.
Britax Click Connect Convertible Seats: Britax offers several convertible car seats that can grow with children by making easy adjustments such as the Boulevard with 10 different possible height adjustments, a Click & Safe Snug Harness Indicator that makes it easy to see if the harness is secured tightly enough, and an easy click connect instillation system.
BubbleBum Booster: With one child in a booster I've noticed an uptick in the number of kids my son's age who are riding in cars without a booster when visiting friends or going for short trips because transferring the booster from car to car seems like such a hassle. I was happy to discover these inflatable boosters good for play dates and car pools and keep a BubbleBum on hand to send with my son when he's going somewhere with friends after school or to use when we to shuttle his friends somewhere safely.
SensorSafe: Every once in a while there is news of a caregiver accidentally leaving a baby in a car. No parent ever wants this to happen to them. The new Advanced SensorSafe Embrace Infant Car Seat has new technology that embeds a technology in the car seat clip that alerts the driver if the baby is still strapped in when the ignition is turned off.
No matter what type of car seat you choose, be sure it is installed correctly by going to a car-seat safety check. You can find one here for Car Seat Saturday on September 19th.
Related