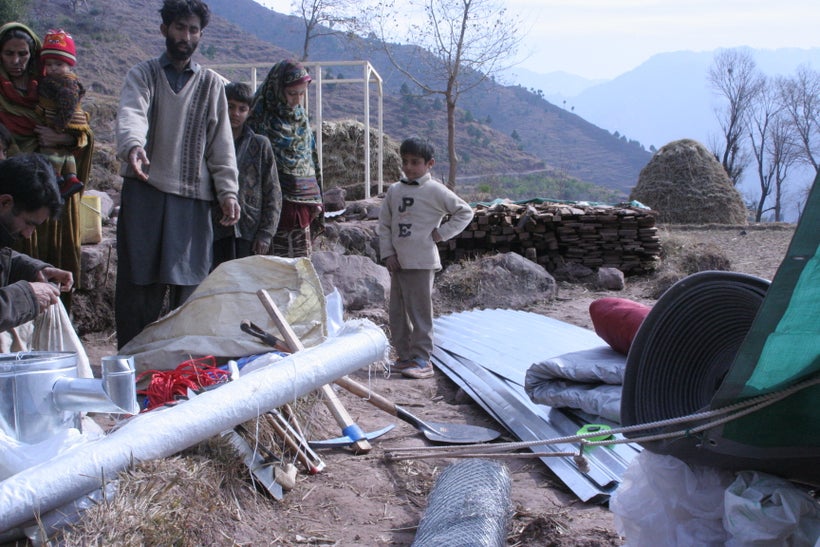 AID EXPERTS RESIST TRUMP, SEEK CABINET SEAT
The U.S. foreign aid agency has been working under a cloud since President Trump proposed slashing aid by 30 percent and folding the agency into the State Department – a plan that several key senators have already said is dead on arrival.
So today, a group of former aid leaders and experts rolled out their own plan, elevating foreign aid to a Cabinet level position, pushing away a State Department takeover and proposing to consolidate 20 foreign aid programs housed across the government.
Is this rearranging the deck chairs on the Titanic? Or is it a James Bond-like doubling down in the teeth of strong pressure by enemies disdainful of foreign aid?
The aid-boosting plan was written by a group of former aid leaders and experts known as MFAN – Modernizing Foreign Assistance Network. In a public hearing July 11 at the Brookings Institution in Washington, MFAN laid out a plan to revive foreign aid. It calls for creation of a new super aid agency to be called the Global Development Agency (GDA). It would consolidate under one roof (or tent) the following:
n The US Agency for International Development (USAID,) the biggest foreign aid agency worldwide with annual budgets around $25 billion.
n The U.S. program to fight HIV/AIDS known as PEPFAR. It keeps tens of millions alive in Africa alone.
n The U.S. program to fight malaria
n The Millennium Challenge Corporation or MCC which provides five year aid plans to countries able to manage these programs.
The new foreign aid architecture plan released today also proposes creating a Development Finance Corporation by consolidating trade, finance and credit agencies that promote U.S. investment overseas and encourage international commerce.
The proposal calls for realigning all US aid to make it more "effective, efficient, coherent and agile."
"It is in our national security interest to prevent conflict and disease from spreading across borders to U.S. shores," the proposal said.
"It is more cost effective to help build peace, advance human rights, and address the drivers of conflict than it is to respond with costly military interventions."
The plan notes that "over 20 government agencies provide some kind of foreign assistance," dividing the U.S. aid impact.
The plan to revamp foreign aid includes several cuts in bureaucratic divisions that some experts say have hindered U.S. foreign aid. For example, USAID – long known for its opaque system of hiring contractors to carry out development work – would have its 12 bureaus cut to five; and the plan it calls for eliminating "the vast majority" of special U.S. ambassadors and envoys.
The State Department has long wanted to control and absorb USAID, seeing the aid function as bringing clout to diplomacy.
But USAID staff and supporters say the development function takes many years to be effective while diplomacy focuses on instant gratification by winning over foreign governments. The aid plan released today revived a long-held dream of development officials and workers – elevating USAID's chief to Cabinet status.
"We need a voice in that [Cabinet] room, said J. Brian Atwood, former USAID administrator under President Bill Clinton.
He recalled fighting off attempts in the 1990s by Sen. Jesse Helms (Rep.- NC) to abolish USAID and roll it into State.
Atwood and USAID supporters managed to stave off dissolution back then by creating a strange alliance:
n American wheat farmers relying on aid exports to jack up grain prices.
n Religious aid agencies such as Catholic Relief Services, which carry out USAID-funded relief and development programs.
Atwood admitted that when he saw the ambitious reach of the new MFAN aid plan, he was taken aback at the timing. "I did not anticipate this president," he said.
In that sense, all of the officials experts and aid workers at the rollout today were whistling past the graveyard as Trump's wish for foreign aid is to make it work for American security or go away.
The panel admitted that if the Trump budget proposal is adopted, the consolidation and increased efficiency of the new plan would still not mitigate the impact of 30 percent budget cuts. One of the most draconian proposals made in the Trump budget was to do away with pretty much all food aid– including aid keeping millions alive in the famine-struck Horn of Africa.
Speakers at today's aid panel included: Atwood, currently at Brown University; former USAID administrator Peter McPherson, currently president of the Association of Public and Land Grant Universities; and George Ingram, senior fellow at Brookings.
Ben Barber is a foreign affairs journalist who served as public affairs officer at USAID for seven years.
Calling all HuffPost superfans!
Sign up for membership to become a founding member and help shape HuffPost's next chapter
This post was published on the now-closed HuffPost Contributor platform. Contributors control their own work and posted freely to our site. If you need to flag this entry as abusive,
send us an email
.