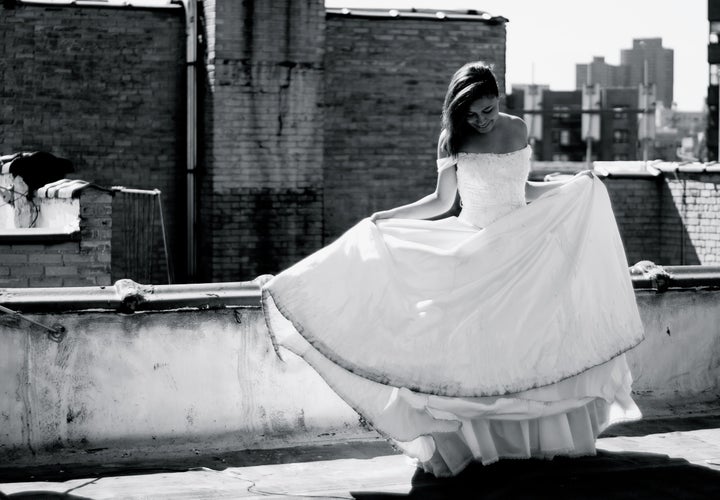 We got up at 5 am to line up for the sample sale. I sat on the sidewalk outside a convention center in downtown Boston with my fellow bridesmaids and our lovely bride, and waited for the doors to open. Other girls had brought along even larger contingents, some of them in matching uniforms so they could easily find each other as they ran around grabbing dresses for their bride. We got lucky, and walked out with a gown. Lots of brides did not.
If you're in the market for a wedding gown and think you might score at a sample sale, beware: You need to do your homework beforehand. Showing up unprepared at a sample sale will likely result in walking out empty handed, even if the sale you're going to is less frenetic than the massive one I attended.
Lots of bridal salons hold sample sales around this time of the year, when they need to make room for the 2013 gowns they've ordered. To help you get ready, I asked two experts, Elise Rosenblum, Retail Director for Pronovias (formerly of Kleinfeld and "Say Yes to the Dress"), and Gabriella Risatti, of Gabriella New York Bridal Salon, to share some of their secrets.
1.Find out if the sample sale requires an appointment, or if you just show up: Even if you don't need an appointment, make sure you understand the rules. Last month I was outside Kleinfeld in Manhattan on the day of their sample sale, and several brides showed up in the afternoon, not knowing that numbers had been handed out in the morning. If the advertisement isn't crystal clear, call the store ahead of time, and get informed.
2.Understand what kind of merchandise you can expect: The prior year's -- not the coming year's -- gowns will be available. "A lot of times, the brides are misguided," said Rosenblum, who just wrapped up a sample sale at Pronovias for about 150 brides on Dec. 2. "They bring images of dresses from the 2013 collection, but those gowns won't be in the sample sale. Their expectations are a little high," she said. On the other hand, calling the store ahead of time to find out which exact gowns will be sold won't get you anywhere. In most instances, even the staff isn't told until the day of. Even so, some stores do reveal helpful information. For instance, Risatti, who held a sample sale on Jan. 6, said that she knew the gowns sold would range in size from a bridal 8 to 12 (which is comparable to a normal dress size 6 to 10).
3.Go gown shopping at one or more salons before you attend a sample sale: "We do suggest that brides have an idea of the style and fit they are looking for in their wedding gown," Risatti said. The savvy sample sale customer has been looking for a dress for about six months, according to Rosenblum. "They've seen what they liked, and realized they can't afford the full price. A sample sale is a good outlet for that bride," she said. That said, both Risatti and Rosenblum underscored the importance of bringing an open mind to a sample sale, since the selection will be a surprise.
4.Manage your expectations about the level of service you will receive at a sample sale. "Don't confuse this with a real bridal appointment," Rosenblum cautioned. "Since the gowns are so deeply discounted, you can't expect the same service you would typically receive." At many stores, including Pronovias, there aren't enough fitting rooms to go around to every bride at the sample sale, so the women have to share.
5.Be very picky about who you bring with you to the sale: "We do not recommend bringing more than one guest, as your own opinion matters the most," Risatti said. "Bring a friend that is honest and decisive. After all, purchasing a gown at a sample sale is not a decision that you can sleep on." Rosenblum had similar advice, noting that a bride really should not bring more than two people with her. Brides who bring an entourage, thinking each friend can grab several dresses at the same time, end up being frustrated. "Most stores limit how many dresses a bride can take a time," Rosenblum said. Moreover, in such a crowded and hectic environment, having so many people there with you can end up being distracting and counterproductive.
6.Only buy a dress if it can realistically be altered to your size: "I want to make sure the dress they get can be altered to fit them, because once they leave the store, they're on their own," Rosenblum said. Remember, shoppers: At just about every sample sale, the store will not provide alterations. Even if you swear you're going to lose weight before the wedding, if you have a certain build and your ribcage is a certain size, you will never fit in certain dresses, Rosenblum emphasized. How do you make sure you end up with a gown that look fabulous on you? Ask lots of questions at the sale, Risatti said, noting that sample sales are ideal for brides who wear size 10 or smaller.