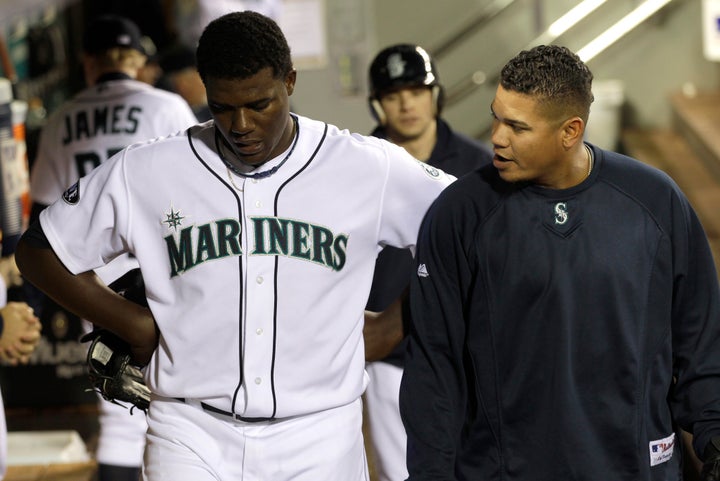 In a meticulous sport where inches (sometimes centimeters) make all the difference between a win and a loss, over the past decade we've seen an influx of dominant pitching and lack of scoring in Major League Baseball.
Such a shift in the game has led to speculation that perhaps the steroid era is officially over. The trend also raises questions about whether young hitters are simply not as talented, or whether the pitching really is just that much better.
The 2011 MLB Draft just concluded and the results show a lack of young bats and true power hitters chosen, giving more support to the notion that the game is becoming less about hitting.
The first four draft picks were pitchers, and a total of 19 pitchers were drafted in the first round.
Look at any major league roster: While there are a bundle of talented young hitters (e.g. Joey Votto, Astrubal Cabrera, Troy Tulowitzki), there is a more impressive crop of young arms.
Quality pitching seems to be at an all-time high. According to fantasybaseballdugout.com, 2010 marked an all-time high for strikeouts, with 14.12 per game. The second highest clip ever occurred the year before, in 2009. What's even more telling is that as strikeouts have gone up, home runs have gone down -- way down.
Fantasybaseballdugout.com also reports that in 2010, there were 1.9 home runs per game, the lowest clip in 17 years. ERA (4.07), batting average (.257), hits and runs scored? All were at their lowest since 1992.
Home run totals have declined every year since 2006 and could reach a record low by the end of 2011. The steroid factor surely played a crucial role back in 2000, when homers hit an all-time high of 2.34 per game. But beyond the decline of pill-popping, there are other reasons for the home run drought.
Cardinals manager Tony LaRussa is a two-time World Series champ and considered one of the deans of baseball. He believes that pitching has replaced hitting as today's it-position for young kids coming up.
"I believe if you took 20 really athletic guys that could make a choice, maybe 12 to 15 might be choosing pitching versus a position," he says. "There's something to pitching that is attracting the athletes. You look at the drafts and there are a lot of pitchers coming out of the United States; a lot of position players are not American born. That starts to be an edge for the pitching side."
Even so, the field of elite pitchers is becoming more competitive, and LaRussa sees some advantage for pitchers coming from Latin America. He estimates the number of Latin American pitchers in the major leagues has been steadily increasing for quite some time.
LaRussa's says pitchers from Latin America have "an appreciation for the game beyond just 'I can throw it, I can get it.' Latin Americans -- they're growing up in the game and they get an edge that way."
The Seattle Mariners' two young aces are perfect examples. Rookie All-Star Michael Pineda and 2010 Cy Young winner Felix Hernandez embody LaRussa's idea of the well-rounded pitcher.
Despite Seattle's anemic offense, the Mariners remain competitive thanks to the dominant 1-2 punch of these two players. The 22-year-old Pineda has been astounding in 18 starts, going 8-6 with a 3.03 earned-run average and striking out 113 batters in 113 innings. What's more impressive: opposing batters are hitting just .198 against him. Hernandez offers more of the same. Just 25 and already one of baseball's most feared pitchers, his efforts this season have given Seattle fans reason for optimism.
"For years," LaRussa says, "I would say the majority of true Latin American prospects were position players, and now you see more and more becoming pitchers because it's a better way to get to the big leagues."
Young hitters, in contrast, seem to lack approach at the plate. Many players, including LaRussa's young outfielder Colby Rasmus, are coddled from youth. By the time they reach the big leagues, they lack the necessary discipline to consistently succeed in the majors.
Hall of Famer and current New York Mets broadcaster Ralph Kiner recently noted young hitters' disadvantage during a telecast.
"I don't see that many [hitters making adjustments]," he said. "Rookies should be standing closer to the plate and take the curve ball away from the pitcher. The curve ball is the everlasting thing. Pitchers change. And you got to see them change and you got to change with them. It's a constant game of chess, but you got to be able to think."
That thinking is crucial, LaRussa agreed.
"Albert [Pujols] is a great example in that he's very smart," he said. "Well, that smartness involves some of the things that Kiner said; analyzing a pitcher, what your approach is, you make adjustments, all that stuff that you learn.
"Over and over, young hitters as a rule are very unsophisticated. They really just see it and hit it, and they don't get into identifying how you're going to attack."
If thinking is the weakness of hitters, LaRussa believes that it's the strength of pitchers.
"[Cardinals pitching coach] Dave Duncan always says this: It's easier to coach pitchers because they're willing to try anything, what finger pressure to get movement. They, by their nature it seems like, want to be coached.
"Hitters on the other hand, usually are not open-minded until they fail."
LaRussa says young hitters "fight learning how to be a productive hitter; learning how you hit early in the count, late in the game, how's your at-bat change when the count is 1-0 versus 0-1. It's how you think and adjust during the game."
"I really think it's a reluctance to learn how to make adjustments and deal with situations," he says.
In his recent MLB Draft report, Anup Sinha, a National Scouting Director for prospectwire.com, wrote the one weakness of the 2011 draft was the lack of pure hitters.
"Rice University third baseman Anthony Rendon falls into the blessed category," Sinha wrote. "According to a handful of scouts I've spoken with, he has the bat to become a middle-order big league hitter very quickly, maybe by 2012. But you're hard-pressed to find another such college bat and, understandably, none of the high school hitters are quite so precocious, either."
Even Rendon though -- who was taken sixth and is considered by many to be the elite bat in the draft -- lacks power. The 22-year-old isn't likely to be more than a 20-homer per season type of hitter.
So while every franchise covets young hitting talent, teams hope more to land a premier arm, hence the flood of pitchers taken in this year's draft.
And many teams will pay an inordinate amount of money to land a free agent pitcher, even if he has already peaked. The thought process is simple: an elite arm can change the course of a franchise more so than a bat.
Email me or ask me questions about anything baseball-related at @206Child for my upcoming mailbag.
Plus, check out my brand new HuffPost sports blog, The Schultz Report, for a fresh and daily outlook on all things sports.
Related
Popular in the Community