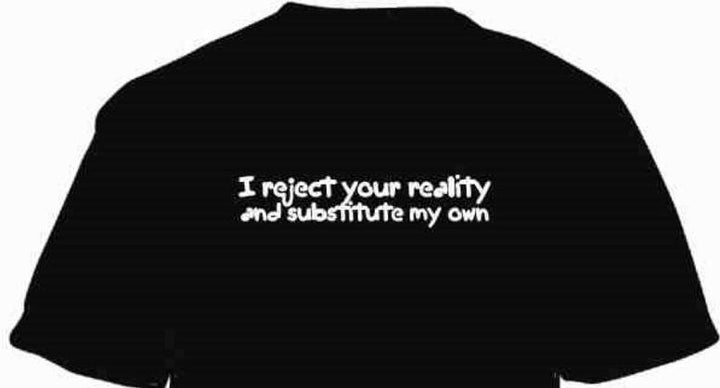 Earlier this morning, I joined Jezebel's Megan Carpentier for another one of those early morning online chats known as Crappy Hour. We used the occasion to muse on all things "Birther," because they are, "so hot right now." Hot like a steamy, mindless pit of insanity. Anyway, it got me thinking: these Birthers basically assume a vast, complicated conspiracy, through which countless individuals, of varying degrees of power and station, have managed to fool the entire nation into electing a guy from Africa as our President. THIS IS OBVIOUSLY THE PERFECT PLAN. But what it's lacking is its narrative, its story. So, I made with some on-the-fly imaginings. It's not much, but I thought you'd enjoy the first scene of "O BIRTHER, WHERE ART THOU: The Incredible Psychosis-Based Story Of How Some People Somehow Managed To Get A Kenyan Dude Elected President, For Some Reason."
LIGHTS UP on SOME GUY and SOME OTHER GUY

SOME GUY: Hey! I know this lady, she's given birth to a Kenyan. What do you say we make him President?

SOME OTHER GUY: Uhm...it's like, 1960. We are never going to get a black guy elected President.

SOME GUY: Trust me! We can totally do this!

SOME OTHER GUY: Okay, why does it have to be a Kenyan? Why not just some black guy here, in America? I mean, this just seems needlessly pointless and convoluted and hard.

SOME GUY: I DON'T KNOW. IT JUST HAS TO BE THIS KENYAN.

SOME OTHER GUY: Okay, well, you know, of course, that Kenyans can't be President. So, are we going to convene a Constitutional convention or something?

SOME GUY: No, I just thought we'd get a bunch of government officials, from both parties, at the Federal, state, and local level, to all help with this, for little to no money, for forty years. And obviously, we'll need to be constantly inculcating people in this cabal, including people who aren't even born yet. And we'll all have to stay quiet about it, and not let anyone know. But, yeah, we can totally do this.

SOME OTHER GUY: Okay. And what would be the point to this? What's the outcome we're seeking?

SOME GUY: I HAVEN'T THE FOGGIEST IDEA!
This is a story with a moral, and it is this: the press needs to place the burden for explaining how all of this was supposed to work and what it was intended to accomplish squarely on these crazy people, which is where it belongs. Then, of course, point cameras at them. Because, yay!