This post is excerpted from Change Your Brain, Change Your Life, Chapter 19: The Amen Clinics Program to Explode Your Potential, Reverse Illness, and Reduce Your Risk for Alzheimer's
As I was writing this chapter one of my patients, Dr. Steve Arterburn, New York Times bestselling author and radio host sent me this note and gave me permission to share it.
"My rental car confirmation number for Aruba was 63012XXX and hotel was 555055XX. The reason I know this is that I'm supernaturally able to remember things that I would never even tried to before. And they don't go away! My productivity and creativity is off the chart. I would say I am getting 4 X the work done 4 X better than ever. I have the ability to focus and connect with my wife in ways I've never experienced.
- Exercising in bursts vs 30 minutes of continuous running.
- Severely restricted sugar intake while increasing protein and reducing processed carbs
- Taking recommended supplements
- CPAP machine every night versus never
- Brain Fit Life exercises, problem solving I am up to 99.5%tile.
WOW!!!! What a difference!!!! And sexual intimacy is another amazing peak performance area!!!
Steve's note is exactly why I do what I do. He is a brain warrior. The last step in the Amen Clinics Method is live "The Brain Warriors Way." It involved planting the strategies and tools in your daily life to explode your potential, reverse illnesses, such as depression and obesity, and prevent Alzheimer's disease and the untoward effects of aging.
You Are In a War for the Health of Your Brain
Alzheimer's disease is expected to triple in the next 30 years and there is no cure on the horizon. Fifty percent of people 85 years old and older will be diagnosed with Alzheimer's disease or another form of dementia. Frightening new research suggests that Alzheimer's disease actually starts in your brain decades before you have ANY symptom.
Depression is the greatest killers of our time, affecting 50 million Americans at some point in their lives. Nearly all of us have either suffered from depression or know someone who has. Depression is a risk factor for Alzheimer's disease, heart disease, cancer, and obesity. An astonishing 23% of women between the ages of 40 and 50 are now taking antidepressants.
Obesity is a serious national crisis, with two-thirds of Americans overweight and one-third obese. Obesity is the 3 leading cause of death and a risk factor for over 30 medical illnesses, including Alzheimer's disease, depression, and suicide.
The answer in my mind to the epidemic problems of Alzheimer's disease, depression, and obesity is not to look for separate causes or cures for these problems, but rather to think of them as different expressions of the same unhealthy lifestyle.
But there is also incredibly exciting news. Dr. Dale Bredesen from UCLA put 10 patients with Alzheimer's disease (or its precursor, known as mild cognitive impairment) on a comprehensive and personalized treatment program, similar to the one you'll find in this chapter. At the time the study began, six of the patients had had to discontinue working or were struggling at their jobs. Within 3-6 months of completing the program, nine of the 10 patients displayed improvements in thinking or memory. All of them were able to return to work or continue working with better performance. The gains have been sustained for up to four years for some patients. This study dovetails perfectly with our experience at Amen Clinics.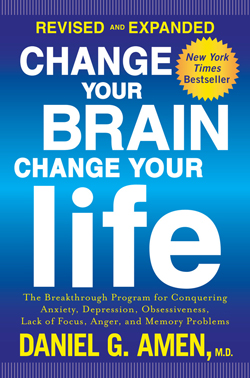 Bredesen's work centers around 4 central concepts.
Optimize parameters, not just normalize them. For example, vitamin D, testosterone and thyroid levels need to be in the optimal or high normal range, not just anywhere in the normal range.
Multiple mechanism approach. When we get sick or age, it is never just one biological mechanism, such as blood flow, that fails us, it is generally multiple mechanisms, such as blood flow, toxic build up, nutrient depletion, and inflammation.
Personalized based on individualized parameters. The interventions need to be tailored to your unique situation.
Iterative, optimized over time. You can never stop being a brain warrior. Once you stop, the weapons of mass destruction (highly processed, low fiber, high glycemic, pesticide sprayed food, and aging) will overwhelm you.
Basic training for a brain warrior means developing the skills to love and care for your brain to keep it as healthy for as long as possible. In this chapter I'm going to give you our 12 step program to explode your potential, reverse illness, and significantly reduce your risk for Alzheimer's disease.
Reprinted from Change Your Brain, Change Your Life (Revised and Expanded). Copyright © 1998, 2015 by Daniel G. Amen, M.D. Published by Harmony Books, an imprint of the Crown Publishing Group, a division of Penguin Random House, LLC.