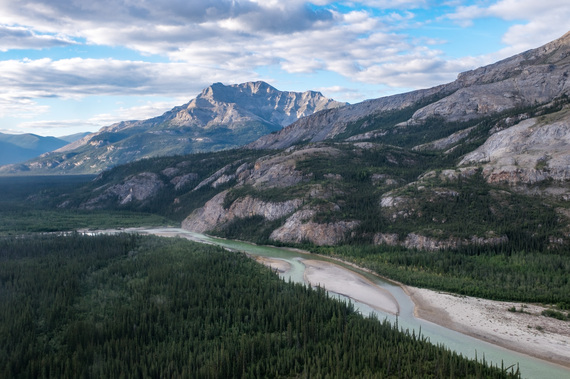 Gates of the Arctic National Park and Preserve as seen from from the air on our way into the Noatak Wilderness Preserve. Photo credit: Jonathan Irish
Have you ever felt that you just wanted to be somewhere completely wild? Away from services, from roads, from people, from all signs of humanity? If that sounds enchanting, you might consider planning an escape to one of Earth's last true wilderness places: Gates of the Arctic National Park and Preserve in Alaska. There are no roads into or inside of the park. There are no designated campgrounds. There are no established trails. On average, there are fewer than 50 visitors on any given day. Most landmarks found on topographic maps don't even have names. It's a land of extreme solitude--just you and and the central Brooks Range in the Arctic north.
Because of its hard-to-get-to location and all that entails, we have known throughout the duration of our project this year that exploring Gates would be one of the most difficult national parks of them all. In some ways it was, and in some ways it wasn't. It was for sure the most expensive, and it was by far the most remote, but it was certainly not the most challenging--thanks in large part to the local guide company who helped to light our way into backcountry.
This is not a place where travelers venture unless skilled backcountry outdoorsman with exceptional survival skills. With that in mind, we signed on for a five-day backpacking and float trip down the Noatak River. Once the trip began, it took two experienced guides five days to lead ten guests down 82 miles of one mighty river in a quest to explore one of the very most remote parks in the system. Everything about it was epic.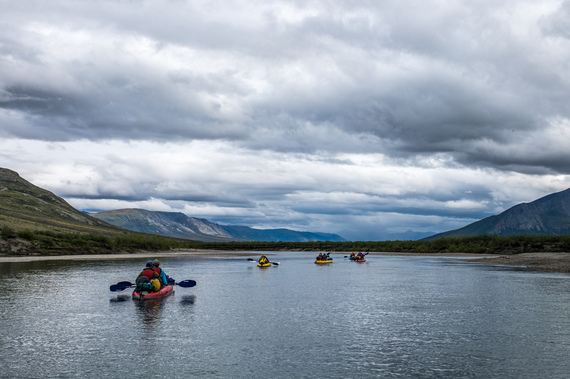 Floating down one of six of Alaska's designated 'Wild and Scenic Rivers': the mighty Noatak! Photo credit: Stefanie Payne
For this article we wanted to break down the specifics of how a guided trip like this works. Taking a closer look at the mechanics of it might help you decide how to design your own trip, and/or whether or not an ultimate backcountry experience is something you even want to take on--it is really rugged out there. Even accompanied by some of the best guides in Alaska working for a company that is as experienced as anyone operating in the area, there are natural aspects of a trip like this that aren't suited for everyone. However, if you are keen to get deep into the Alaskan bush, love all-terrain camping and Mother Nature's extreme attitude shifts, can adjust to unforeseen circumstances and can live without connectivity for some time while traveling with others whom you don't know all that well close by your side--THIS TRIP. Seriously, this adventure remains one of the great experiences of our entire year.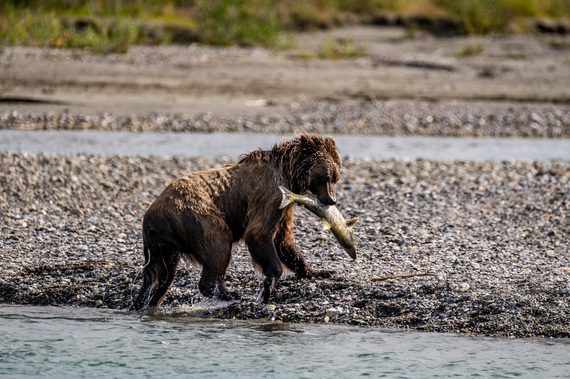 A grizzly catches his dinner on the shores of the Noatak. Photo credit: Jonathan Irish
Onward with a look at the mechanics of a guided trip in Gates of the Arctic. This is a general idea of what-to-expect based on our experience this year--itineraries often change as do logistics.
Selecting and booking the trip - We knew we wanted to spend many days in the national park so that we could see as much of it as possible. We spent a little time researching the different experiences available in the area, and ultimately, we chose to travel with Alaska Alpine Adventures (AAA) because they have a very good reputation in the travel industry and were operating a trip that looked immersive and awesome. So we gave them a call to discuss options. Confirming that there was space enough for us (we nabbed the last two spots) we booked it then and there and they planned the majority of the rest.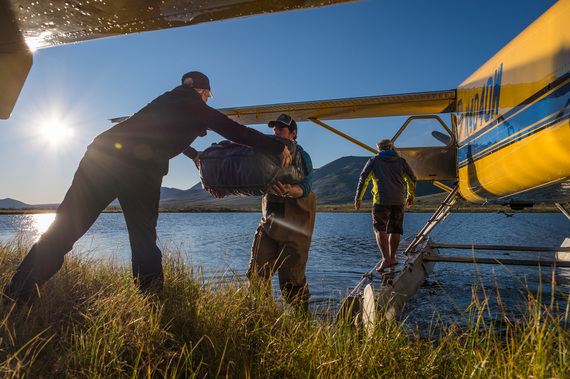 Our fearless guides from Alaska Alpine Adventures, Nick and Sean, shuffle gear from the float plane to our first camp on the Noatak River. Photo credit: Jonathan Irish
Cost - This is the kind of guided trip that you save up for, and/or splurge on. It is a difficult undertaking to bring a group of travelers with various levels of outdoor skills safely into the Alaskan backcountry for an extended period of time. It is such a unique challenge, in fact, that there are very few companies running trips in Gates. Those companies who are operating there send their best guides, their best gear, and the area's best pilots to ensure your safety. It's pretty remarkable how much behind-the-scenes planning and coordination is constantly going on that you are free from worrying about as a guest. And having the peace of mind that your safety is their number one priority? Priceless. It is for all of those reasons that trips like the one we took aren't seen on your budget travel pages. It's also important to factor gear cost into a trip like this. There are a variety of things you will need, and because of the unpredictable weather systems found in the Alaskan Arctic, you will want high quality equipment. Is all of that cost worth it? If you can swing it without going bankrupt, we think so, absolutely.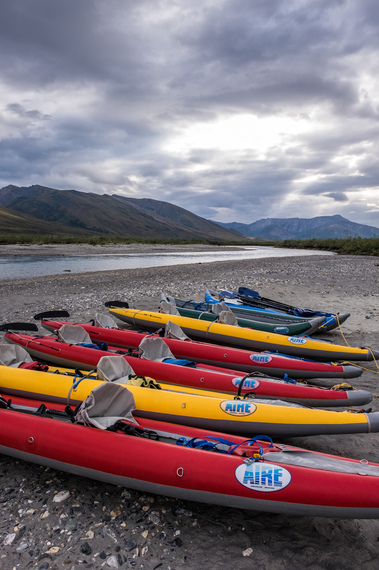 Inflatable Sea Tiger kayaks--our ride down the river. Photo credit: Stefanie Payne
Gearing up - When you book your trip, you will receive a gear list. Most of what you will need is available at REI, Bass Pro Shop, and on Amazon.com. If you are an adventurer, (and if you are heading off on a trip like this one you probably are) you probably have a lot of the gear you will need already. The company you travel with will most likely provide tents, boat gear, personal flotation devices (PFDs), paddles, etc.
Heading out - Once your trip is arranged and the date of departure arrives, you'll fly into Fairbanks for a one-night stay at a local hotel where you will meet the group and work with the guides to flesh out your gear and make sure you have the necessary items and that everything is waterproofed. The next morning you will fly in two bush flights on float planes (seaplanes)--one to Bettles where you will rendezvous with the National Park Visitor Center and receive a briefing about park safety; then another to a remote area near the Noatak River, your water-based highway through Gates. After setting up camp, evening activities usually consist of getting to know your traveling companions over a meal and hot drinks and learning about the area and what to expect in the coming days from your guides.
The daily grind - After waking up early, eating breakfast, and gearing up, you'll hit the river in inflatable Sea Tiger kayaks and begin your multi-day voyage. Full days on the water will consist almost entirely of paddling, with stops throughout the day to stretch, eat lunch, and to watch grizzly bears in their natural habitat--awesome. During our 5-day float trip down the Noatak, we crossed 82 miles (about 16-miles per day on average) paddling from about 9 a.m. to 7 p.m.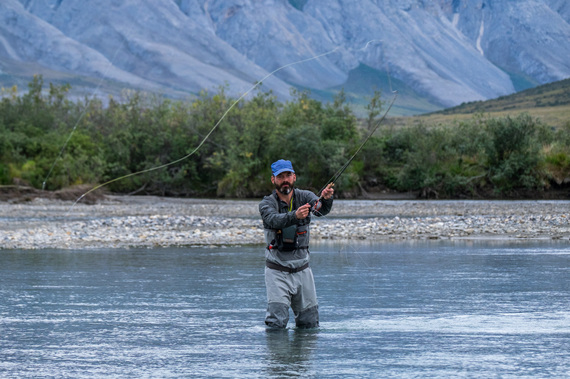 Stopping at lunch doubles as a chance to cast a line into the Noatak River. Photo credit: Jonathan Irish
The extraction - On this particular trip, our exit from the Noatak was a short bush flight to Kobuk Valley National Park situated nearby. Because they are near Arctic neighbors, it made sense logistically for our project to combine the two park experiences, though we'll write about them separately (Kobuk is teed up next.) If not continuing on as we did, you will fly back to Fairbanks then on to wherever your travels might take you.
The expected - There are no showers on a trip like this. The entire group will start to smell in unity. There are no toilets. You will dig "cat holes" (6-inch holes in the ground dug by small shovel) to do your daily deed in. Everything must be bear-proofed. Eating becomes sport. And you will experience group dynamics in a whole new way... not everybody has a good day everyday for various reasons--cameras break, gear gets damaged, people get sick, uncontrollable expectations are unmet, comfort zones reside thousands of miles away--and how individuals deal with such situations will absolutely impact everyone. It's not always pretty. That is just the nature of group travel. In the end though, and we've seen so many times while traveling on guided trips, strife eventually fades away and you will form lasting and unique bonds with the other travelers and guides because you have all experienced something amazing together.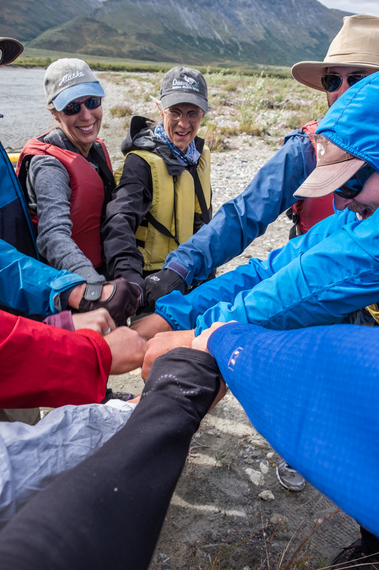 Such a happy bunch! Fellow travelers, we will cherish our time spent with you all in Gates always! Photo credit: Stefanie Payne
The unexpected - Maybe your waders aren't fully waterproofed and your feet are freezing every day while on the water. Maybe a magneto blows in your bush plane while in flight and your expert pilot lays you down on a remote lake. Maybe at that lake you meet a video crew who is creating a documentary film about stopping construction of a road through the park that will damage migratory patterns of birds, salmon and big game--and maybe amidst all of that you find yourself networking while tempering anxiety from your near-death experience... not exactly the kind of adventure you had in mind. Plainly, shit happens. It happens all the time on trips like this. Being adaptable and looking to the bright side is key to powering through unexpected situations and enjoying yourself. Once you are out there, there is no turning back, so you might as well make the best of it.
That's the basic flow of a guided backpacking and float trip down the Noatak River in Alaska's Brooks Range. All in all, we had no proper showers, zero broken bones, hiked 20-something miles, flew four bush flights, had 23 bear encounters, spotted 12 bird species (thanks to our new friends, the bird ninjas!); consumed about 1 zillion calories, and endured 10 days of non-stop laughter--people can be very funny when you take away all of the typical distractions of life and plop them down into the wilderness together somewhere. Epic trip, and an experience we'll cherish forever.