The Hawaiian people have been practitioners of the art of aquaculture for centuries. Being surrounded by ocean, it's an obvious talent, but the advanced fish-rearing technologies that they developed centuries ago are nothing short of amazing.
"We have a lot of graduate students doing research at the fishpond, studying how it works biologically, and how the restoration, which has been going on for about 10 years now, is changing the biodiversity of the pond. We wanted to highlight the science and also introduce more people to this wonderful resource."
Fishponds are essentially fish farms, built by enclosing an area of water with rock walls, usually on the coast and near a freshwater stream. Small fish get in through the sluice gate, or mākāhā, and those tending the pond encourage algae growth to provide food for the smaller fish, which then provide food for the larger fish. As the tides ebb and flow, larger fish are corralled into the mākāhā for easy and controlled harvesting.
Current restoration efforts by Paepae o Heʻeia, a private non-profit dedicated to caring for Heʻeia Fishpond, aim to repair damaged or missing parts of the fishpond wall and return it to a working and productive source of food for the local community.
"Fishponds in general are such an amazing thing that we wanted to involve more people," Judy continued. "Thousands of people visit Heʻeia Fishpond each year through their education and community work programs. But there are many more that would like to visit, but their small staff cannot accommodate them all. Sometimes visitors might walk around on their own with little information. We wanted to help change that."
With the goal of spreading knowledge about the fishpond and the related science, Judy approached Marion Ano, who had previously worked on data visualization for the National Oceanic and Atmospheric Administration, and had an interest in using technology for education.
"The concept of accessing the fishpond virtually came up, and it grew from there," Marion explained. "We started with just an app-guided walking tour and more ideas popped-up. We involved the grad students, since their research is so important, but we also wanted cultural relevance. To do that, we incorporated the voice recordings of our cultural advisors from Paepae o Heʻeia, Hiʻilei Kawelo, the group's Executive Director and Keliʻi Kotubetey, their Assistant Executive Director. You hear directly from them their unscripted experiences, observations and the rich history of Heʻeia Fishpond. It was very holistic, and not just about the research alone."
As a Native Hawaiian, Marion was keenly aware of the respect that her ancestors had for the environment and their advanced thinking about maintaining local resources.
"What was so striking about the fishpond was the forward, visionary thinking of my ancestors and their knowledge -- even hundreds of years ago -- that you can only take so much from the ocean. You build the ponds to take responsibility, grow your own fish, so that you don't have to continually take resources. It puts the responsibility of fishing and getting to know your resources on the community instead of on the environment."
Marion saw this project as a perfect opportunity to blend her cultural, academic, and technical interests into an app that shared this uniquely Hawaiian story with the world.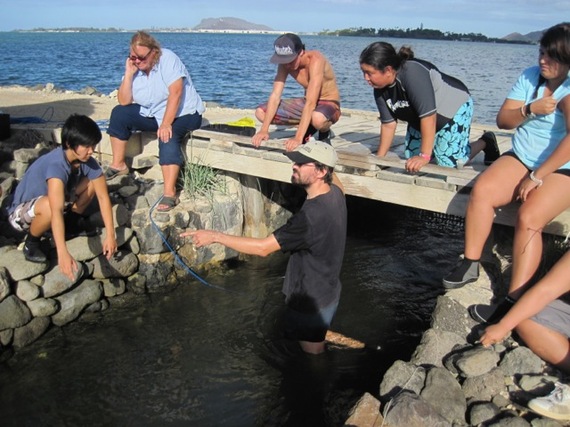 A team of University of Hawaii interns and researchers measuring water flow rates through the Heʻeia Fishpond mākāhā (sluice gate).
"Apps are so engaging and it's right in the palm of your hand," Marion continued. "I feel fortunate that I wasn't raised with various technological devices, but I can see that they can be used to spark creativity and get people to the fishpond. Actually, I started to call our app the 'anti-app,' since it gives people a taste of what the fishpond is like and gets them down there, gets them outside to take the walking tour. Then maybe they'll learn more about the importance of the fishpond, and even get excited enough to volunteer!"
If you're at the fishpond, the self-guided walking tour from Loko Iʻa moves you between stops and enables more visitors to enjoy and experience the sites without adding additional stress to the volunteer guides.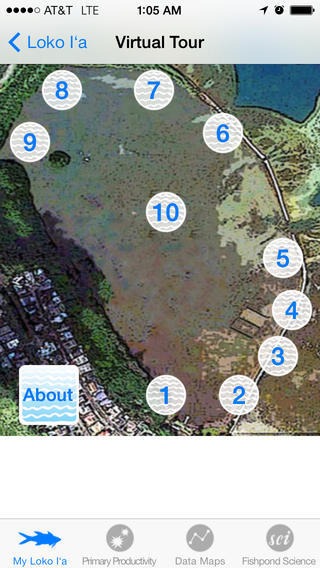 The Loko Iʻa app provides both virtual and on-site tours, as well as spoken insights, research data, and more.
The app also provides maps, data, and visualizations of the research that the UH team is conducting.
"Judy brought together a great team of scientists, all amazing and all doing such great PhD work, but outside of the internship, it's difficult to get that information out to the public," Marion explained. "People should see and understand the research being done in their communities."
"We wanted to reach a broad audience, but it had to be relevant and it had to include both culture and science," Judy added. "We're going to continually update the science aspect, and hope to add the historical timeline of how the fishpond has changed over the years. It's all a learning experience. I'm not very high tech but it's a lot of fun!"
And the fun for Marion continues as well: She's moving to Chicago to enter an iOS development program and hopes to continue creating Hawaii-focused apps.
"We've gotten great feedback and it's gotten people curious and hopefully it'll get more people to visit the fishpond," Marion concluded. "For me, that puts a smile on my face."
It'll put a smile on your face, too!
(Photos and app screenshot provided by The Hawaiʻi Institute of Marine Biology.)
Related
Popular in the Community