If you're looking to do a road trip before summer's end, Dorset, Minnesota might be worth checking out if you're coming to this part of the country. This quaint town is a hint back to simpler days.
Like the nearby town of Nevis, the shops in Dorset are locally-owned, independent businesses. Besides knowing your dollars will count here, some of these shops also offer unique one-of-a-kind gift ideas that you won't find at corporate box stores.
Dorset is in northern Minnesota on State Route 226, about six miles from Nevis. We biked in from Nevis on the Heartland State Trail, an easy ride on a paved path that goes through the woods. The 49-mile multi-use trail runs from Park Rapids to Cass Lake.
While Minnesota is called the "Land of 10,000 of Lakes," this part of the state is considered the lake region where people come to vacation, road tripping here in the summer from southern Minnesota as well as neighboring states like Wisconsin, Iowa and Nebraska.
Dorset calls itself the "Restaurant Capital of the World" because it's a one street town, which is Route 226, and there are restaurants with some gift shops. Locals and vacationing families come to Dorset to dine. It's pretty unplugged here, and that's what we love about it. So many shops in the area don't have websites, but you can find them listed on Dorset's website. Most of these shops are seasonal, only open during the summer.
Driving into town the first thing you see is a beautiful old stone church, the First English Lutheran Church. Behind the church is the old school house, which is now the Heartland Trail Bed and Breakfast, which offers bike rentals. They're right off the Heartland Trail so you can rent a bike and ride on the trail.
What was interesting about the Heartland Trail is that there's the paved trail for bikes and parallel to that is a grassy path for horses, which is also used for snow mobiles. If you ride your horse into Dorset, there are some horse stalls on the trail right before you get into town where you can leave your horse while you go into town.
There's also a Heartland Trail Park in Dorset where you can pump a manual old style water pump, and we tried it and the water tastes great. Biking around Dorset, there are fields of corn, cattle grazing, lakes and woods.
All the shops and restaurants are on the one street in town, which is Route 226. We love to support independently-owned bookstores and Sister Wolf Books has a nice section of Minnesota authors and another section with books about the Midwest. Authors come in regularly and every June there's a "Festival of Authors and Artists" which supports Minnesota authors and artists. And there's a little coffee bar so you can have a cup of coffee while you're browsing at books. They also buy and sell used books.
Next stop we biked to Professor Nils Photographic Emporium, which provides old-fashioned backdrops and you can dress up and take fun Civil War, Wild West, Roaring 20s and Victorian old time photos.
For a snack, there's the Dorset House. We love the old-fashioned soda fountain to sit and have a sundae and we had our favorite, a turtle sundae, which is ice cream and hot fudge and caramel. They also serve food and have great pizza. They offer an all you can eat buffet from 5 to 8 p.m. for just $9.45 for adults and children for only $4.60.
If you're looking for one of a kind gift ideas, Stained Glass Creations makes the stained glass themselves and there are other artists who makes blown glass and jewelry. This Dorset shop is the store's summer location and in the winter they also have a location in East Grand Forks, Minnesota.
One of the most popular restaurants in Dorset is called Companeros, which has been here for 27 years. It's always busy and they do great margaritas and Mexican dishes like chimichangas, burritos, enchiladas and Mexican fried ice cream, which everybody always gets and mud balls, which are Oreo cookie crumbs with vanilla ice cream topped with strawberries, whipped cream, and a hint of amaretto.
The Dorset Antique Shop is a cool little antique shop we came across. It's in a cottage and when you're inside, the antiques are displayed throughout the house, so in the kitchen there are antiques for the kitchen and in the bedroom, antiques for the bedroom, and so forth. You can find cottage furniture, and another great gift idea is their hand made steam punk jewelry, made here. Other popular items are the antique linen and vintage books from the early 1900s or late 1800s.
Across the street from the antique store is the Dorset General Store and La Pasta Italian Eatery, which is in one building.
And finally we went into a nice gift shop called Meadowbrook Gifts, which have a wide variety of gifts and it's in a building that was the old bank and you can walk into the old bank vault to browse at gifts.
On the first Sunday of August the town hosts a Taste of Dorset which is a big event in this town, drawing people from the area here for the summer. This was also where we saw little Bobby Tufts, the 4-year-old boy who is Mayor of Dorset, who has been in the news lately for being re-elected as mayor. Each year Dorset picks a name out of a hat and that person is mayor for a year.
The restaurants offer tastes of their food for very reasonable prices. We loved the hot-buttered corn on the cob, a piece of wild blueberry pie that was homemade by the First English Lutheran Church, a spaghetti ball from La Pasta, walleye fish bites, and of course we had to have our favorite turtle sundae.
The Taste of Dorset offers activities for kids, like minnow races and a makeshift Wheel of Fortune to win prizes and knock and roll, where you roll a ball to knock over milk bottles for prizes. The local humane society has a fundraiser, a Pet Photo Contest.
People often plan their vacations around this event, coming to the area just to be at the Taste of Dorset so if you're already looking at possible road trips next summer to Minnesota, you can plan on having fun at this event.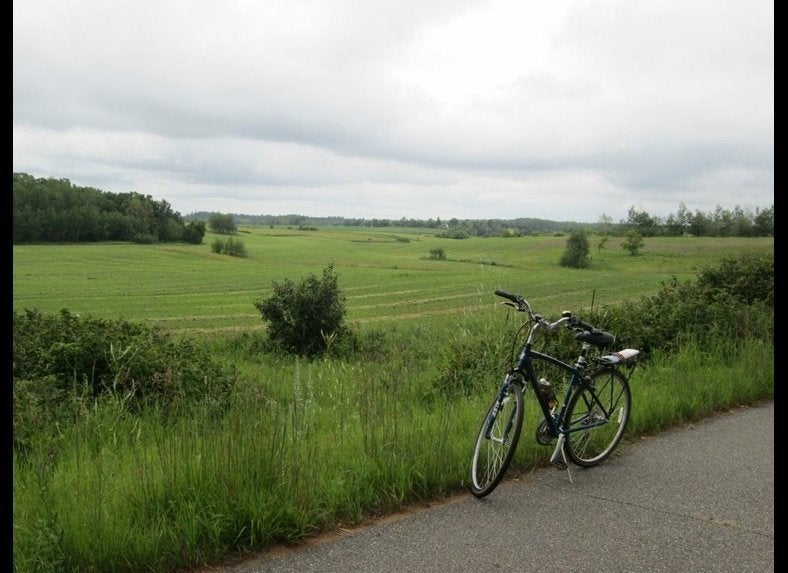 Explore America: A Day in Dorset, Minnesota
Related