News broke recently that a third movie called "Before Midnight" in the "Before Sunrise" franchise recently wrapped in Greece to the delight of many worldwide who wondered if we would ever see more of those characters played by Ethan Hawke and Julie Delpy.
As we wrote about in Part One of this two-part blog post, 1995's "Before Sunrise" was a magical movie, which had perhaps the most brilliant and touching scene where not a word was spoken. It made me at once get verklempt as well as laugh, as the two newly acquainted characters stood in an old school record store listening booth, listening to New England singer-songwriter Kath Bloom's song "Come Here." The two stole furtive glances and at times locked eyes as they awkwardly looked away, emoting so much without words.
Kath calls "Come Here" a travel song, referring to the title. It's also haunting and has notes of vulnerability and, of course, longing. She shares a little bit about her own journey and how the song, which was recorded in a studio in Woodstock, New York, came to be featured in "Before Sunrise." While she generously offers us a listen on her website, please support her by purchasing it on iTunes.
"They found me because of another filmmaker Caveh Zahedi used my music in his films," she tells us from her Connecticut home. "It was 1994 and I was living in a travel trailer among orange groves in Florida with two babies, it couldn't have come at a more unlikely time for me to fly somewhere and do things. Some of the orange groves in Florida were pretty magical. We lived in a real remote area. It was actually part of West Palm Beach. Florida was a paradise."
Her husband was playing in Woody Guthrie's American Song in Vienna, just after they filmed "Before Sunrise."
"The movie was made in Vienna," she says, "But by a weird serendipity, my husband was playing in a theater production there and I went with him, our four-year-old and our 18-month-old baby in tow," she says. "And I saw where they had filmed it and by that time I had to get back and get the song recorded, they were probably in editing."
While she hadn't toured much back when the movie came out in the '90s, she's been catching up, playing around the country in recent years. "I thought a good spin on my career is 'Kath Bloom the late Bloomer,'" she says, with a laugh. You can see her on Oct. 5 at Food for Thought Book Collective in Amherst, Mass., Oct. 6 at Yale Marsh Botanical Gardens, in New Haven, Conn. and Oct. 7 at the Candy Store in Brooklyn, New York.
Kath teaches music to all ages, her philosophy being that music is healing. She is also an artist, she draws horses and is an equestrian. Here are some of Kath's favorite places in America:
My favorite place in the U.S. to visit is...
Ultimately I'm pretty much a country girl and I'm affected most by the landscape of places. In the last few years Big Sur, California is a real turn on. I love it, it's so completely different from New England where I'm in. I play at the Henry Miller Library there. I really didn't start touring until in recently. Big Sur is so sweeping and grand compared to New England.
The first thing I do when I go to Big Sur is...
Go to the ocean and gaze out. Pull over on the side of Highway One. The curving and up and down of it is pretty scary. I've played at the Henry Miller Library and the Fernwood Inn. I like going to the local haunts. But I basically like going for a hike there.
Everyone should visit ___ at least once.
Hudson, New York's on the rise, it's a happening place, it's a mixture of rich and poor, young and old, people are out on the streets. People are out, they're visible, they're doing things. Of course they're like that in New York City, but everyone knows they're like that in New York City.
___ is a pleasant surprise.
I really had a great time in Bolinas, California. I guess they had some housing moratorium there. I liked it because it was tiny. The last time I went to California was April and it was the only morning that it rained and I walked out onto a real foggy beach. There were some homeless people there, all kinds of people. I ate at kind of a soup kitchen for breakfast because as I walking around, a priest and minister invited me. It was real spiritual experience, my band mate and I ate there. And we played at a bar, I think it's only bar in town. But I love New England. Vermont is great.
My favorite restaurant in the U.S. is...
I've been to some wonderful ones. I love playing in Philadelphia and I've eaten in some incredible hole in the wall places there. One was this vegan place that an older black man ran that was incredible, with a lot of stories involved in the whole eating. A lot of tales were told. I do like to eat at a place where you can't help being brought into the feeling of the place.
The best place to find ___ is at...
La Tortuga, a great Oaxacan restaurant in Monterey, California and Mexican Radio in Hudson, New York both have outstanding quesadillas.
Some great towns people should visit are...I love Philly, I like Boston. New Haven isn't bad. I like where I am, I'm in Connecticut in Litchfield County. It's beautiful; it's pretty rural.
My favorite airport in the U.S. is...
I'm going to put in a vote for Hartford, Conn., where I fly in and out of. Hartford is pretty good. They're reliable, they're hardly ever late. Don't get me started about some of them.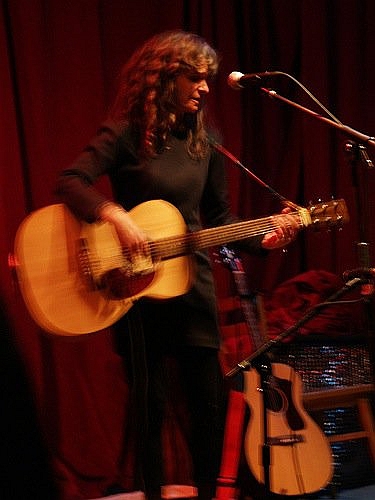 Popular in the Community