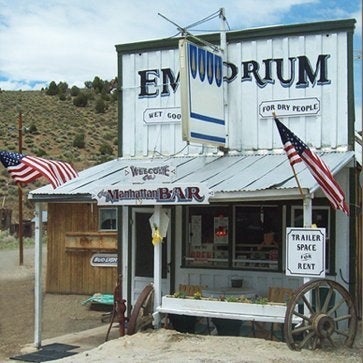 When visiting Nevada, sure there's Las Vegas, Hoover Dam, Lake Mead and Reno, to name a few popular destinations. But there are also less-traveled places worth exploring.
Perhaps you're looking to escape modernity and step back into a time gone by to channel the vibe of the old Wild West. Some off-the-beaten-path towns in Nevada (or more traveled throughout time, depending how you see it) are the ghost towns. Nevada has its fair share of wonderfully preserved ghost towns. These desolate landscapes and dilapidated buildings provide wonderful subjects for photographers as well.
This is Pony Express territory after all, and if you're on a road trip to explore Nevada, chances are you'll try U.S. 50. Also called "The Loneliest Road in America," there are very few services on long stretches of this road. You can see remnants of the old Pony Express on the highway, which cuts through towns like Carson City, Stagecoach, Fallon, Austin and Eureka. A good resource is this website on the Pony Express Territory and nearby towns.
Here are a few Nevada ghost towns to explore...
Rhyolite
Rhyolite is west of the town of Beatty on Highway 374. This ghost town was the third-largest city in Nevada in 1908 and sits at the east entrance of Death Valley. While the Goldwell Open Air Museum isn't a ghost town, it's nearby and might be a fun visit for the artist in the family.
Manhattan
Off State Route 376 is the old silver mining town of Manhattan, altitude 7,000 feet and population 50. The Manhattan Bar & Motel has been serving patrons since 1906. There is plenty of hiking, and photographers will also enjoy the Big Smoky Valley. There is plenty of wildlife to see in the area, as well as gold panning. Former owners John and Mary, who still visit the motel often, have great tips on what to see and also give guided tours.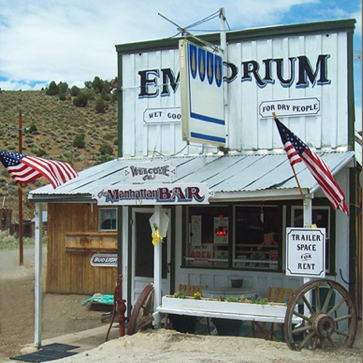 Belmont
Nearby is Belmont, along Nevada Highway 82. Silver ore was discovered here in 1865 and the once-thriving town is apparent in what remains of those old buildings. It is listed as a historic district and Belmont Courthouse is now a state historic site.
Austin
From Belmont, take State Route 376 to U.S Route 50 -- "The Loneliest Road in America" -- to the town of Austin. There is only one road through this old mining town and that's U.S. Route 50. Austin has three graveyards, and the hardware store is still open. There are bike trails for mountain bikers, but if you're just in town to channel the old Wild West, this is the Pony Express territory and there are occasionally reenactments held here, with riders who come all the way from Missouri. While this living ghost town does not provide the gold and silver it once did, turquoise is reportedly mined in small quantities.
Cindy, one of the owners of the Cozy Mountain Motel in Austin and a member of the Chamber of Commerce, which is across from China Ridge, where the Chinese used to live, is a wealth of information. "If you go into the next valley you'll see some remains of places, some structures and it's still interesting," she says. "There are a few shacks if you go exploring on the dirt roads. This is a photographer's paradise. I love the way the sun sets on the canyon walls." Off U.S. 50, State Route 722 is a scenic road, and there are many sightings of big horn sheep, mule deer and even mountain lions.
Austin might also be familiar to movie buffs, because the town was in the 1971 movie "Vanishing Point."
"We do have a twisty-turning summit coming into Austin from the east side," Cindy says. "The car chase takes place on the summit, it comes right through town and wraps around the church."
Nearby Austin is Middlegate Station, which was an overland stage station used by the Pony Express. It's still in operation today.
Eureka
Also on U.S. 50, the town of Eureka bills itself as the "Friendliest Town on the Loneliest Road." One of the beautiful buildings in this still active ghost town is its Opera House, which still is still in operation. Like the other towns, there is plenty of hiking in the area, but if it's the town you're interested in seeing, there is still mining going on in Eureka. Visitors are invited to tour the Barrick Ruby Hill Mine.
Goldfield
Southeast of Carson City is the old town of Goldfield, born in 1902 and which grew from two miners to 20,000 in six years when gold was discovered. The Goldfield Historical Society is active in its preservation efforts and regularly features a historic property and accompanying story.
Ghost towns near Reno
If you're already in Reno, you can take a quick drive over to Silver City, Gold Hill or Virginia City.
Red Dog Saloon
For those into rock and roll history, while in Virginia City, the Red Dog Saloon is reportedly where 1960s psychedelic rock began. Janice Joplin also sang with the house band here.