After seeing so many news reports about our own country losing more jobs, CarsTravelFood was created to offer up ideas of places, businesses and artisans in our own country that we might not have known about or just need a refresher on when it comes to travel ideas. Every dollar spent on any of our local businesses, towns and cities is a dollar in support of our own jobs.
When it comes to vacation time, the economy has forced more of us to stay closer to home and in a sense what's old is cool again: We're back to what our parents and grandparents did, when the country's highways were still new and a vacation was getting in the car to explore our America on the open road.
Now that spring is here and we're beginning to think about road trips, there are some interesting wine regions in America that offer some interesting gift ideas that are not only Made in America but Grown in America.
Napa Valley comes to mind when we think domestic wines. But winemakers grew grapes in Ohio as far back as the 1830s. By 1865 Ohio produced more wine than any other state in the country. This state helped launch the wine industry in America, according to Donniella Winchell, executive director of Ohio Wine Producers Association. Ohio wineries might be one of the state's best kept secrets, something worth exploring when visiting the Buckeye State. What's for sure is that the wineries are definitely popular destinations and a worthwhile road trip for those who live here.
There are now about 150 wineries in the Buckeye State, and 60 percent of those grow their own fruit. Winchell says at least eight new wineries in Ohio will open in 2012. Ohio wine country is a welcome glimmer of hope in this tough economic climate.
"There is no recession in wine country; our wineries are exploding," Winchell says. "There is a winery within 45 minutes of every resident of the state of Ohio."
The wine industry in Ohio provides about 4,000 jobs, and these vintners attract about 2 million visitors a year. Winchell says 65 percent of Ohio wines are grown in the northeast part of the state in the Grand River Valley, which is 22 miles long and four miles wide. There are about 20 wineries in this region.
"We grow grapes in the northern part of state because Lake Erie provides temperature moderation," Winchell says. Tasting rooms at wineries in the Grand River Valley have about 20,000 visitors on weekends.
"Many of the people start with something sweet because their palates are used to drinking Coca-Cola and lemonade, then they move to drier and redder flavor profiles," Winchell says. "As your palates grow you generally drink more sophisticated wines, drier and redder wines."
Winchell says Ohio vineyards grow labrusca varieties, like catawba and French-American hybrids like vidal blanc and chambourcin. In the northern part of the state they grow cool climate varietals including chardonnay, riesling, gewürztraminer, sauvignon blanc and semillon and the red varieties are mainly pinot noir and cabernet franc.
In the southern state cabernet sauvignon, cabernet franc and syrah are grown and produced. There are more red wines in the southern part of state because of its warmer climate.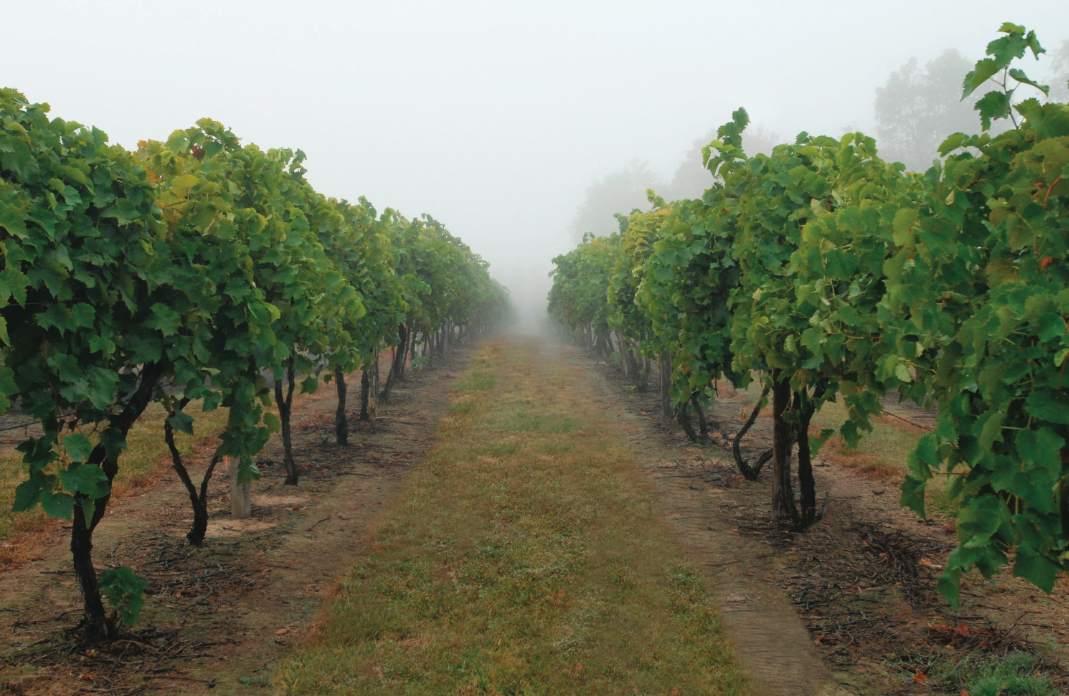 Visitors enjoy driving through six wine trails around the state, and the trade association offers a great resource on their website for those who want to take a nice drive, find a local winery to taste wine or stay at bed and breakfasts. The Ohio Wine Producers Association coordinates 20 events associated along these wine trails throughout the year.
"We want to make the customer feel special, like they are part of family rather than a cattle call environment," Winchell says. "The wineries set up special cellar tables and they'll do a private tasting."
In February, there was a popular chocolate and wine tasting event along the Vines and Wines Trail in northeast Ohio, where people try samples from local chocolatiers at wineries. Another popular event is Vintage Ohio, Aug. 3-4, 2012. This outdoor wine and food fest attracts 40,000 people.
Another wonderful resource is the Ohio department of agriculture's Ohio Grape Industries Committee website, Taste Ohio Wines. It features different wineries and announces various new award-winning wines. You can also search wineries and events at held at the wineries, such as live music, or even a wine tasting and a massage, offered at Wyandotte Winery once a month this year.
The website also offers food and wine pairings, wonderful recipes for foodies and many other interesting wine related things, such a list of restaurants that offer Ohio wines. That list includes Food Network's "Iron Chef" and "The Chew" host Chef Michael Symon's Lola Bistro and Lolita in Cleveland.
Ohio Wineries
If you're a wine connoisseur, support the Ohio economy and try some of their award-winning wines. Some wineries to check out include Firelands Winery in northwest Ohio. Firelands has been making wines since 1880. They offer tours, tasting of their award-winning wines, a gift shop and wine making supplies.
In southern Ohio, visitors have been enjoying Valley Vineyards since 1970, voted Best Red in Ohio for its cabernet franc, and there's wine and music on Thursdays.
In northeastern Ohio, Ferrante Winery & Ristorante specializes in vinifera grapes and they also offer an Italian restaurant and live music, in addition to their award-winning wines.
Also in that region, Debonne Vineyards offers award-winning vinifera and French-American hybrid wines made from 170 acres of vineyard. There are events such as Jazzfest, a classic car show and live music on weekends. Debonne also has a great newsletter. Simply sign up for it on their website.
In eastern Ohio's Amish country, Breitenbach Wine Cellars offers vinifera and hybrid varieties including port, sherry, ice wine and hearth-fired pizza.
Heineman's Winery is on an island in the middle of Lake Erie, and it's one of the oldest wineries in the state, founded in 1888. You travel there by ferry, although cars can be transported on the ferry as well. There are wine and grape juice tastings and you can tour the Crystal Caves, one of the largest geodes in the world (for you rock collectors familiar with geodes!). Crystal Cave helped save this winery during prohibition, when tours of the cave helped pay the bills while other wineries closed.
Gervasi Vineyard in Canton is another fun mini-escape to check out when wine tasting in Ohio. It's situated on 55 acres, there is a spring fed lake, as well as walking paths, a winery, a bistro and a boutique inn with fireplaces in each villa suite. While this winery is fairly new, the Italian bistro is in the historic barn built in 1823.
Gatherings Ashtabula County in -- you guessed it -- Ashtabula (love saying that word) is also a Made in Ohio product, if you want to support another American small business. It's owned by Terri and Vi, known as the "Jelly Ladies." They not only make your everyday variety of fruit preserves, they also make Ohio wine jelly and hot pepper jelly. They make these jellies with handpicked fruit from their property. To support their own region, they use wine mainly from the Vines and Wines Trail. These make a unique and inexpensive Made in Ohio gift. They also take custom orders.