Maya Nylund, from the U.S., is an IGCSE student at EF Academy New York. She will graduate in 2019 and hopes to study Political Theory at Princeton University.
"Who are you?" my partner asked from the seat adjacent to mine. The blue light of our conference room shone back at me through the lens of her glasses. I twiddled with the woven bracelet on my wrist, a beautiful green sliver of the Peruvian legacy of textile making.
This exercise, in which one person asked "Who are you?" to another repeatedly until a minute had elapsed, was led by prominent diversity coach Dr. Derrick Gay. Dr. Gay and fellow keynote speaker and renowned anthropologist Dr. Wade Davis are men who appear to speak in profundities; their words seem to be eclipsed by the magnitude of their own implications.
Dr. Gay's exercise, though it was held at the very beginning of EF Educational Tour's two-day Global Leadership Summit, seemed to echo in emergent whispers throughout the whole of the event. As a matter of fact, it quickly became apparent to me that "Who are you?" is at the very center of the summit's topic of Global Citizenship in a Changing World.
During the summit, students from high schools across the U.S., Bolivia and Peru, as well as EF's own international boarding schools (in the U.S. and U.K.), were brought together to explore global citizenship; a theme made duly appropriate by the diversity of the students themselves. Notably, at multiple times during the conference, global citizenship, and the evolving world it is facilitated by, was often blanketed under the term globalization.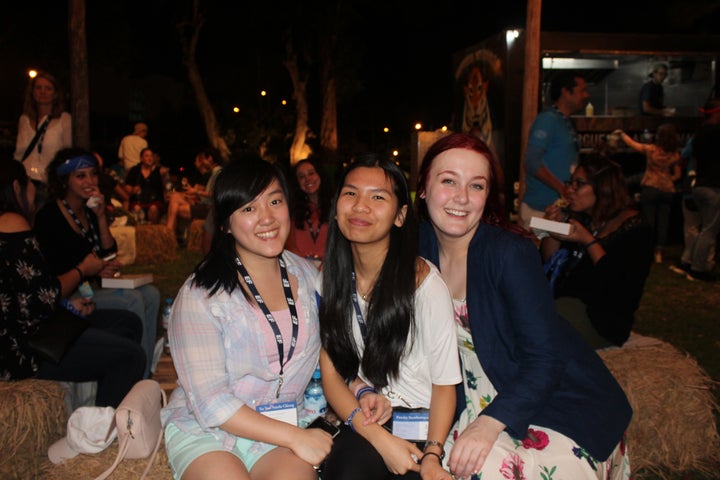 Globalization is defined as the process of globalizing, or moving to other parts of the world. However, in a more connotative sense, globalization is the representation of the struggles that come with a world which is ever-increasingly interconnected. As we visualized during the conference using a literal web of string connecting concerns amongst a group, globalization represents the interconnectivity of human struggle. Events which took place in Lima during the conference only served to highlight this: Peru had been experiencing torrential flooding due to an abnormally intense rainy season. As a direct result, 67 people had been killed and tens of thousands displaced. Those of us attending the conference experienced the detrimental effects of this disaster in the form of restricted access to running water due to city-wide water rationing, which became necessary following the contamination of treatment plants with mud-slide debris.
While these incidents are disconcerting, the reason behind the flooding and what it indicates for the future is much more alarming. The rain has been brought on by what is known as a coastal El Niño – an environmental phenomenon in which the surface temperature of the Pacific Ocean becomes atypically high. This can be attributed in part to global warming, a problem which no nation is projected to be made immune to in the coming decades. Beyond the immediate loss of human life, the flooding also slows productivity, requires costly evacuation plans and has created damage to national infrastructure. As my group toured Huaca Pucllana, a sprawling adobe and clay pyramid that is over 1,500 years old, I realized one of the other disastrous fallouts of the flooding. Running my hand along the dusty face of a brick bearing the wear of centuries, I asked our tour guide how the structure remains unscathed during rainfall. "It really hasn't been designed to," he replied. Lima has always been a desert city, and these recent climatic changes have the potential to do serious damage to Huaca Pucllana and significant heritage sites like it. This flooding has global causes, reflected in larger global symptoms to touch upon all of the primary societal pillars: economy, environment, technology and culture.
Personally, I take special interest in the pillar of culture as I feel it is one of the most formative elements of answering "Who are you?". During his presentation, Dr. Davis described something he coins the "ethnosphere" as the cultural web of life; "the sum total of all thoughts and dreams, myths, ideas, inspirations, intuitions brought into being by the human imagination since the dawn of consciousness."
As we continually learned while in Lima, Peru inhabits an incredibly unique portion of the ethnosphere. Once the cradle of the Inca civilization and later colonized by the Spanish, modern Peru is a testimony to the value of tradition, variety and modernization. If you travel into the Amazonian or highland regions of Peru, you will likely find indigenous tribes speaking the dying languages of Quechua or Aymara. In contrast, most of us from the U.S. and Europe were surprised to spot KFCs and Pizza Huts abound in Lima's commercialized Miraflores district. Our surprise mirrored the uncertainty of our expectations, notions which in turn evince realities about our backgrounds, which helped us to further reflect on our own identities.
It was this fascination with culture that inspired my team during the Innovation Village workshop. We designed a museum, gallery and studio space in an effort to preserve indigenous art practices as our solution to an issue pertaining to globalization. During this workshop, students came together in groups and utilized the Design Thinking Process, of which mapping and prototyping are components, to address an issue.
The fact that our team's prototype never became a finalist in the Innovation Village competition was actually of very little consequence to our experience at the end of the day, and I believe many other conference attendees could say the same. There was a tangible weight to our collaboration, which was nonetheless fruitful. The words of Dr. Davis were fresh in our minds, and with every snip of the scissor or excited exchange of amendments, I could almost feel the ethnosphere building onto itself.
As DeeDee Trotter took the stage to make closing remarks, the Olympic gold medalist spoke of overcoming adversity to "release your inner champion." I was again reminded of global citizenship. In order to become a true global citizen, an individual must overcome the adversity of protectionism, prejudice, linguistic differences, and a great deal of other challenges to identify themselves as a part of a globalized community. Those citizens who develop a truly global identity become members of the community at the very core of civilization; the community of humanity as a collective. As seen time and time again during the summit, the issue of globalization itself is a "Who are you?" directed towards humanity, and at its heart, with a pulse which beats deeper than ethnicity or nationality or socioeconomic class, it begs the question; what will you contribute?
Popular in the Community