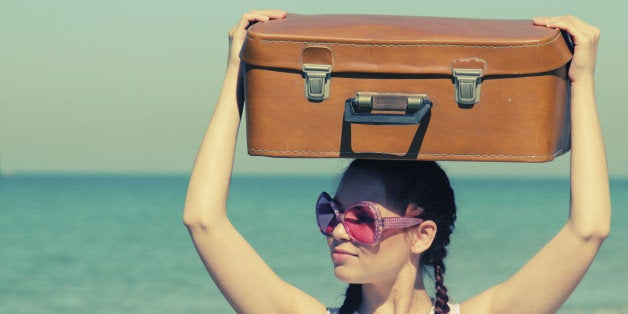 Travelling with children can feel a bit like trying to keep a herd of wild sheep from stepping off-trail. Every 2 minutes.
Whether it's reigning in their excitement, heeding to their fears, keeping their hunger in check or simply allaying their crankiness due to exhaustion, factoring a child's needs into a travel plan requires much more than ad-hoc "nature call" stops. However, given the incredible benefits of travelling with children, it's definitely worth going the extra mile in planning a trip with children.
If you are the kind who gets the kicks exploring a new city every once in a while, taking the public transport can be a great option. For one, you can sit back and take in the sights without worrying about what the Google Maps lady is shouting at you if you are about to take a wrong turn.
Two, you get to strike up conversations( and probably lasting friendships) with the locals, and really, who can guide you better than residents of the place? Some of our best discoveries in faraway places have been tip-offs from local guys. No travel guide or package mentioned those places.And boy, were we blown away or what!!!
Plus, there are numerous other ways in which it can be made pure fun giving the little brats have a lot to brag about once they return to home turf.
Here are few precautions we could take to avoid mishaps while travelling by public transport.
Go for the window seat: A child at the window is a happy one! Have you heard, "Look, mom!" often on the train or bus? That is mostly likely from a child at the window. Plus, the fresh air can do a lot to set off disasters from motion sickness or simply a bad stomach.
Package the extras neatly: Pack extra sets of clothes. Not just shirts or shorts, but entire sets of clothes. Use Ziploc bags or small velcro travel pouches that can carry one set of clothes and diapers. This will make it really handy for you to reach out for a quick change in the event of a disaster.
Go low on sugar: You might want to carry familiar snacks to avoid meltdown, but remember that your child is already excited with all the new sights and sounds. You don't want a whole new high with the added sugar rush. Enough said.
Collect the unfindables: Every place has it's own unique signature. Do your best to bring back a little bit of it with you. Go shopping- not in malls- but on the streets, talk to the makers and weavers, try the local hot dish, hunt for the favorite local joint. Doing it all with the kids might be a speed dampener, but hey- the gleam in their eyes when they stuff those "special" marbles into their pockets can more than make up for it.
Hand him a notebook: A new city for your child might not be the same that it is for you. Encourage your child to write down all that you did together- what he likes, what he thought of this or that, what scared him, what will he do again? What he writes in it will let you a glimpse into his thoughts and concerns- and those cute typos and spellings? Awwww, they are keepers for life!
Support HuffPost
A No-B.S. Guide To Life
Related
Popular in the Community