For many of us Anaheim makes us think of Mickey Mouse and Disneyland. After all, the theme park has drawn hundreds of millions of people since it opened in 1955.
But unexpected treasures can be found just outside Disney's walls.
Barbara and Greg Gerovac met at West Point where they were cadets. During the 24 years they served in the U.S. Army, they moved to different posts and positions around the world. For many years they were stationed in Bavaria, Germany, where they fell in love with the local breweries.
"Every small town has a brewery which just distributes locally," says Barbara. "They are not looking to take over the world or corner the market. They just want to serve the community they are in." When they talked about retiring from the military, they thought about doing something fun and interesting, like brewing beer.
In fact, they were so devoted to learning the craft when Greg retired he worked second shift in a Virginia brewery. "I was retired from the Army as a lieutenant colonel and took a job for $6 an hour as a brewer's apprentice. My boss at the time was 26 and wasn't sure that I would be able to take orders from him, but we're still good friends," says Greg, whose grandfather worked for Milwaukee's Pabst brewery for 40 years. When Barbara retired she also took a brewing job.
The couple ultimately moved west to Anaheim, a town which a rich history of brewing that goes back to the 1860s. One of the most prominent was Anaheim Brewery which opened in 1870, went through different owners and then closed during Prohibition. "All that was left was the beautiful logo," says Barbara. "None of the brewers had made a post-Prohibition comeback."
By 2008, they had both worked as successful brewers for a number of years. They thought, we know what we're doing, why not open something in our own neighborhood? In the midst of downtown, the city owned a historic 1920s mission revival building with high ceilings and large windows called the Packard Building. So Greg and Barbara made their pitch to the city: let's bring brewing back to downtown. They wanted to re-establish the famous Anaheim beer that disappeared during prohibition.
In 2011, Barbara and Greg opened Anaheim Brewery. Using the Bavarian model they love, the beer is sold locally and kept fresh. Paying homage to Anaheim's rich brewing history, they use artwork inspired from historic labels. Their flagship Anaheim 1888, an unfiltered amber-colored lager, is made in the style of beer that was made at the original Anaheim Brewery. "It has a nice caramel-y after-taste." says Barbara. The tasting room has a 30-foot-long vintage wooden salvaged bar where people can watch the brewing process. Outside is a 100-seat Beer Garden with authentic German beer garden tables which looks out into Farmer's Park. "We wanted this to feel like a local tavern," explains Barbara. "When you come in, everyone should feel comfortable."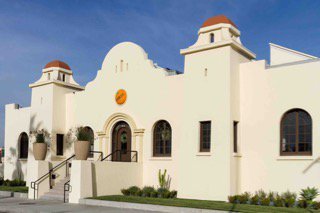 The Packing House, Anaheim's beautifully restored food hall with independently owned artisan bars and eateries.
All photos used with permission