I've never had a personal butler before. It's not that I don't enjoy splurging on sumptuous hotels and the many ways a girl can pamper herself while staying at such establishments; it's just that I've never quite experienced the level of service that attends to almost any request -- from scheduling a massage to delivering caviar to one's suite at 4 a.m. to planning a personalized, intimate tour of little-known local attractions -- with one touch of a button.
As a guest of the Royal Plantation, an all-inclusive, retro-chic boutique hotel situated on Jamaica's northern coast in Ocho Rios, I quickly became used to being wined and dined in a gorgeous tropical setting.
As soon as I stepped foot into my breezy plantation-style suite, complete with a furnished oceanfront balcony, large soaking tub and plush king-size bed wrapped in Egyptian cotton linens, all stress dissipated from my body and blew adrift into the salty sea air.

After slipping into sandals and scooping my hair up into a neat bun, I headed down to the open-air lobby with my husband to meet Aaron, our personal butler. Standing by the reception desk, he greeted us with a warm smile and earnest handshake. I liked Aaron immediately. He was polite, professional and contagiously carefree in that quintessential Jamaican way.
Having only three days in Jamaica and being huge culture junkies, we chatted with him about exploring a few places in Ocho Rios that would give us a sense of the local culture without having to travel too far from the hotel. Aaron suggested we visit a local art gallery and pottery studio, and Scotchies, a roadside jerk stand that was said to do it better than anywhere else on the island.
After making arrangements for our short tour, Aaron guided us through the hotel's lush property so that we could take full advantage of the multitude amenities available to us.
As we headed down to the beach, I gazed up at the 74 ocean-view suites enveloped in a sea of palms, freesia, heliconia and other sweet-smelling tropical plants. Aaron showed us the main beach first, which was connected to a quieter, smaller cove by a short path flanking the ocean. The calm, azure waters gently lapped against the shore while reggae played from a lively beach bar, which rested behind neat rows of cozy, sun-drenched loungers.
We circled back up to the main terrace and outdoor dining area where high tea and meals were served, then passed through the elegant lobby and out to the Red Lane Spa.
Peeking at the spa service menu, I noticed many of the treatments incorporated ingredients indigenous to the region such as Jamaican Blue Mountain coffee, ortanique oranges, local limes and almonds, raw sugar cane and coconut. I thanked the spa manager for her assistance and promised to arrange for a treatment over the next few days.
Aaron led us back through the open-air lobby and up the grand staircase to have a look at the hotel's fine dining options. He urged us to try Le Papillon, an ornate restaurant serving French-inspired Caribbean cuisine, and C|Bar, a luxurious caviar and champagne bar.
Sensing we itched to get back into the sun and laze on the beach, Aaron wrapped up our tour after showing us the hotel's pub and private dining room, which hosted many celebrities and dignitaries since the 1950s. He walked us back down to the peaceful cove and over to the beach bar so we could begin the afternoon with a tropical cocktail.
I thanked Aaron for a lovely tour as he handed me a diminutive cell phone that would keep us connected regardless of where we were on the hotel property. He said we could call him at anytime with pretty much any kind of request as long as it was legal. I chuckled at Aaron's joke but quickly realized he was serious about assisting us with whatever we needed, whenever we needed it.
The next morning, Aaron escorted us to our private car and offered to accompany us for the day. We took him up on his offer, hoping that we could learn about Jamaican culture through the eyes of a local.
On the way to Harmony Hall art gallery, Aaron gave us a lesson in Patois, the local language spoken by Jamaicans. We shared music interests and he cleared up some misconceptions that many outsiders have about Jamaicans and their love of reggae.
Although reggae is a large part of the music culture in Jamaica, dance hall, a genre with strong connections to Rastafari and classified by the fast rhythms of digital instrumentation, is most popular on the island today.
Later, our conversation somehow transitioned to the topic of food (as most of my conversations usually do), so Aaron thought it appropriate to prep us for the ethereal meal we were scheduled to have at Scotchies midday.
"The secret ingredient to Scotchies' jerk is the sauce," Aaron said, almost in a whisper. We had heard that this roadside stand was well worth the long lines that often form around lunch and dinner, but were unaware that Scotchies' sauce, made from the yellow scotch bonnet pepper, is the reason people travel from all parts of the island to eat succulent chicken and pork at this famous family-run business.
Scotchies also uses an old-fashioned cooking technique to prepare the meat; hot coals rest under long rows of sweet wood, supporting the meat, which is covered with wide sheets of zinc. The result is juicy cuts of chicken and pork layered with buttery, spicy, smoky-sweet flavors.
When we arrived at the gallery, Aaron showed us some of his favorite paintings from local Jamaican artists, pointing out pieces that depicted the arduous lifestyle of many, past and present, who have faced hardship in times of social and economic strife.
In 1980, Annabella Proudlock acquired the intimate gallery with a group of friends and spent a year restoring the mid-19th century Methodist manse to its original state. More than 100 artists and artisans are represented, their works ranging from naive to highly sophisticated.
On our way over to Wassi Art studios, Aaron explained the importance of art in Jamaican culture and the influence many local artists have on the larger world. For centuries, Jamaican artists incorporated Eurocentric concerns and visual imagery that mimicked Western styles into their work, but since its independence, many artists have embraced a sense of identity rooted in the Caribbean experience. A new visual language is emerging, one which conveys the country's political ambivalence, spiritual complexity and social order. This renaissance has brought clarity and a sense of self to the art community and beyond.
The Wassi studio was small, but filled to the brim with colorful pottery -- some pieces simplistic, others adorned with intricate tribal patterns. A local potter with thick dread locks and a soft smile was molding a vase at his station. He offered to give me a quick lesson using his apron, spin wheel and Jamaican terracotta clay.
Obliged by the kind offer, I suited up and turned on the "Ghost" music station in my head. The potter guided my hands over a lump of clay and with several quick upward movements my soggy lump turned into a small, delicate bowl. I found the squishy sensation of the wet clay gliding through my fingertips to be fantastically calming and, well, fun. By the end of my lesson, I had the beginnings of a tiny plump vase that would be perfect for holding a decorative bouquet of lavender and thyme.
After our tour of the galleries, we headed over to Scotchies, which was, in fact, mind-blowingly delicious. We vowed to go back on our way to the airport for a whole chicken and some sweet festivals (dough, similar in shape and length to a churro, consisting of cornmeal, flour, brown sugar and baking powder).
During the last two days of our stay, Aaron popped by to check on us, which inevitably led to a conversation about food or music. On one occasion, he surprised my husband and me with a plate of "ackee," saltfish and fried plantain chips specially prepared by the chef -- a local dish I had wanted to try since arriving in Jamaica.
Scooping up every last bit of saltfish while conversing about the night markets in Ocho Rios, I forgot about Aaron's title and thought more of him as a friend who was happy to share some insight into his culture. He introduced us to other members of the Royal Plantation staff, who were equally as kind and genuine, and it was through these encounters and conversations that I gained a deep appreciation for Jamaican culture.
On the last day of the trip, we thanked Aaron for making our stay truly memorable. It was indeed glamorous and relaxing, but it was also surprisingly insightful. On our way to the airport, I realized that having a butler allowed us the opportunity to befriend a local and learn about Jamaica from a native's perspective.
I pondered the importance of traveling responsibly and appreciating a place by getting to know its people, honoring its traditions and respecting its resources. It became apparent to me that traveling to simply indulge in a plethora of amenities -- or to relax on a pretty beach -- may just rob us of some of the greatest lessons life has to offer.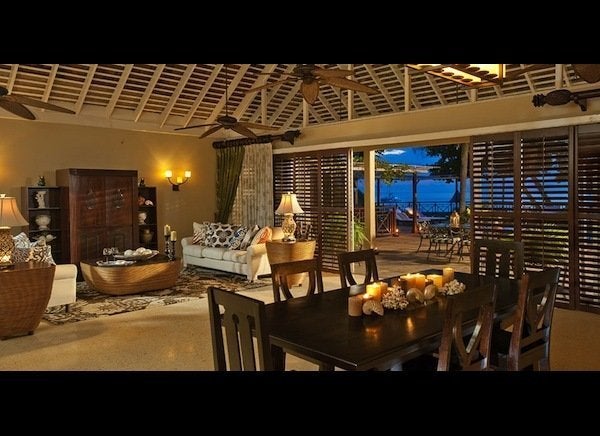 The Ultimate Jamaican Escape