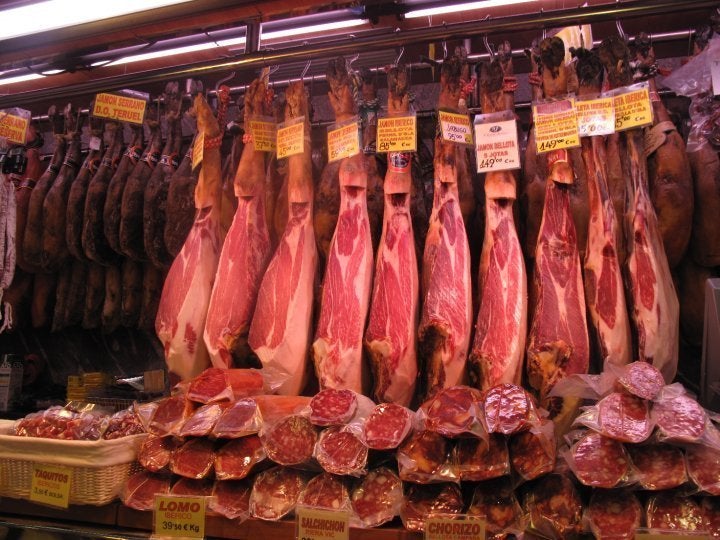 Inspiration for travel sometimes begins with a casual recommendation from a friend or an overheard conversation. It can be the smallest moments that lead us to our biggest journeys. Such was the beginnings of my trip to the Mercat de Sant Josep de la Boqueria in Barcelona, Spain.
I happened to attend a workshop on Spanish cuisine led by culinary expert Gerry Dawes at the Culinary Institute of America in St. Helena. Dawes described the Boqueria, a famed public food market in Barcelona, with such vivid and passionate detail, I knew I had to go. The market has been in the same location since the 12th century.
Dawes particularly praised one bar within the Boqueria called Pinotxo (pronounced pee-no-cho), a 14-stool food stall just to right of the entrance of the market. The present proprietor of the 100-year old establishment, Juanito Bayen, serves Catalan cuisine from a sliver of a kitchen workspace and he doesn't offer a printed menu.
My daughter Mandy and I are both chefs. In the early spring and early winter, when our lodges in Alaska are closed, we often travel, either to teach others about our cuisine or to learn new culinary dishes and gather ideas for our upcoming season. When the culinary director for Holland America Cruises invited us to be guest chefs aboard the MS Prinsendam sailing from Fort Lauderdale to Barcelona, I saw it as divine intervention leading us to the Boqueria.
Our journey took us from Anchorage to Fort Lauderdale, across the Atlantic Ocean, through the Strait of Gibraltar, with a couple of quickie stops in Funchal and Ibiza. We spent one day in speechless wonder touring the Alhambra, and then, after fourteen days, our ship pulled into port in Barcelona, right at the foot of La Rambla, Barcelona's most famous walking boulevard.
The Boqueria is in essence a food marketplace where locals are picking out mushrooms and fish for tonight's dinner. But it is also home to 11 bars, each serving small specialty local cuisine plates. There are a few take-away shops. You can always try the route of selecting a little meat, cheese and fruit to snack on later in your hotel room or with a glass of cava at some outdoor table. My suggestion is to go to the Boqueria hungry. If you wander around and somehow don't find enough to eat, the Rambla is lined with tapas bars and every other type of eatery imaginable.
Mandy and I hit the Ibérico ham stalls hard. Despite good intentions, we never even cracked open our Catalan language audio program on the ship, so we tended to migrate to stalls where someone spoke a little English. We learned that jamón Ibérico comes from black Iberian pigs that are raised on eating acorns. The ham should be kept at room temperature and will last for about a month. It's a perfect hotel snack food. Most stall operators were quite generous with samples. They were friendly and gracious as we took far too many photos -- of them, their stalls, of them with us and of us in front of their stalls.
We marveled at the overflowing baskets of morel mushrooms and the giant artichokes. We stared into the glass cases of offal loaded with pig's feet, faces of animals, and plenty of unidentifiable body parts. We looked lovingly at the confections and pastries. We munched on a handful of bolas de bacalao, small deep-fried salt cod balls.
Finally, we made our way to our journey's end. We were at the Pinotxo bar, replete with 14 crowded stools and smiling Juanito Bayen behind the counter, wearing his iconic crisp, colorful vest and bow tie. It all looked just as we had seen it in our minds. We had our hearts set on a warm dish of baby squid and beans draped in balsamic vinegar called chipirónescon mongetes, a specialty of the bar recommended by Gerry Dawes.
A stool became available and Mandy pressed her way towards it. Just at that moment, an older woman with heavy makeup and bouffant hair, perhaps a local, surged past Mandy and took command of the seat. We stood there quietly, a little bit confused about what to do next. As we waited, just inches from the woman, we noticed a long hair, suspiciously the same color as Mandy's, hanging from the edge of her mouth. I bent over and said, "Excuse me" to the woman in hopes of informing her about the hair. The woman ignored me and turned slightly away. Mandy and I stood there in a frozen fascination as the woman ate a pastry and sipped her coffee. The hair inched into her mouth with each bite, and, seemingly in slow motion, along with a final bit of flaky pastry, disappeared down her gullet.
Mandy and I looked at each other, eyes widened. We both turned away from the legendary Pinotxo Bar we had traveled so far to visit. We agreed to return the next day, but in the end we just never made it back.
Instead, we walked along the Rambla, watching kids screaming with laughter and fright at the mimes lining the street dressed like dragons and monsters. We strolled along in the pleasant sun to the Mandarin Oriental Hotel where we went in to the Moments restaurant headed by Michelin-starred chef Carme Ruscadella.
Ruscadella's cuisine is like a gold-splashed canvas of the Spanish coastline. Menu offerings such as "Landscapes of Sant-Pol: The Sun and The Moon" and shrimp tartar inspired by a painting of Riera Aragó served with olives, cherries and beans showed us the creative brilliance of Catalan fine dining.
Someday soon, we'll make it back to the Boqueria. After all, it doesn't seem to be going anywhere. And we'll look for the Pinotxo bar. This time, we'll grab stools and we'll linger for hours drinking cava and eating squid with beans.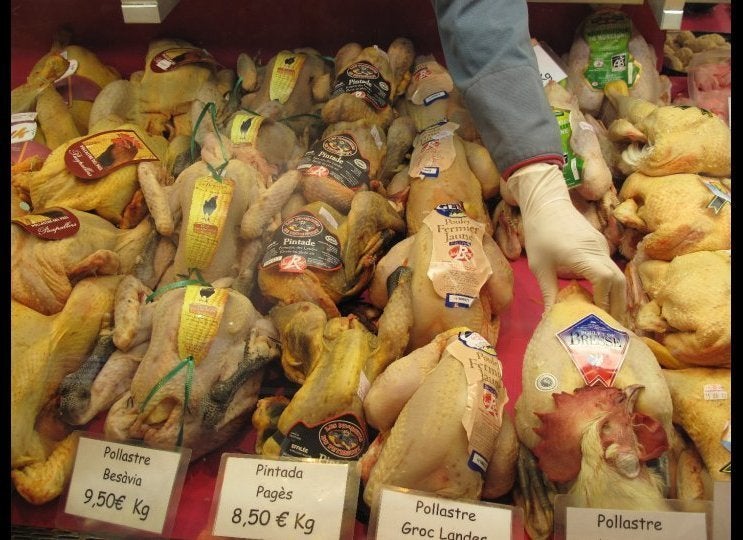 Photo Tour Of Barcelona's Boqueria Market