If you are trekking to French Polynesia, it's almost a sin not to visit the most famous island to tourists, Bora Bora. This distinct island is synonymous with luxury, beauty and world class resorts. Everything in Bora Bora is on mini islands, even the airport. The only way to shuttle around from place to place is via water taxi, which tends to be very expensive, so plan on just enjoying your resort, as there is truly nothing else you need to do besides water based excursions that each hotel offers.
The Hilton Bora Bora Nui Resort, most recently made more famous by the infamous Kardashian clan's visit, defines perfection in every sense of the word. Arriving to the floating hotel lobby is a magical experience as the hotel staff goes out of their way to make you feel like a celebrity.
The resort is spread out over a very large natural island, unlike some other top resorts that opted to build on man-made islands. In Tahitian culture, man made islands don't possess the same spiritual embodiment that natural islands have. If visiting the Hilton, the over-the-water bungalows are a must as they are one of a kind. The Hilton also offers the only two-story over-water bungalows in French Polynesia, and they are without a doubt the show-stopping centerpiece in lodging on the islands.
The ocean water in French Polynesia is crystal clear and has the most straight out of a Photoshopped spread from a magazine shades of blue that one could imagine. The thing is, until you are actually there, you wont believe or understand how water can be so beautiful and the water surrounding Bora Bora just steps it up a notch. Snorkeling, swimming with sharks, feeding sting rays and just lounging in the lagoon are all musts when there and can all be arranged by your resort. The Hilton even offers private feasts on their own private motu.
If you are looking for over the top spa treatments, then both the Hilton and the Pearl Beach Resort Bora Bora offer some great options. The spa at the Pearl Resort is the pride of the resort. They offer every service and have more than enough space to facilitate many patrons at once. The spa itself is surrounded by ponds full of lily pads and makes you truly feel like you are on a different island within an island. Before leaving Bora Bora, check out the famous Bloody Mary's Restaurant which has been frequented and visited by every celebrity that has ever been on the island. It's a must do, selecting from their fresh and ever changing menu.
If you are feeling adventurous and want to include and visit an island that is completely off the grid to the average traveler, then Tikehau is the place to go. Unlike Bora Bora, the island of Tikehau is cherished and considered to be the paradise of French Polynesia to Tahitians. This is because it is not a typical tourist destination and it's still considered untouched. Known for its pink sand beaches, it's a place to go to get away and disconnect from the world.
The Pearl Beach Resort is the only hotel resort in Tikehau and although it's not as large or over the top as resorts on other islands, the staff provide a warm and welcoming environment as well as one of a kind lodging options. Apart from their over the water bungalows, their garden bungalows are extremely unique as they offer indoor/outdoor bathrooms.
Coming to Tikehau is an adventure within itself as you land in what appears to be the world's smallest airport and you quickly feel a disconnect as there is only one hotel and it's a long boat trip away from the airport. For adventure seekers, take a quick boat trip over to bird island to visit a tiny island completely infested with several species of birds. It's both interesting and frightening.
French Polynesia, with it's opening and inviting culture makes for a trip of a lifetime. The beauty one experiences while there are memories one will speak of for many years. From the amazing food, luxury resorts and overly friendly islanders, the islands make for a perfect backdrop for all visitors who want to get away to relax or who want to exchange vows to each other on perfect sand beaches. Information on islands of Tahiti and Moorea can be found in my previous post.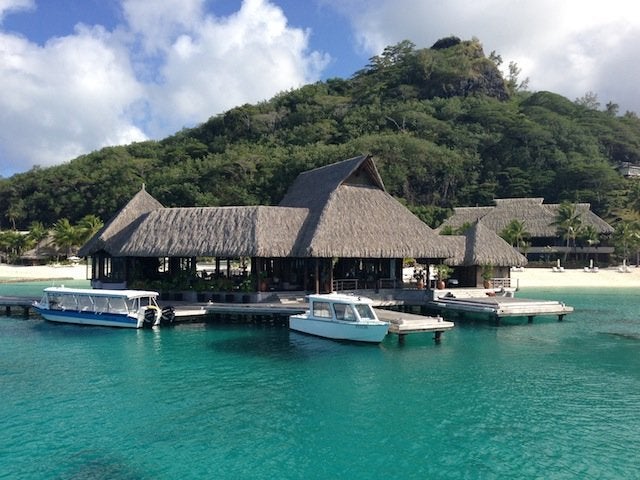 Beautiful Bora Bora
Related