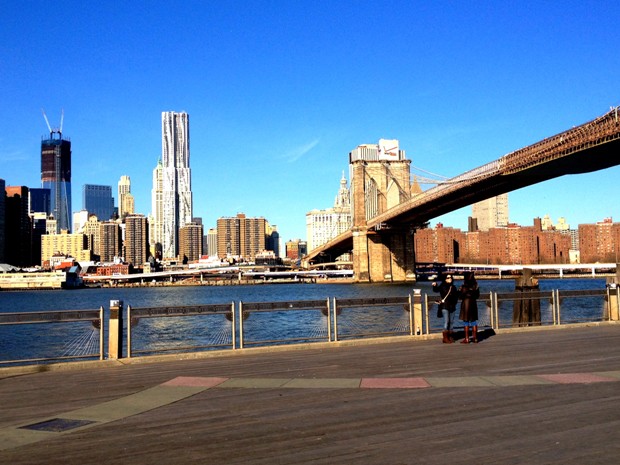 Ask New Yorkers where things are happening and they'll tell you Brooklyn is where it's at. This bustling borough, with a population of approximately 2.6 million, has an ever-changing culture. Yet, one thing that always remains the same is the constant influx of passionate artists and artisans who are drawn to Brooklyn's dynamic neighborhoods. These budding entrepreneurs are the invigorating pulse that keeps Brooklyn alive and beating.
Whether it's Carroll Gardens, Williamsburg, DUMBO or Gowanus (just to name a few), the possibilities for finding good food, art and handmade goods are endless. Walking tours, such as Made in Brooklyn Tours, are a great way to explore the rich history and the mélange of local shops that make Brooklyn the fascinating borough it is.
I joined Dom Gervasi, owner of Made in Brooklyn Tours for a fresh look at the DUMBO and Gowanus neighborhoods. A native Brooklynite and member of the Brooklyn Historical Society, Dom was able to show our small group both areas from a local's perspective. The most interesting aspect of the tour was having the opportunity to chat with shop owners who were eager to give us a behind-the-scenes look at their businesses.
The night before the tour, I stayed at the new Fairfield Inn & Suites by Marriott, located in an area of Gowanus that was in walking distance to great shops and restaurants. The next morning, I meandered a few blocks from the hotel to grab a bold cup of Joe at Gorilla Coffee, an independently owned and operated micro-roastery, then headed over to meet Dom at the Old Fulton Ferry Landing Pier in Dumbo.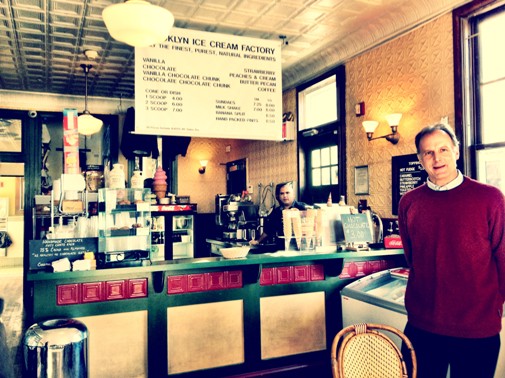 After sharing a brief history of the waterfront and the surroundings areas, we popped by the Brooklyn Ice Cream Factory to sample some of owner, Mark Thompson's famous ice cream. The shop made its way into the spotlight a few days before its grand opening in 2001 for supplying ice cream to Red Cross workers who were stationed on the pier to help with the 9/11 relief effort. Thompson shared his personal experience of being a business owner trying to cope with the poor social and economic conditions at that time. Luckily, his goodwill caught the eye of residents and tourists alike, and The Brooklyn Ice Cream Factory has been booming ever since.
With a cone filled with creamy scoops of Butter Pecan in hand, I ambled along to the next stop on our tour; The Shops at 145 Front Street. Here we had some leisure time to meet with store owners to learn about their handcrafted products. Dom pointed us towards his favorites, which, for the most part, fell in line with the "Made in Brooklyn" theme.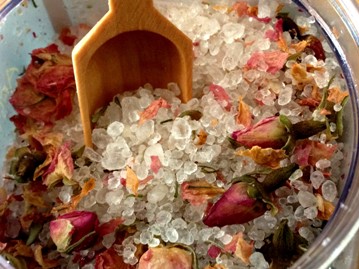 At Anthesis Organic Skincare, owner, Anna Almiroudis showed us her small, but lovely handcrafted line of products made from pure, organic ingredients. I sampled the Vanilla Pumpkin hand cream, which was refreshingly light and released a subtle, earthy fragrance. Across the way, Kokalaki Jewelry & Accessories showcased beautifully designed necklaces, bracelets, clutches, chunky rings, scarves, earrings and headbands. Owner Elena Poumpouras named the store Kokalaki, which mean "clips" or headpiece in Greek, after her first line of unique headbands, which became hugely popular with customers.
A short walk down the corridor to a new shop called Perles Noire, was one of the tour's highlights. Resembling a small art gallery, the store showcases sustainable handmade goods from across the globe. Each item, from the hand-carved wooden vases made in Cameroon, to the vibrantly-colored bowls woven in Vietnam from recycled magazines, is a unique accessory for the modern home.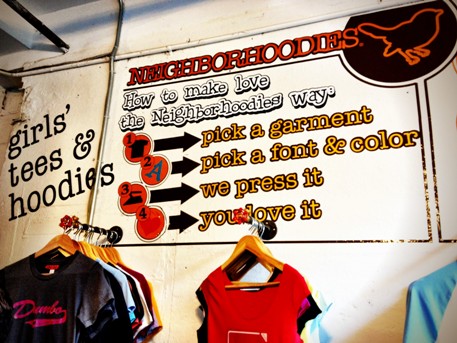 After browsing through a few more shops, we hit the streets again and followed Dom to Neighborhoodies, a "pop-culture inspired workshop" where high quality tees and hoodies (and whatever other garments you desire) get stitched and pressed with NYC-inspired designs, on-site. This edgy store does customize, so customers can turn their creative ideas into fashionable clothing.
A coffee break was in order, so our group sauntered into the Brooklyn Roasting Company where I ordered myself an organic, fair trade, Rainforest Alliance certified cappuccino. Other than its flavorful coffee, this cozy cafe is known for its "green thinking" -- they use recycled materials, refurbished equipment and a bicycle and a bio-diesel van for distribution.
Keeping with the eco-theme, we headed a few blocks over to the Recycle-A-Bike store to learn about this very unique nonprofit program. It's a simple, but ingenious system: New Yorkers come here to donate their bikes, and the shop's mechanics, along with kids from nearby communities, repair and resell the bikes for a reasonable price. The purpose of the program is to facilitate job training and environmental education for NYC's youth. The organization offers high school internships, workshops, a summer youth employment program and a riding club for kids.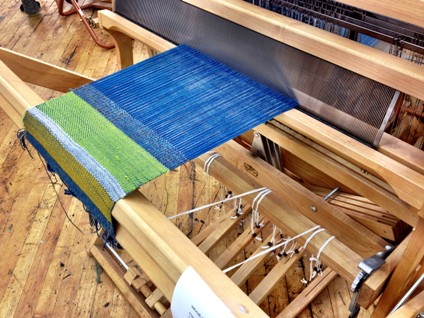 Wrapping things up in Gowanus, we meandered over to the Textile Arts Center where Brooklynites come to take classes in weaving, screen-printing, knitting, dyeing and much more. At Cut Brooklyn, owner Joel Bukiewicz and his staff make world-class, lifetime-guaranteed cutlery from American-made raw materials. The shop offers knife-skills classes where students prepare a meal using professional cutting techniques.
Down the street we settled at our last and final stop, the Brooklyn Homebrew. Here, a (small) smorgasbord of hops, yeast, grain malts, malt extracts, honeys, and spices in wholesale containers lined the shop's interior. A home brewing Kombucha kit caught my eye, and had I not made a slew of purchases earlier, I might of just attempted to dabble in the craft of alchemy myself.
After thanking Dom, our group parted ways, and I began walking to the subway pondering how quickly I could get back to these ever-evolving areas of Brooklyn. The tour introduced me to a budding scene in Gowanus and the flourishing neighborhoods of DUMBO, and for the first time in a while I felt like a tourist in a borough I grew up visiting on weekends and holidays. It wasn't the old Brooklyn I knew, but instead, a scene of talented artisans looking to make their impression in a place where new ideas, creativity and perseverance have been the backbone of New York City's most happening borough.
Related
Popular in the Community