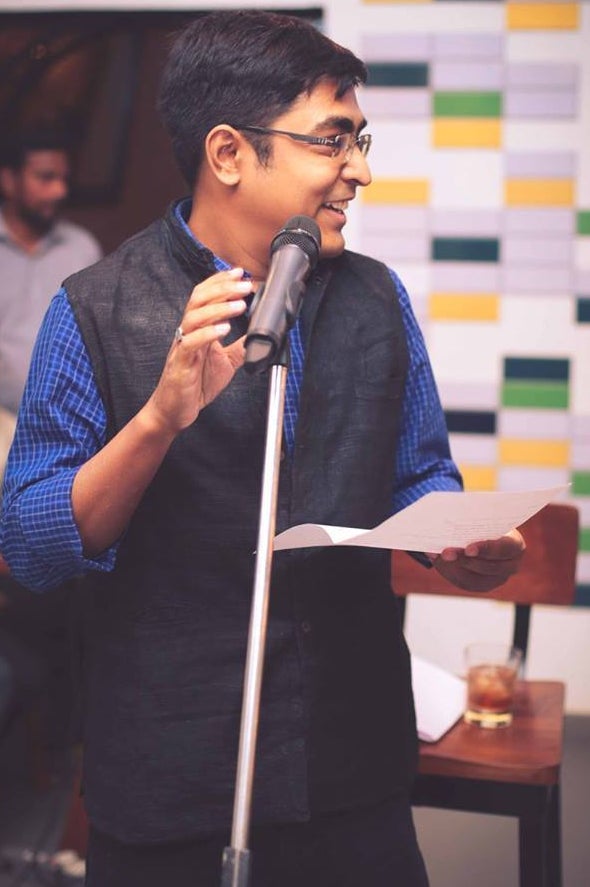 Is poetry meant only for the learned few? By 'learned' I meant people who have been initiated into the nuances of poetry. If this is true, Visceral Metropolis by talented poet, Uttaran Das Gupta, is certainly a cerebral collection of his selected poems with varied flavor and appeal.
I can remember during a recent literary meet in Calcutta [organized jointly by Hawakal Publishers and Shambhabi Imprint], the three poets: Munshi Md. Younus, Aranya Bandyopadhyay, and Subhadip Maitra, discussed on the buyers of poetry, among other issues. It is a popular notion: Poetry has limited market! Nonetheless, this cannot be a viable explanation for its restricted readership. Nowadays we can witness several reading sessions across the globe, and I'm sure they are not primarily aimed at promoting certain poets; they spread poetry-awareness in the first place. Whether such events succeed or fail to create an environment conducive of receiving more poetry is debatable, however.
Visceral Metropolis has been published by i write imprint, a small press, based in New Delhi, and run by Dibyajyoti Sarma. During a recent informal conversation Sarma urged, "I am still experimenting. So everything is in the air. Let's see if I can sustain the venture for some time at least." He added, "Thank you for buying the book. It was a great boost." I can assume, the publisher, in spite of running a small press, does not charge a fee from their authors. Traditional publishing of poetry by small presses is a commendable job, to say the least, and I can tell you from my own experiences, it becomes equally challenging to recover the funds invested in these projects unless the author proactively supports the sales. But then, the author might pledge, "I've no control on the sales, and I respect my dignity and can't probably ask anyone around to buy my book."
Let me talk about Visceral Metropolis now: The book starts with an incisive foreword by Philip Nikolayev. He rightly propounds: "One of [Das Gupta's] assets is an ability to rhyme and metricise naturally and unobtrusively, harnessing the way we talk at moments of heightened emotion, all that while pulling off a conversational precision, down to semicolons in dialogue." In the preface to the collection Das Gupta writes a long poem titled "Obstinacy," a soliloquy, where he asks: "…You think you know me?/ You've no fucking idea how lucid/ and dangerous I can be. You see me/ doggedly hammering away at the/ keyboard, typing out a, 1,000-page un-/ readable document without missing/ a single punctuation but you don't/ know that in my bedside drawer is a/ manuscript of un-publishable poetry,/ written out in a careful hand with green/ ink on yellow paper.// Do you know how long it has taken me to type out these poems?" Das Gupta's confidence and his take on poetry strike at the outset, as he writes: "I'm more obstinate than the/ underground train/ tunneling its way through the rocky ab-/ -domen of the city. I've been hammering away so long at/ it, sweating blood like a slave at a/ pyramid-construction site, that I don't/ even have to try anymore: every/ word I touch metamorphoses into// poetry."
Let me cite two of Das Gupta's poems here, and I'm sure readers will find his other poems equally [or more] evocative! In "Go" he is essentially romantic and philosophical. Das Gupta writes:
"I gave you whatever was left of me:
broken pens, cacti in pots, a dry sea;
and you gave me bright insects of the night,
tiny bulbs with wings, a jar full of light.
But I was careless: the light leaked away,
And the jar was empty by break of day."
We seek light in lightlessness! We tend to value light when it is dark. And it is only humane to be careless and lose the asset. Das Gupta doesn't mind to "pack up and go," but he is afraid of the inevitable expansion of the city he spent his time in, and "growing strange!" It won't be an exaggeration, perhaps, to state that "Go" explores "identity crisis" through its lyrical flow.
Das Gupta appears highly meditative in "The Death of a Poet." He asserts: "The death of a famous poet/ is a reason to celebrate." He goes on further to say:
"…Tonight, we'll copulate
near funeral pyres, wake up late
and find the nocturnal riders
—Sunil, Shakti, and Sandipan—
the artful weavers of spiders'
Das Gupta is an impressive wordsmith! He cultivates and enjoys his visions, especially the ways he employs to construct an abode for poetry. I was delighted to understand the making of Das Gupta through the following answers to the questions I raised:
You are an amazing narrator. I would not have told you this, had I not read your debut collection, Visceral Metropolis. It seems you strongly believe in narrative poems.
Das Gupta: Thank you very much for reading my book, and liking my poems. I have not really thought about narrative poetry as a belief; I guess it is something that comes naturally to me as a journalist and a writer. Doesn't all poetry have some sort of narrative, even the most obscure ones?
For me, every poem has its roots in a real experience, which has been reproduced in my work as faithfully as possible. There's obviously some fictionalization. For instance in "Women, Carpets," I imagine women flying around all over Delhi on magic carpets to avoid unsafe public transport. Obviously that is not true. However, the poem was inspired by two woman friends who gifted me half-a-dozen carpets before leaving the city.
Urban men being termed "metrosexual," how tall do you stand for "metropolitan" poetry?
Das Gupta: I'm not really "metrosexual," in the sense that I do not take any great care of my personal appearance. And, I do not know if there is any relationship between being metrosexual and writing metropolitan poetry.
The reason all my poems are in cities — Calcutta, Delhi — is because I have never lived in any village or small town. So, I have no Wordsworthian affinity for nature. A trip to Darjeeling did inspire two poems in this book, but they are not really about the natural beauty around the place. When I visit such places, I am deeply conscious of being a tourist.
A big city provides a sort of anonymity, which is very dear to me. I have walked around Connaught Place or Free School Street without meeting anyone, just observing urban life, and then writing about it. I believe the influence of Charles Baudelaire is very strong in my aspirations of being flâneur.
You have been extremely meticulous while punctuating your poems. A lot of contemporary poetry is consciously free of punctuation marks. How important is it to read and/or perform poetry?
Das Gupta: Perhaps it is a result of working as a copyeditor in newspapers and publishing houses. I am not sure if it is important at all for reading or performing poetry, and as you correctly mention, a lot of contemporary poetry has no punctuation. However, for me, the importance of correct grammar can be summed up as the difference between helping your uncle, Jack, off a horse and helping your uncle jack off a horse.
I can assume, you have been an avid follower of Shakti-Sunil-Sandipan, the Bengali stalwart-trio. Do you still nurture their influences, and are you a bit partial to Sunil Ganguly, by any chance?
Das Gupta: The Krittibas group and the Hungry group have been great influences on me. Sunil Gangopadhyay, Shakti Chattopadhyay, Sandipan Chattopadhyay, Binoy Majumdar, as well as Malay Roychoudhury and Subimal Basak have been very important influences, not only stylistically. I have been fascinated by their lives as well. Another area of interest is Sunil and Shakti's friendship with Allen Ginsberg. The Beats are another influence — literary and moral — on me.
Stylistically, I think I am mostly influenced by Shakti. As you know, until Hemanter Aranye Ami Postman all his poetry was written in strict metrical forms; he called them podyo [rhymes] as opposed to modern Bengali unrhymed kobita [poetry]. His favorite form was the sonnet, which is also my favorite. There are quite a few sonnets in Visceral Metropolis.
I'll love to listen to your remarks on the works of three contemporary Indian poets [who write in English].
Das Gupta: Three contemporary poets whom I really admire are Goirick Brahmachari, Akhil Katiyal and Maaz Bin Bilal. Goirick and Maaz are good friends, and I met them through our common interest in poetry. There are very different from in each other: While Maaz is a master of form, Goirick writes everything in free verse. But they are deep thinkers of the craft.
Akhil I know only through his poetry. And, I really admire how brave his themes are, and how easily he mixes language. I think modern Indian poets must write in more than one language, as all of us are bi-lingual.
Related
Popular in the Community