To the surprise of many, lung cancer is the leading cancer killer of women. That's why the American Lung Association launched LUNG FORCE, which raises awareness of the impact of lung cancer in women and critical funds for lung cancer research. But are there gender differences for lung cancer risk factors and prognosis? The American Lung Association has created a new research award to find out.
Lung cancer is a health issue for women that isn't often discussed. However, the rate of new lung cancer cases has almost doubled among women in the last 38 years, while falling 29 percent among men. More women than ever are dying of lung cancer, and in order to save lives we need to understand why. Through this new award--funding $400,000 over three years--the Lung Association is looking for innovative approaches to evaluating and addressing gender differences in lung cancer.
Today, on May 24, we announced that Sharad Goyal, MD, is the recipient of the new LUNG FORCE Research Innovation Project: Lung Cancer in Women Award, funded by our LUNG FORCE initiative. Dr. Goyal is a radiation oncologist and Associate Professor at the Rutgers Cancer Institute of New Jersey and Rutgers Robert Wood Johnson Medical School. As the first-ever recipient of this research award, Dr. Goyal will seek to determine if radiation exposure from interventional cardiovascular procedures lead to increased risk of lung cancer in women as compared to men.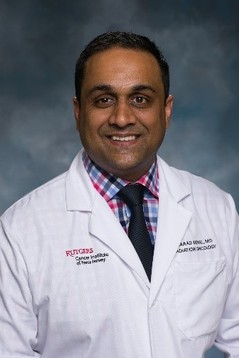 Funding from this award will allow Dr. Goyal to research questions that are important to both lung cancer patients and the medical community. Being able to discuss the risks, benefits and alternatives to medical imaging of the heart, will help patients become better informed about their risk of developing cancer. You can find a Q&A with our Dr. Goyal and our Vice President of Research and Scientific Affairs Susan Rappaport, MPH, on the Lung Association's EACH Breath Blog.
This new research award is the latest step in our broad, ongoing commitment to battle lung cancer. Through LUNG FORCE, we have committed to:
Invest $10 million in lung cancer research and $5 million in increasing public health promotion including awareness of early detection tools, such as lung cancer CT screening.
Provide patients with information about clinical trials and biomarker testing.
Advocate for increasing federal funding for lung cancer research to $450 million by 2020.
Along with our LUNG FORCE Research Innovation Project: Lung Cancer in Women Award, we also offer additional lung cancer research awards including the 2016 Lung Cancer Discovery Award and the 2016 Momentum Research Award: Defeating Lung Cancer in Women in partnership with the Bonnie J. Addario Lung Cancer Foundation.
At the American Lung Association, we're committed to investing in promising lung cancer research, as well as research focusing on asthma, COPD, pulmonary fibrosis and other lung diseases. Funding medical research is at the core of our mission to save lives by improving lung health and preventing lung disease, and brings us that much closer to our vision of a world free of lung disease.
Now through June 11 you can help support lung cancer research when you donate $1, $3 or more at the register at all 7,900 CVS Pharmacy locations nationwide or online at CVS.com/lung.
To learn more about lung cancer and women, and see American Lung Association research in action, visit LUNGFORCE.org.