Greater New York 2010 could only ever be a blockbuster, showcasing three capacious floors of new and recently validated art. The third and smallest incarnation of this quinquennial exhibition, born in 2000 at MoMA PS1 Contemporary Art Center, aims to "be an inclusive, artist-driven exploration of New York City now" by presenting 68 lesser-known artists who live and work in the greater metropolitan area.
The assumption that artists who work in the city are necessarily inspired by it is questionable, as is the ability of curators to capture such an influence. Nevertheless, it is fun to see them try, and there is really no better place for such an attempt than PS1's versatile and storied building. As the third sibling to the two previous GNY shows, GNY 2010 differs in its substance and context. Back when the art market was frothing, GNY 2005 was criticized for facilitating the commercial frenzy for young art, often not yet graduated from its MFA nest. GNY 2010 does a better job transcending the grip of blinkered art-buying passion, helped by the slackened economy, but mostly by its own efforts.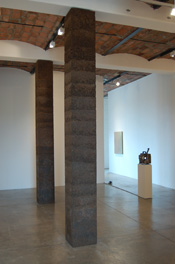 The show's curatorial backbone is solid, if unsurprising, and manages to harmonize the diverse approaches of its three curators -- Klaus Biesenbach (PS1 Director and MoMA Chief Curator at Large), Connie Butler (MoMA Chief Curator of Drawings) and Neville Wakefield (PS1 Senior Curatorial Advisor). Many works are performative, with film and digital video pieces dominantly represented. The features of performance - the props, the narrative, the specified length of time - most easily realize GNY 2010's stated curatorial focus "on the process of creation and the generative nature of the artist's studio." Videos and multi-media site-specific installations proved mostly enticing and hilarious. Standouts include Sharon Hayes' gay rights rally installation with helium balloons, Deville Cohen's theatrical recontextualization of the soul-crushing office grind, and Dani Leventhal's painful footage of a baby's face as it shifts between crying and screaming.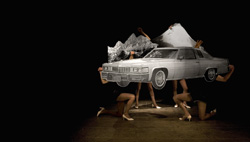 It was refreshing to see so much femaleness - a hearty 43% percent of artists are women, many of whom explore their sex in their work, and much wall space is dedicated to vaginas, notably A.L. Steiner's queer - femmie room. Works centered on themes of gender and race avoided pedantry although the vintage kitsch of William Cordova's record labyrinth or Hank Willis Thomas' photographs verged on cloying. Brian O'Connell's meticulous columns of compressed dirt, nearly unrecognizably organic, complemented David Brooks' concretized trees and operated as a neat olfactory and visual index of its production. Paintings - a rarity among the moving machines and images - became unexpectedly welcome, especially Tauba Auberbach's trompe l'oeil "fold paintings" and Caleb Considine's soft and serious portraits.
Some of the other works felt stunted or trite. But an absence of egregious missteps and a much slimmer artist list - GNY 2005 packed in nearly thrice the number of artists in GNY 2010 - renders the exhibition cohesive and tart. More like a tourist guide than a revelatory time capsule, GNY 2010 has its highlights.
Photos: 1. Brian O'Connell (Not)Architecture for the Kunsthalle, PS1, 2010 Rammed earth: Miracle Gro Potting Mix and Portland Cement. Courtesy the artist and Redling Fine Art, Los Angeles.
2. Deville Cohen, Snow White (Acrophobia series), 2009, C-print Courtesy the artist.
Greater New York 2010 is on view from May 23 to October 18, 2010 at MoMA PS1 Contemporary Art Center.
Related
Popular in the Community