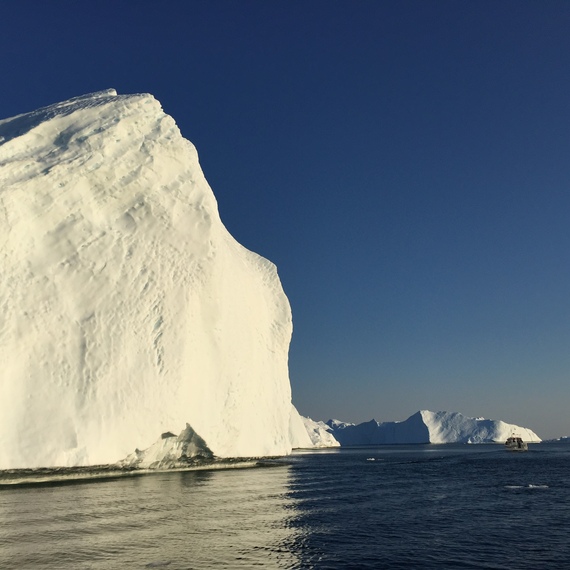 In my entire life I have never breathed in purer air, drank cleaner water or felt so naturally energized. My family and I recently visited Iceland on a mission to encounter the country's vast wonderland of geological extremes, and see firsthand how Iceland rose to become the largest clean energy producer per capita in the world. The small island nation's energy use is impressively state-of-the-art, and their commitment to harnessing renewable energy resources is inspirational. A mere seven years ago, the country was on the brink of environmental and financial catastrophe.
Until the 1970s, Iceland was classified as a developing country by the United Nations Development Program. For centuries it was among the poorest in Europe, a nation dominated by sheep farming, fishing, and a dirty energy mix of fossil fuel, imported oil and coal.
In the decades that followed, Iceland radically transformed its energy system to one that relies on domestic renewable sources. Today, all of Iceland's electric power is generated by hydropower and geothermal energy, and about 95 percent of the nation's heating demands are warmed by geothermal means. This was accomplished through localized, profit-driven initiatives led by communities, small villages and individual entrepreneurs.
Iceland's president, Ólafur Ragnar Grímsson, has had a great deal to do with the country's turnaround during his 19 year tenure. Grímsson has been a tireless advocate of sustainable development and an outspoken leader in climate action. He encourages global discussion that positions the economy at the center. "It's about the economic transformation of the country to realize that the move from fossil fuel over to clean energy is fundamentally good business - it's fundamentally the road to prosperity and economic achievement," said Grímsson to an audience at Cornell.
In addition to enhanced quality of life and health of its citizens, Iceland's clean energy economy helped its people survive the banking collapse. Thanks in large part to the cost of heating and electricity for ordinary families, homes and businesses being comparatively very low to other European countries. With the long-term availability of clean energy at fixed prices, Iceland has become highly attractive for foreign investments. Some of the biggest aluminum smelters, data-storage centers, high tech industries and other thriving enterprises are now based in Iceland.
It's no wonder that Icelanders are the happiest people in the world, quite literally! Iceland is ranked the number two country in The Third World Happiness Report, released by the U.N.'s Sustainable Development Solutions Network's international team of economists, neuroscientists and statisticians.
In my role as chair of Mothers & Others for Clean Air, a chapter of the American Lung Association of the Southeast, I've worked tirelessly to fight for clean air and advocate for renewable energy expansion because we're acutely aware that public policy and the health and well-being of the American people are intrinsically linked. According to U. S. Surgeon General Murthy, climate change presents a "serious, immediate and global threat to human health." I believe that President Obama's Clean Power Plan, the first ever federal rule to clean up carbon pollution from existing power plants, is a strong signal that the U.S. is joining Iceland and leading the world in addressing the threat of climate change at a critical time. While the primary goal of the plan is to reduce the country's outsized contribution to climate change, cleaning up the U.S. electricity sector offers a variety of other critical benefits to public and economic health as well. By meeting the emissions goals for 2030, the Environmental Protection Agency (EPA) estimates the U.S. will experience up to 3,600 fewer premature deaths, 90,000 fewer asthma attacks in children, 1,700 fewer hospital admissions and 300,000 fewer missed days of school. The Obama Administration recently furthered its commitment to #ActonClimate with new proposed standards for methane emissions to reduce pollution and protect public health.
Seeing the majesty of the deep blue icebergs up close during my exploration of Iceland was a stark reminder of just how much is at stake. Aggressive melting of the ice in the Arctic is not only affecting Iceland, but causing extreme weather events in the United States, Asia and other parts of the world. According to NASA, Greenland and Antarctica are losing three times as much ice each year as they did in the 1990s. Summer sea-ice cover is half as big as it was from 1979 to 2000, and many scientists are predicting an ice-free Arctic by the end of the decade. Fortunately, important climate research has been underway to help us understand what's happening as CO2 levels rise and the planet warms up.
Leading glaciologist, Dr. Jason Box, has been investigating Greenland ice sheet sensitivity to weather and climate as part of 23 expeditions to Greenland since 1994. His time camping on the inland ice exceeds one year. His Dark Snow Project investigates the forces driving the Arctic's ice loss and looks at the causes of surface darkening on the ice sheet that's been observed over the last decade. The Project is important in that it's bridging the communication gap with a wider public, connecting and informing a global audience on the key findings that give us a fuller story on climate change.
But this kind of critical climate research and communication needs to be met with action.
This year, the United States took on a two-year term as chair of the Arctic Council, the world's primary intergovernmental multilateral forum on the Arctic region. We have a unique opportunity and responsibility to present a vision for addressing the impacts of climate change. Iceland's transformation gives me great hope that we can not only transform our economy domestically and become a thriving clean energy economy, but catalyze climate action globally. The theme of the U.S. Chairmanship of the Arctic Council is a reminder that we're all in this together: "One Arctic: Shared Opportunities, Challenges and Responsibilities."
Popular in the Community